Several months ago I was approached by the founder of CoinFinance. He presented his website and told me you can basically build a portfolio of your crypto currency investments through his site. This way I would be able to track my "crypto wealth" at any given moment. Seeing as there are over 300 different crypto currencies this sounded like a good idea at the time.
Last week I was approached again regarding CoinFinance. This time it was the guys from TeddMarketing who are managing CoinFinance's official launch marketing campaign. They told me they wanted me to review the website's variety of features and let my readers know what I thought about it. So I took another look, 4 months after the first time I was ever exposed to the website, and found out some pretty cool stuff…

What is CoinFinance ?
CoinFinance started out as a crypto currency portfolio managing tool – basically, a way you could keep track of all of your cryptos in one place. But it became something much bigger, today it's like your "control room" for everything related to crypto currencies. First here's a simple portfolio I've created on CoinFinance:

Detailed market information for over 300 altcoins
The first thing you'd notice about CoinFinance is that it gives you a complete breakdown for almost every altcoin out there. There are the obvious market cap and price charts but deeper analysis is available as well. For example, a section titled "Winners & Losers" show you the most trending coins in the last 24 hours. This can help you identify specific market trends and opportunities. Here's a short example on how it looks like:

Altcoin specific information is also available
If you want to get the latest stats and information on a specific altcoin CoinFinance can supply that. By choosing a specific altcoin you can get a general overview which includes market cap, mining difficulty, coin circulation, historical price for the last 24 hours and more. A dedicated altcoin convertor and mining calculator is also supplied for each coin.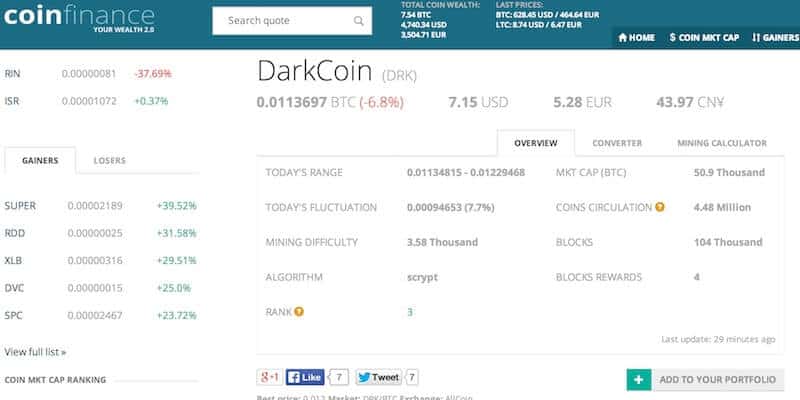 Website owners can embed crypto currency widgets
If you own a crypto currency website or blog CoinFinance supplies a wide array of widgets. The first is a very simple crpyo cunnecy historical price widget. Here's an example for Litecoin: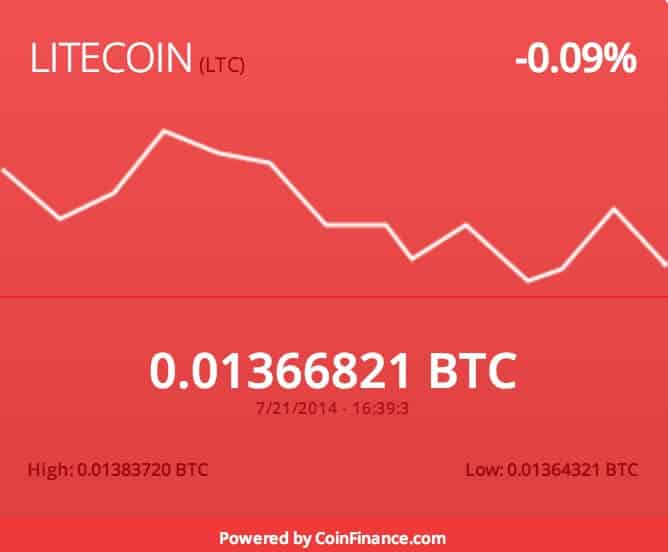 Another option is to embed a winners & losers widget as displayed above. The final widget lets you show the exact coin widget when hover over a specific word. So for example, I can embed Bitcoin's widget if you hover over the word Bitcoin.
CoinFinance is a one stop shop for crypto currency market analysis
I think CoinFinance came a long way since I first reviews it in February 2014 when it just started out. I have no doubt that if it continues to grow at this rate it can become a serious competitors even to Blockchain.info – until today over 3000 portfolios have been created through the website. When it comes to Bitcoin I may still prefer using Blockchain.info, but for all other crypto currencies I just found a new source of information.