For those of you familiar with my BTC Robot review you know I'm not a great fan of the product. Although it's not a scam, the product doesn't seem to "work as stated". Recently the same company behind BTC Robot came out with LTC Robot, or the Litecoin Robot. Of course I took the first chance I had to take it for a test drive and see if the founders learned a bit from the feedback they got about BTC Robot.
I couldn't find any actual review of real users online
Since the LTC Robot is pretty new I couldn't find any Litecoin robot review that seemed to actually give me any insight about the product. All I got was recycled YouTube videos and people explaining about Litecoin. No one showed actual usage of the product, so I thought I might as well do it myself…
Signing up is much easier and faster
I don't know if it's because BTC Robot's sales page was so long and exhausting, but LTC Robot's sales page is short and to the point. Just a simple video explaining about Litecoin. No trading profit promises are given perhaps because this product is new and no data has been collected yet.
What I liked about it is that although they try to push you BTC Robot at the end of the landing page if you still don't own it, you don't have to get it in order to use the LTC Robot. Just click on "I am not an active BTC Robot Member yet" and then choose the 1 year license for $99.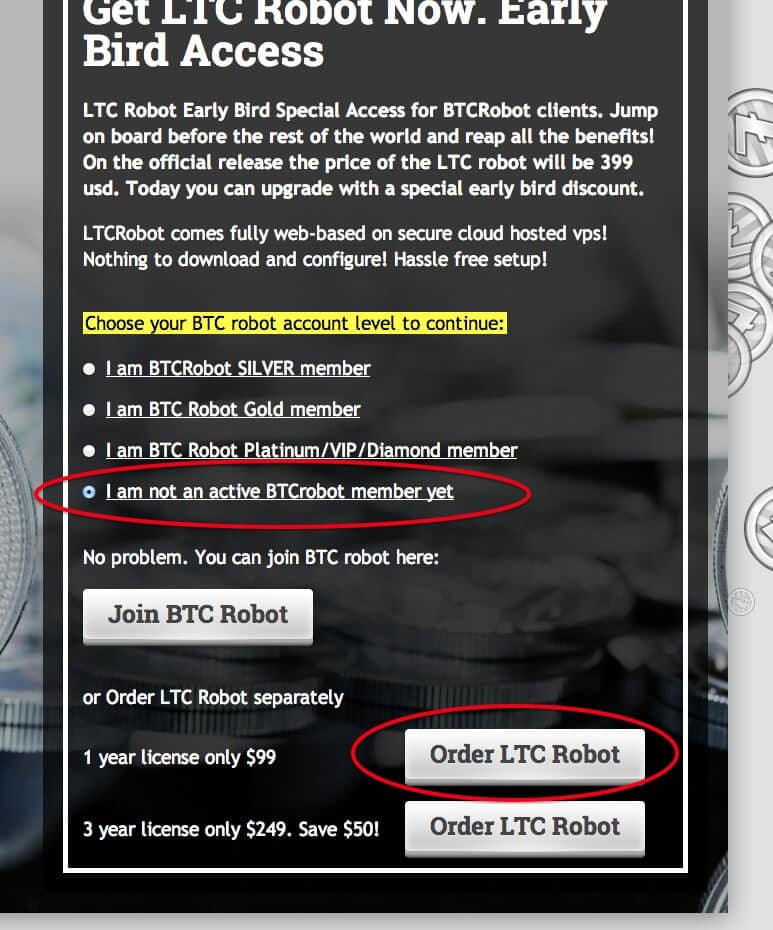 Setting up your robot take about 5 minutes
I guess one of the biggest lessons that were learned from BTC Robot is the fact that you don't want users to deal with complex setups. If you remember in my BTC Robot's review I talked about how I ordered the Silver Package to install on my computer and it didn't really work. This time LTC Robot comes with only a dedicated server option. This means that you don't need to install anything, just setup your account by creating a BTC-E API and entering it's keys into the robot.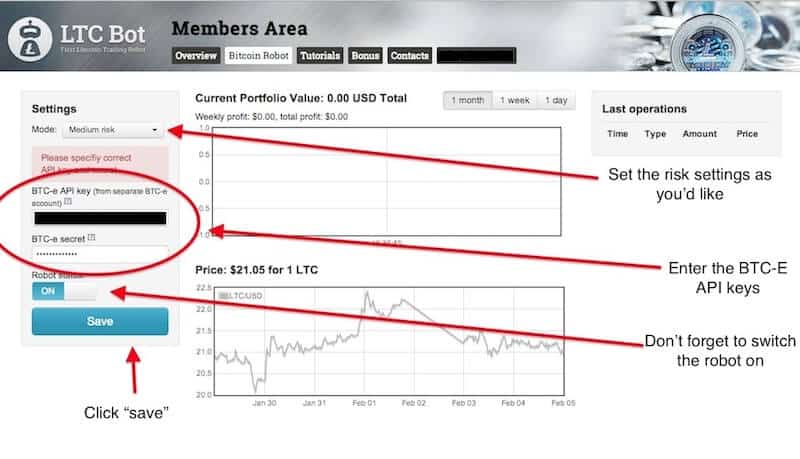 Setting up your BTC-E API
This isn't a tutorial, but since it's so simple to setup the BTC-E API I though I'd spare a paragraph and explain it. You just go to  "Profile", select "API keys" and create a new key by giving it a name and clicking "Create". Make sure that "trade" and "info" are checked (as shown below), or the robot will not work properly.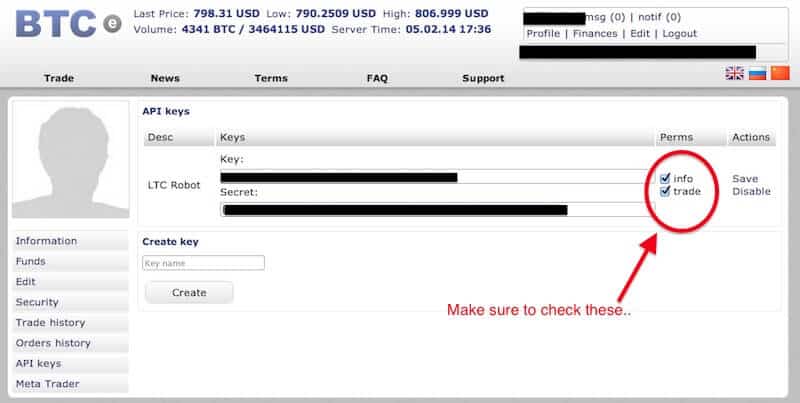 Scam Alert! There's an easy way to show fake profits on Litecoin Robot
I setup my Litecoin robot and waited for it to start trading. It's advised to have at least $100 in your account. I had 0.13BTC which were roughly $110 at the time. After a while in which the robot didn't trade I decided that maybe I should exchange my BTC to USD so that it will identify that I have sufficient funds. I'm not sure if this was necessary or not but here's what happened…
I went into BTC-E and exchanged some my Bitcoins for Dollars. When I came back to the LTC Robot it showed my a profit of around $50 which is the exact amount I exchanged. This is due to the fact that the LTC Robot only considers USD to be profit so it doesn't take into account the actual amount of Bitcoin or Litecoin you own. It's also something that a lot of people have complained about in BTC Robot's algorithm. Bottom line – it doesn't show you an honest picture of your actual profits.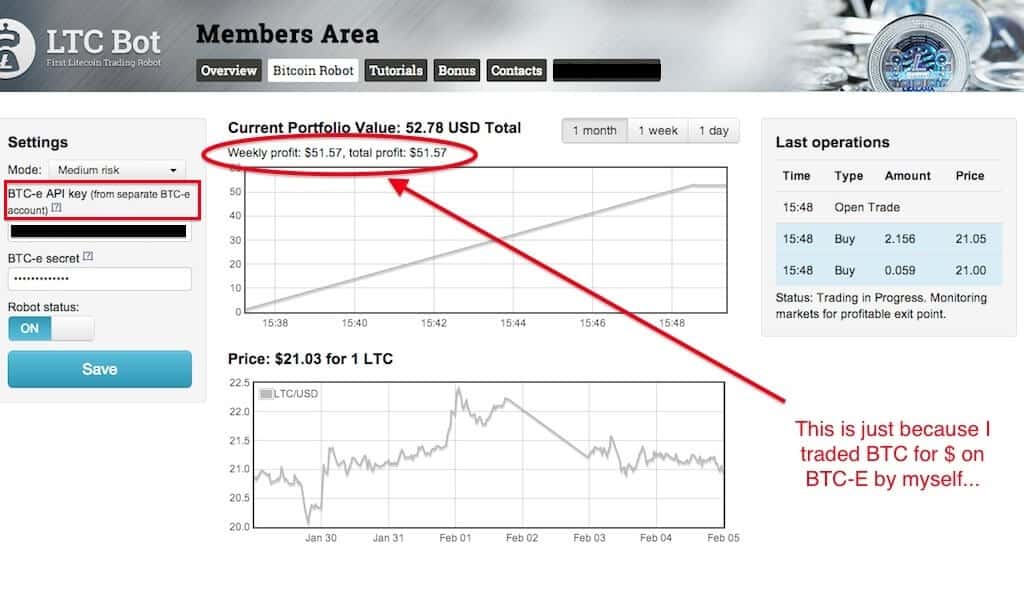 After investigating this a bit more I saw that there is a small comment after the API key stating "from a different BTC-E account" (highlighted in red above). This could mean that the creators want you to create a  different BTC-E account than the one you already own and use it for the LTC Robot only. If this is the case then it explains a lot, but I don't believe it's clear enough for the average user.
My own trading results
I have only been using LTC Robot for a few days so I can't tell you very much about my results. It seems to have started trading and currently I'm down by $3. As time goes by I will continue updating this LTC Robot review and tell you if I think the Litecoin robot is a success or not. In the meantime you can check it out for yourself and rest assure that there is a 100% money guarantee no questions asked (already tested on my BTC Robot review).