Opmerking vooraf: Als u Bitcoin met Paypal of een creditcard wilt kopen voor handelsdoeleinden kijk dan bij Plus500 Bitcoin CFD trading. Voor meer informatie lees eerst dit bericht.
Ik weet dat veel mensen hebben gevraagd om over dit onderwerp te schrijven, dus daarom dit artikel. Het kopen van Bitcoins met een creditcard is zeer vergelijkbaar het met het kopen van Bitcoins via Paypalaangezien beide zullen worden gedaan via de website van Paypal.
Het eerste wat je zou moeten doen is naar VirWoxgaan. VirWox is een Virtual World Exchange die oorspronkelijk was ingesteld voor de handel van Second Life Lindens, een virtuele valuta ook wel bekend als SLL. We gaan VirWox gebruiken als bemiddelaar om Bitcoins te kopen met een creditcard, omdat de meeste andere plaatsen dit niet zullen toestaan vanwege verschillende problemen.
Dus nadat je hebt ingevoerd VirWox moet je je gaan aanmelden. Er is een link in de linkerbovenhoek die zegt: 'Nog niet geregistreerd?'. U kunt het hier zien: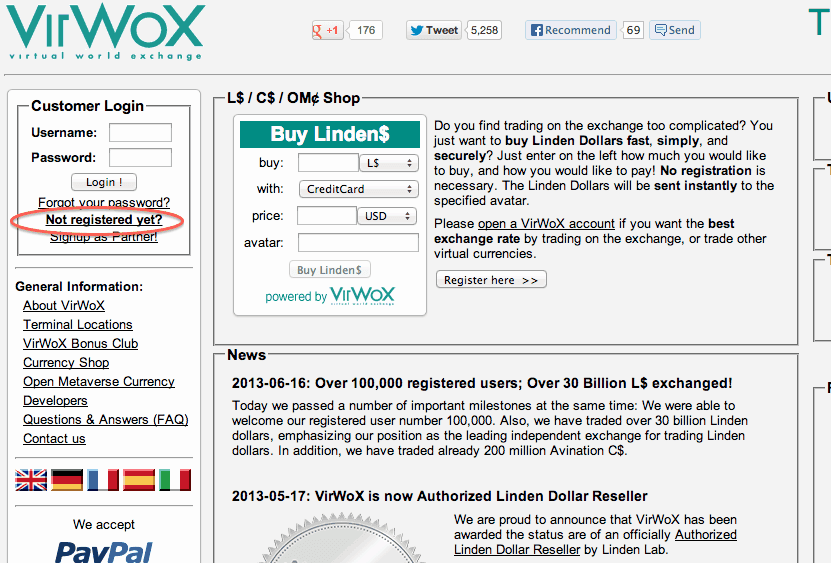 Alles wat je hoeft te doen is uw persoonlijke gegevens invullen. Waar het zegt 'Avatar Naam' kunt u het gewoon laten staan op 'Geen Avatar'. De Avatar is overgenomen uit het spel Second Life en we hebben het niet echt nodig om hier iets te linken.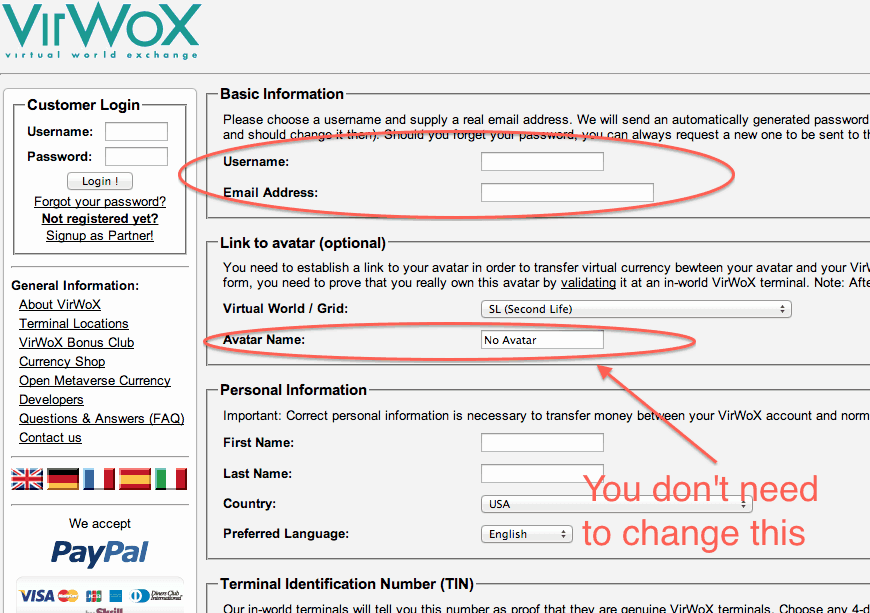 Zodra u al uw gegevens hebt ingevoerd kunt u gewoon klikken op 'Registreer'. Het volgende dat zal gaan gebeuren is dat u een e-mail krijgt van VirWox met uw tijdelijke wachtwoord. Ik raad u aan om dit wachtwoord te wijzigen omdat u geld gaat overmaken via deze site.
Zodra u die e-mail heeft gekregen, gewoon inloggen op VirWox met uw gebruikersnaam en wachtwoord. Het eerste wat u nu moet doen is wat geld storten op uw rekening. Klik gewoon op de link 'Deposit' aan de linkerkant en ga naar de sectie PayPal Express Checkout. Daar kunt u kiezen hoeveel geld u wilt storten.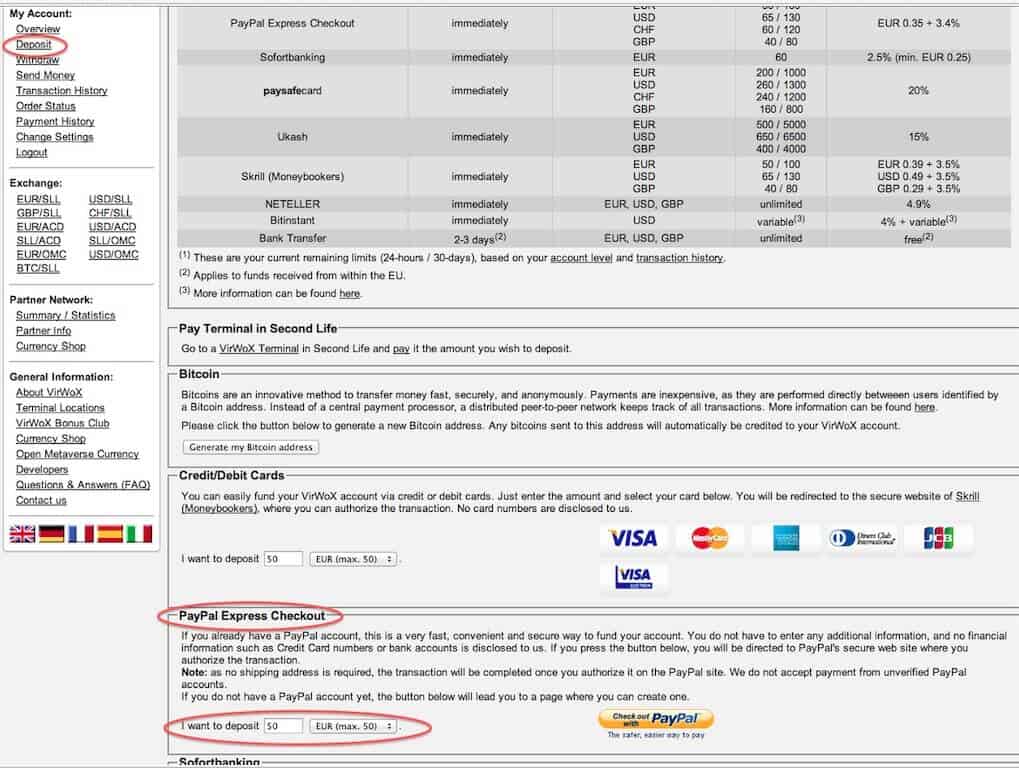 Let op: er is een maximum bedrag dat u kunt storten, maar het bedrag dat u kunt storten zal snel omhoog gaan na verloop van tijd (de exacte bedragen worden vermeld op VirWox-homepage). Dus nadat u het bedrag dat u wilt storten heeft aangegeven hoeft u alleen maar de 'PayPal'-knop aan te klikken.
U zult nu overgaan naar de betalingspagina van Paypal. Als u een PayPal-rekening heeft kunt u hier gewoon op inloggen en de betaling doen. Als u echter niet beschikt over een eigen rekening en u wilt betalen met een creditcard kunt u gewoon de link 'Don't have a PayPal account?' aanklikken.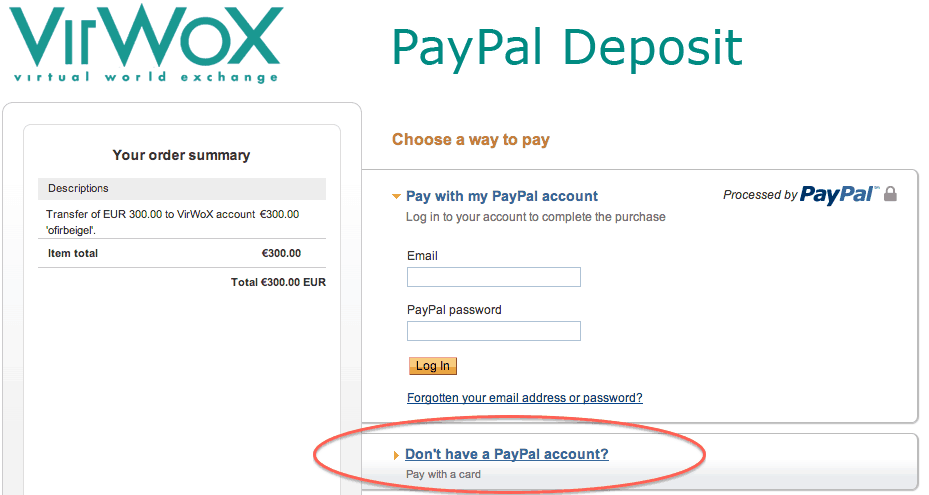 Zodra u die link heeft aangeklikt kunt u gewoon uw creditcard- gegevens invoeren en geld kopen om te storten op VirWox met uw creditcard.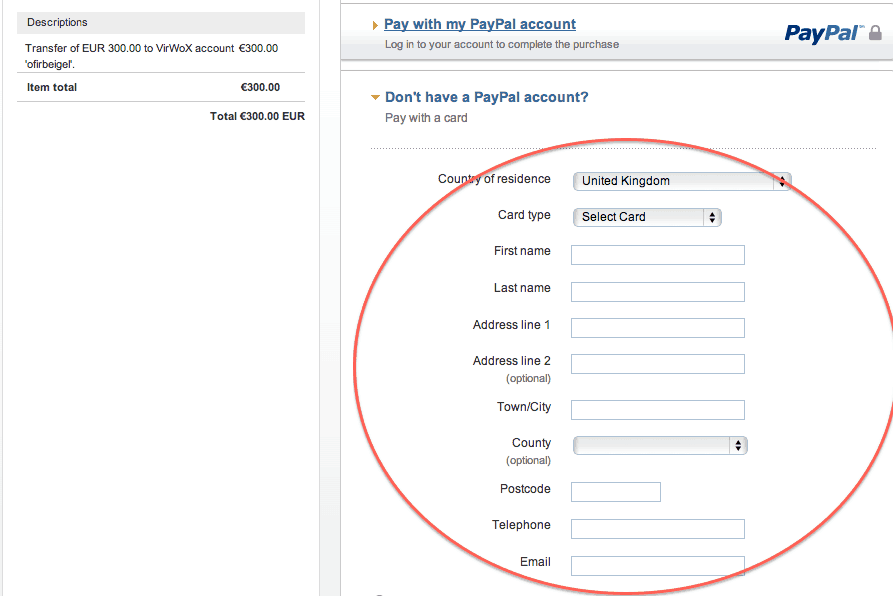 Nadat u het geld heeft gestort zal de linker bovenkant in VirWox uw USD-balans tonen. Nu is het tijd om wat Bitcoins kopen. De eerste stap die u moet doen is het kopen van SLL met uw USD. Ga gewoon naar de SLL/USD en selecteer hoeveel SLL u wilt kopen op basis van de huidige koers.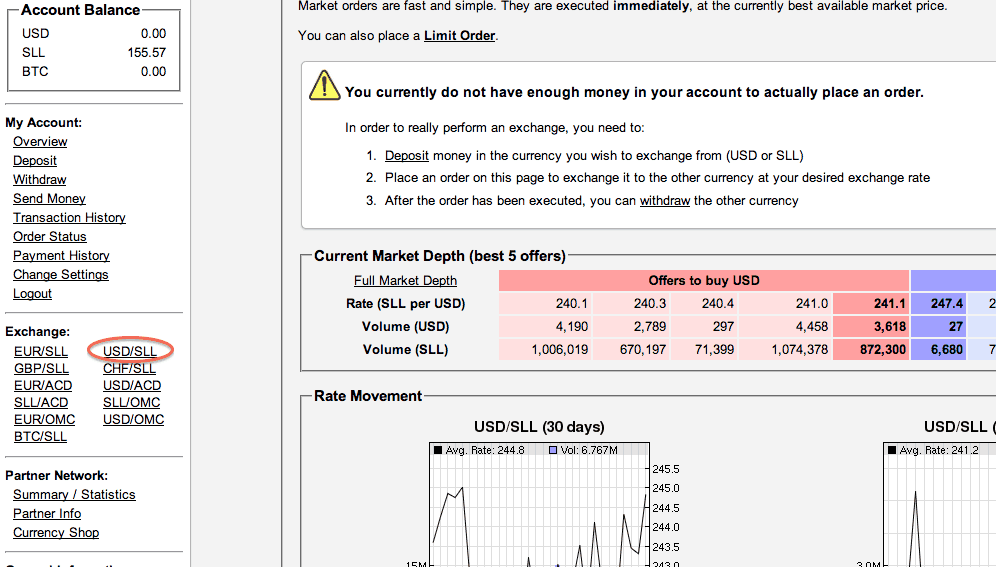 Op de foto hierboven heb ik niet genoeg USD om SLL te kopen, maar als u tot nu toe de stappen goed heeft gevolgd zou u het bedrag van SLL zien dat u kunt kopen met uw USD.
Nadat u de SLL heeft gekocht zullen deze ook te zien zijn in de linkerbovenkant (dit kunt u bij mij zien in de linkerbovenhoek in de voormalige foto). En nu is het tijd om deze SSL om te wisselen naar BTC. Dus gaat u naar de SLL/BTC-Exchange en wisselt u net zoveel SSL's om als u wilt.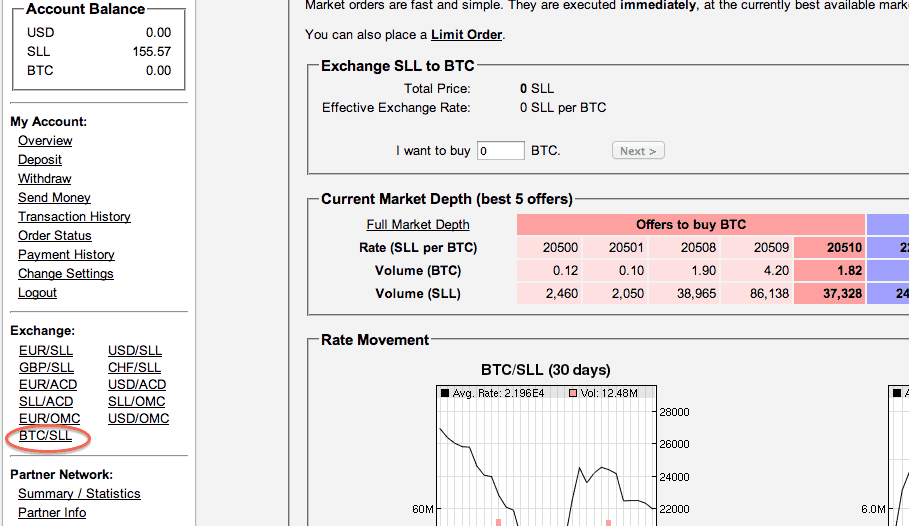 Belangrijk!
Soms zal een handmatige controle door VirWox nodig zijn na deze stap. Dit kan tot 48 uur duren, maar meestal duurt het ongeveer 6 uur.
Nadat u gewisseld heeft ziet u de Bitcoins ook weergegeven op uw rekening linksboven. De laatste stap die overblijft is om de Bitcoins terug te nemen naar uw portemonnee. Dus klik op 'Withdraw' aan de linkerkant en u kunt een Bitcoin-adres invoeren waarnaar uw nieuw verworven Bitcoins gestuurd kunnen worden.

Nadat de transactie is goedgekeurd (dit kan tot 48 uur duren, maar duurt meestal ongeveer 2 uur) ziet u de Bitcoins in uw portemonnee. Dus dit is de manier om Bitcoins te kopen met een creditcard.