Poznámka: Pokud si chcete koupit bitcoiny prostřednictvím Paypalu či platební karty čistě za účelem obchodování, podívejte se na služby Plus500, které umožňují CFD obchodování s bitcoiny. 
Vím, že se na touhle spousta lidí ptá, proto jsem se rozhodl publikovat na toto téma příspěvek. V současnosti existují dvě možnosti, jak si na koupit bitcoiny pomocí platební karty.
Možnost číslo 1 – nákup bitcoinů pomocí platební karty přes službu 

VirWox
Nejdříve jděte na stránky služby VirWox. VirWox, stránky s podtitulem Virtual World Exchange (virtuální světová směnárna) byly původně založeny k obchodování s jinou virtuální měnou, Second Life Lindens, zámou pod zkratkou SLL. My ovšem budeme VirWox požívat jako zprostředkovatele nákupu bitcoinů platební kartou, což je transakce, kterou z několika důvodů většina míst nedovoluje.
Takže, po příchodu na VirWox se budeme muset nejdřív zaregistrovat. Vlevo nahoře je odkaz s textem "Not registered yet?" (Ještě nejste zaregistrovaní?). Podívat se na něj můžete tady: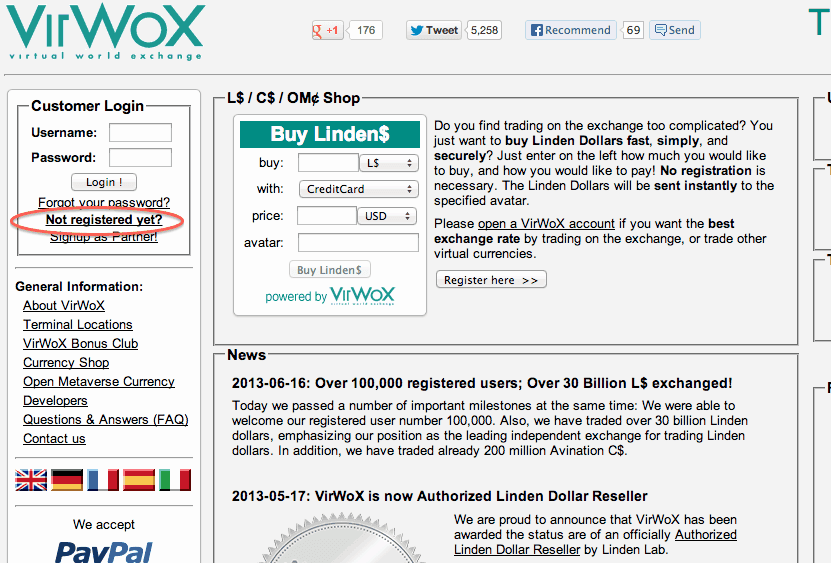 Pak už zbývá jen vyplnit své osobní údaje. V políčku "Avatar Name" (Jméno avatara) nechte "No Avatar" (Bez avatara). Avatar totiž patří ke hře Second Life, ale my žádný takový odkaz nepotřebujeme.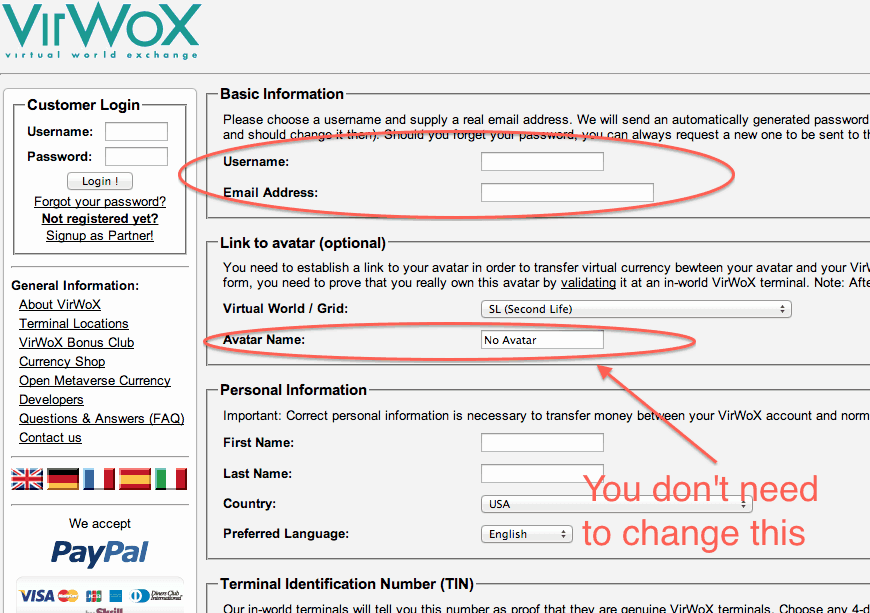 Po zadání všech informací klikněte na tlačítko "Register !" (Zaregistrovat se). Poté vám přijde informační email od služby VirWox, ve kterém bude vaše dočasné heslo. Protože pomocí těchto stránek budete převádět peníze, silně doporučuji toto heslo si změnit.
Po obdržení tohoto emailu se do VirWoxu můžete přihlásit pomocí svého uživatelského jména a hesla. První věc, kterou potřebujete vědět, je jak si na svůj účet na VirWoxu uložit nějaké peníze. Klikněte na odkaz "Deposit" (Uložit peníze) po levé straně a jděte do sekce "PayPal Express Checkout" (K expresní pokladně s PayPalem). Zvolte, kolik peněz si chcete uložit.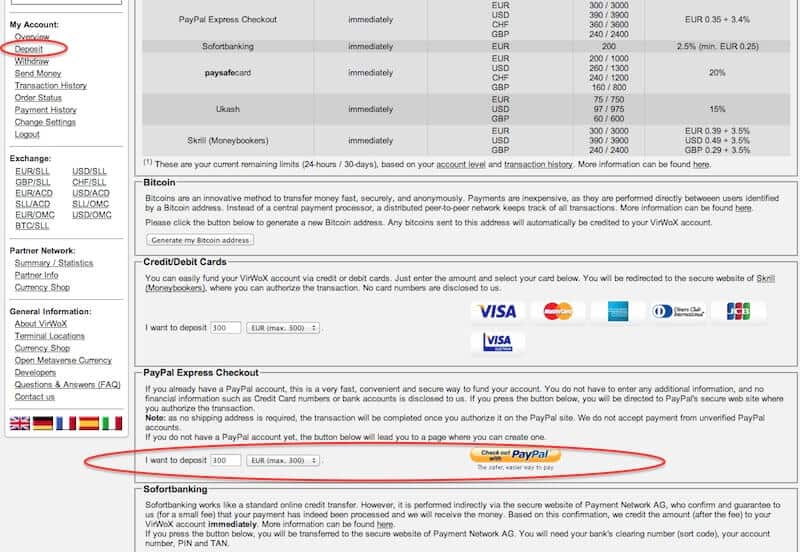 Počítejte s tím, že existuje horní limit pro to, kolik peněz si můžete do VirWoxu převést, ale ten se bude postupně zvyšovat (přesná částka je uvedena na titulní straně služby VirWox). Takže po zadání částky, kterou si chcete uložit, klikněte na tlačítko "PayPal".
Poté se vám zobrazí platební stránka služby PayPal. Poku účet u služby PayPal máte, přehlaste se do něj a uskutečněte platbu. Poku však účet nemáte a chcete platbu provést pomocí platební karty, klikněte na odkaz "Don't have a PayPal account ?" (Nemáte účet u služby PayPal?).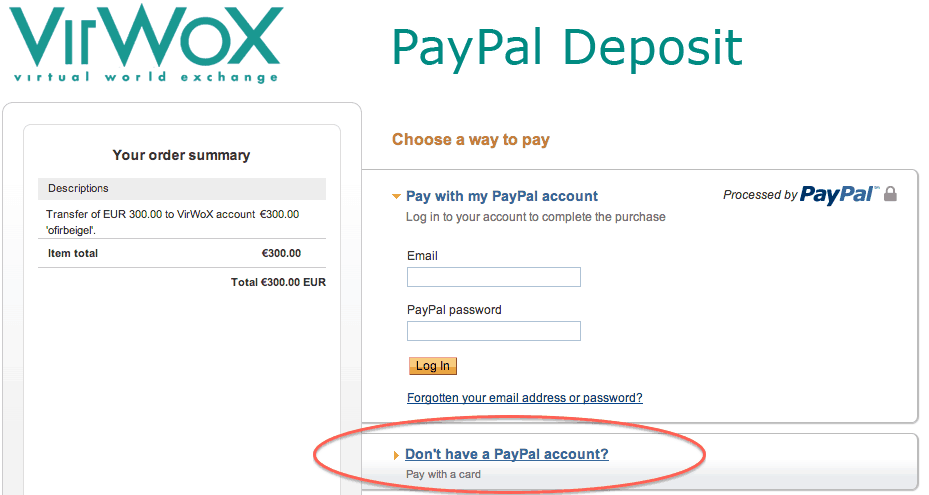 Po kliknutí na tento odkaz budete moci zadat údaje o své platební kartě a vložit si peníze do služby VirWox pomocí své platební karty.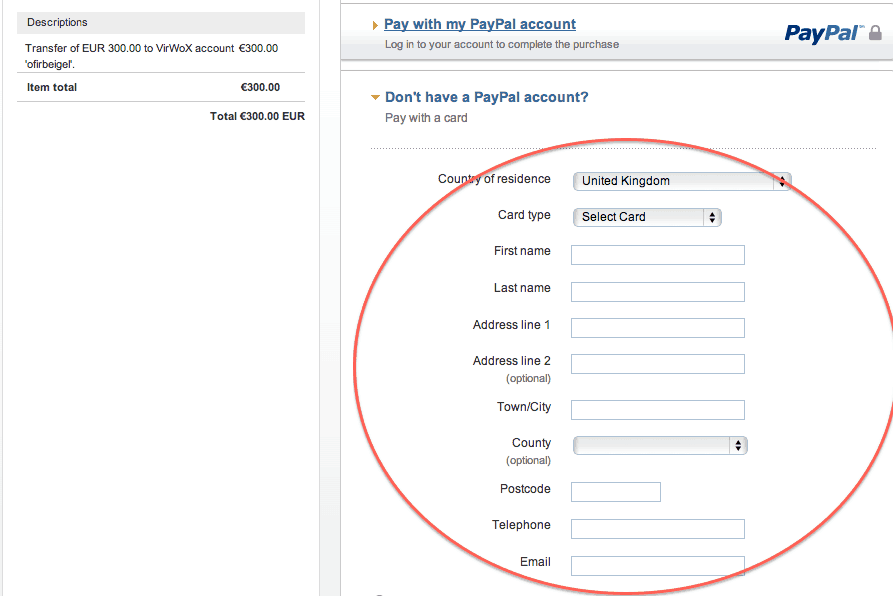 Po uložení peněz se vložená částka zobrazí vlevo nahoře jako zůstatek v USD (amerických dolarech). A nyní je už na čase koupit si nějaké bitcoiny. Prvním vaším krokem bude nákup SLL za USD. Jednoduše klikněte na SLL/USD a vyberte, kolik si ve stávajícím směnném kurzu chcete koupit SLL.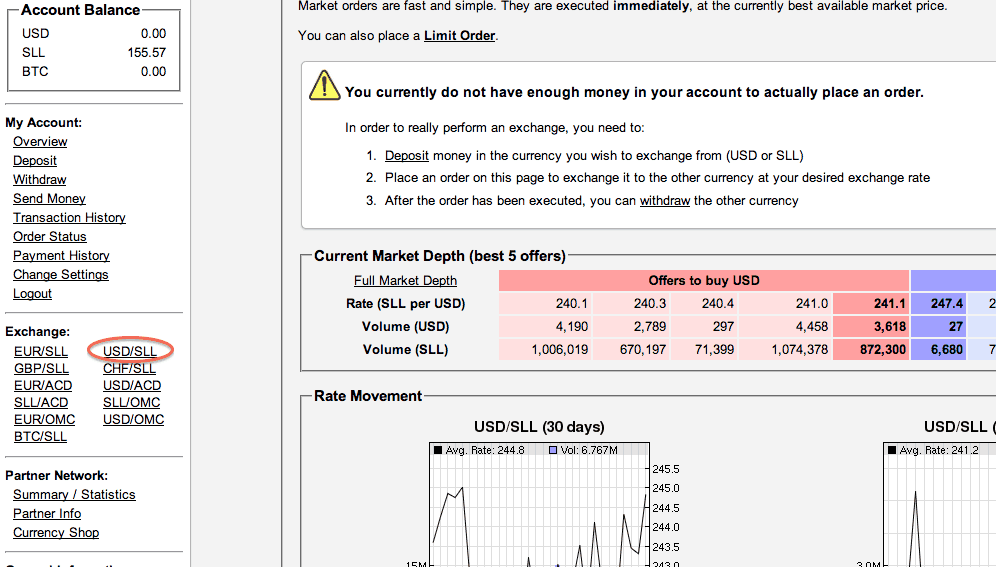 Na obrázku výše nemám dostatek USD na nákup SLL, ale kdybych byl postupoval podle zde uvedených kroků, bylo by tam vidět, kolik SSL si můžete koupit za své USD.
Až si tedy SLL koupíte, ukáží se také vlevo nahoře (moje jsou vidět v levém horním rohu obrázku výše). A nyní je načase vyměnit tyhle SLL za BTC. Takže klikněte na SLL/BTC a vyměňte si tolik SLL, kolik je vám libo.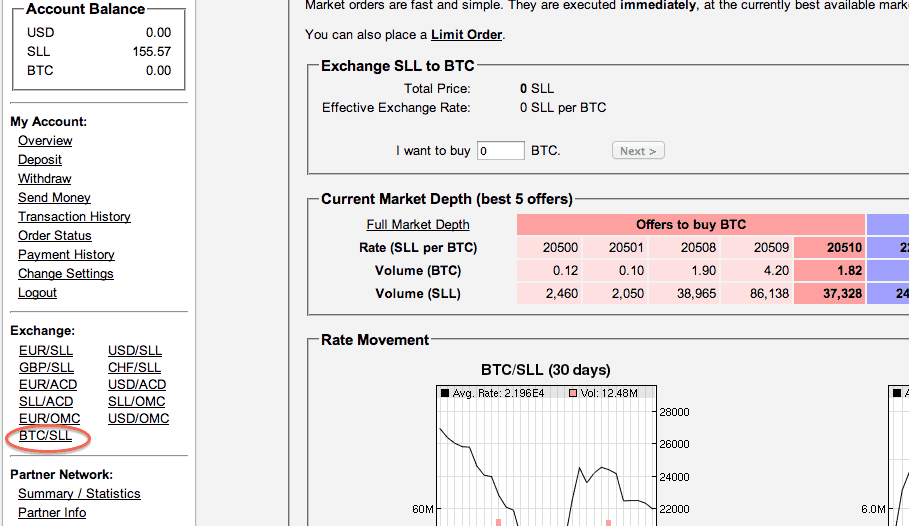 Důležité!!!
Někdy po tomto kroku bude VirWox provádět kontrolu transakce administrátorem. Může to zabrat až 48 hodin, i když obvykle to trvá okolo 6 hodin.
Až směna proběhne, objeví se bitcoiny také v levém horním rohu vašeho účtu. A posledním krokem je výběr bitcoinů do své vlastní peněženky. Takže stačí kliknout na "Withdraw" (Vybrat peníze) po levé straně a pak zadáte adresu, na kterou chcete nově zakoupené bitcoiny poslat.

Po schválení této transakce (může to zabrat až 48 hodin, i když obvykle to trvá okolo 6) se bitcoiny objeví ve vaší peněžence.