Poznámka: Pokud si chcete koupit bitcoiny prostřednictvím Paypalu či platební karty čistě za účelem obchodování, pak se podívejte na služby  Plus500, které umožňují CFD obchodování s bitcoiny.
Protože v současnosti žádná směnárna neumožňuje obejít problémy s vracením bitcoinů koupených přes Paypal, budeme muset použít službu VirWox – The Virtual World Exchange. Použijeme virtuální měnu jménem SLL (Second Life Linden Dollars), která se používá ve hře Second Life, jednom z největších virtuálních světů. Po nákupu této měny pomocí služby Paypal (což možné je) ji směníme za bitcoiny.
Co byste měli vědět, než se do toho pustíme:
VirWox na sebe bere rizika spojená s vracením peněz a proto omezuje částku, kterou je možné na účet u nich uložit pomocí Paypalu nebo platební karty. Tady jsou konkrétní limity k 21. prosinci 2013.

V tomto procesu figuruje více poplatků za převody, než obvykle. I tak by to ale mohlo být dobré řešení, když se podíváme na závratně rostoucí ceny BTC, které nám to vynahradí. Je důležité, abyste o těchto přímých poplatcích za převod věděli.
Od prosince 2013 zpožďuje VirWox převody peněz nových uživatelů až o 48 hodin. To znamená, že může trvat až 2 dny, než proběhne celý tento proces (i tak je to ale o dost rychlejší než převod na účet).
Když někde nebudete vědět kudy kam, kdykoli mě kontaktujte pomocí kontaktního formuláře těchto stránek.
Krok č. 1: Jdete na 

VirWox

.
Server VirWox je směnárna virtuálních měn, kde si můžete koupit lindeny, bitcoiny a další.
Krok č. 2: Založte si účet zdarma
Účet si založíte kliknutím na "Not registered yet?" (Ještě nejste zaregistrovaní?) navrchu levé lišty, viz obrázek: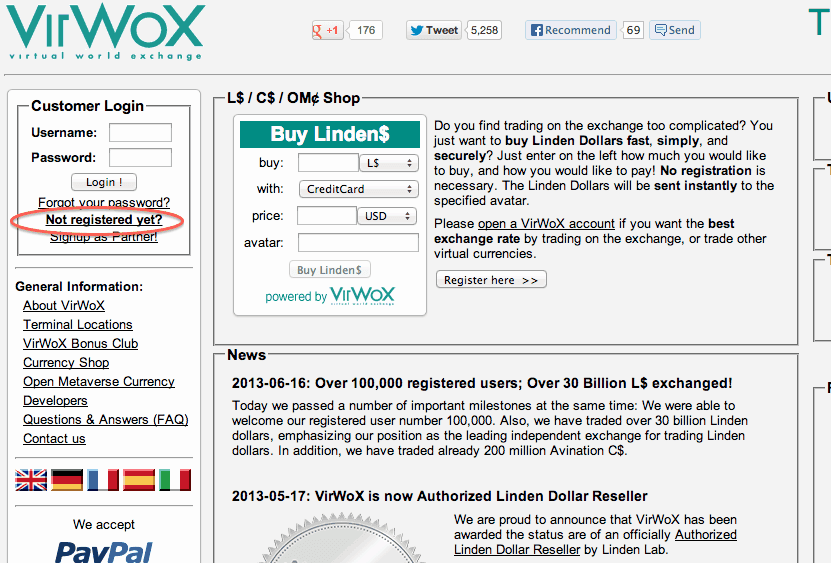 Krok č. 3: Vyplňte své osobní údaje
Zadejte své uživatelské jméno a emailovou adresu. Políčko "Avatar Name" (Jméno avatara) nechte jako "No Avatar" (Bez avatara).
Je to jedno, protože hru Second Life hrát nebudete.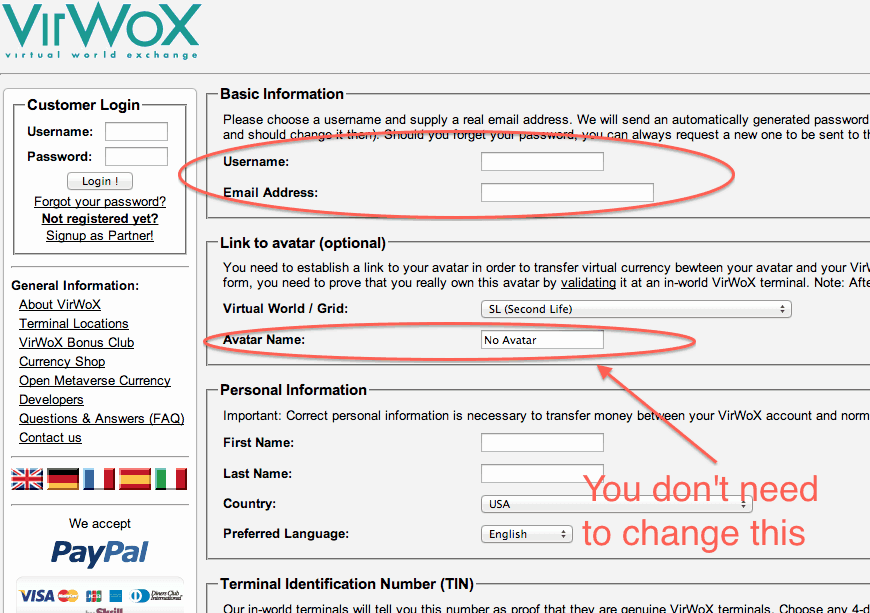 Vyplňte ostatní políčka a pak klikněte na tlačítko "Register !" (Zaregistrovat se).
Krok č. 4: Aktivujte si svůj účet
Až kliknete na "Register !" (Zaregistrovat se), přijde vám potvrzovací email s vaším heslem. Otevřete ho, zkopírujte si heslo a přihlaste se do VirWox.
Krok č. 5: DŮLEŽITÉ!!! Změňte si heslo!
Protože pomocí této služby budete převádět peníze, silně doporučuji si po kliknutí na aktivační odkaz změnit heslo, viz obrázek níže.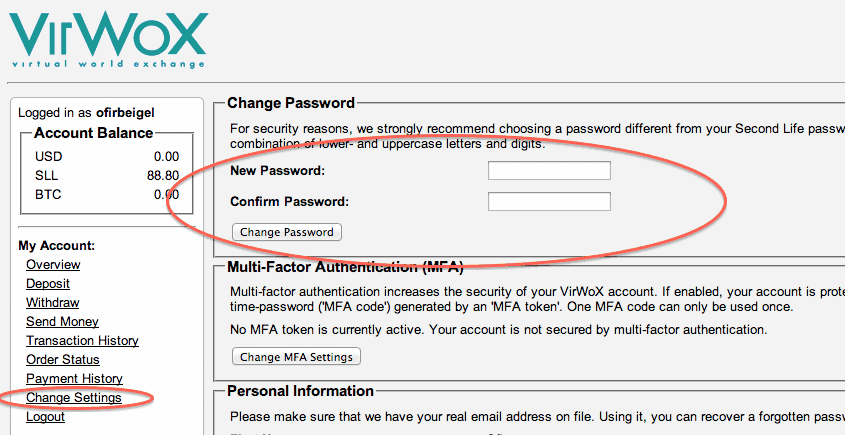 Hlášky "Your avatar connection has not been validated yet" (Propojení s vaším avatarem ještě nebylo ověřeno) si nevšímejte.
Krok č. 6: Převeďte si na účet peníze ze služby PayPal
Klikněte na "Deposit" (Uložit peníze) po levé straně a zvolte "PayPal Express" (Expresní PayPal). Uložte si na účet tolik USD (amerických dolarů), kolik potřebujete.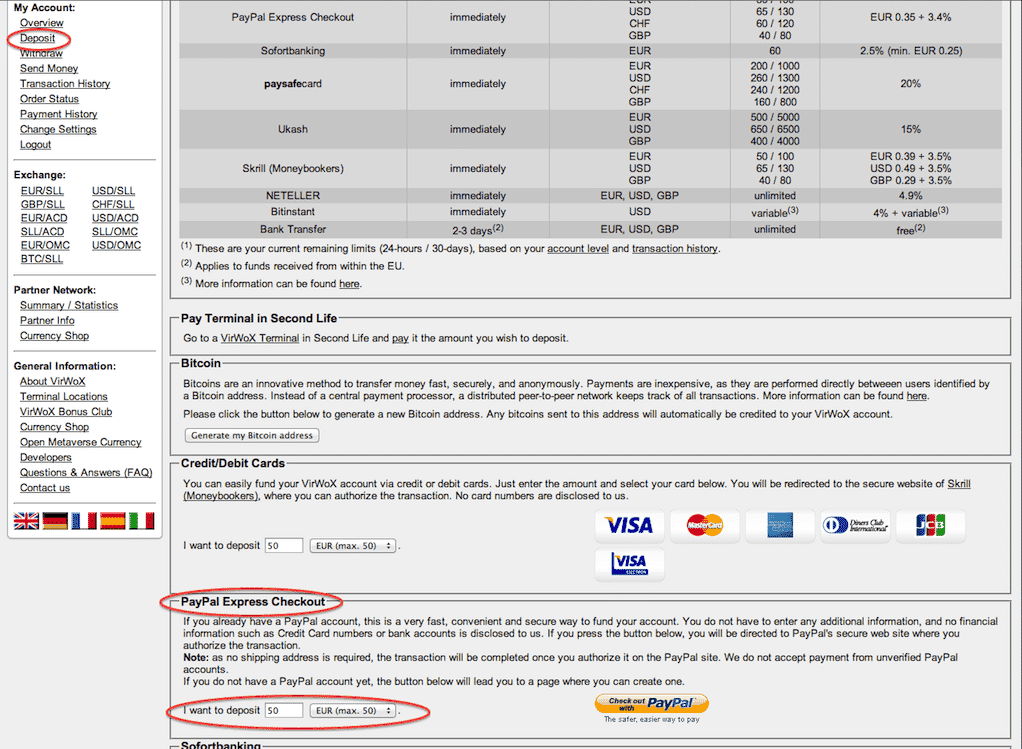 Poznámka: Od teď bude ke každé transakci účtován poplatek – nezapomeňte se seznámit s výší poplatků za výběry a uložení.
Krok č. 7: Nákup SLL za USD
V levém menu klikněte v sekci Exchange na "USD/SLL". Případně můžete použít i jinou měnu. Kupte si SLL (zkratka pro Second Life Lindens). Později se podíváme, jak převést SLL na bitcoiny.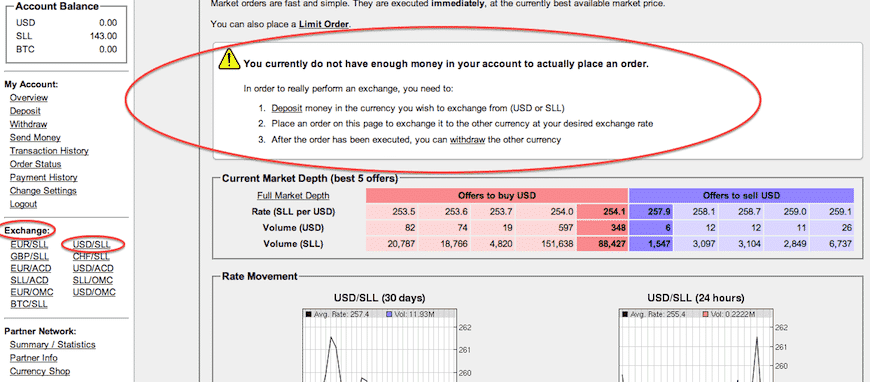 Poznámka: Pokud jste si na účet ještě neuložili peníze, zobrazí se stránka, která vám připomene, že bez uložení peněz si SLL nekoupíte.
Krok č. 8: Nákup BTC za SLL
Jakmile máte na účtu SLL, klikněte na BTC/SLL a kupte si za své SLL bitcoiny.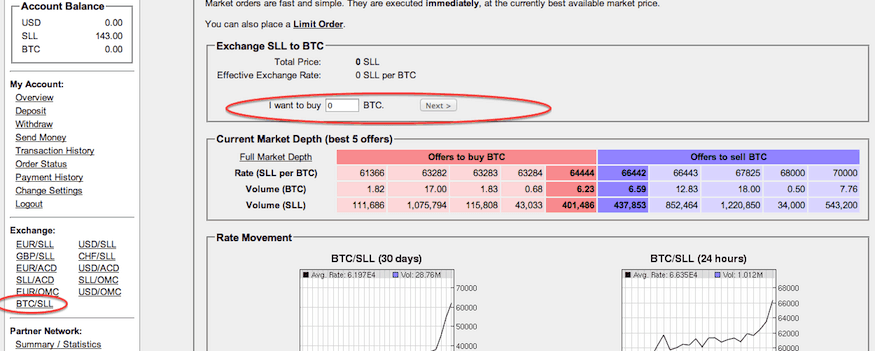 Důležité!!!
Někdy bude VirWox po tomto kroku provádět kontrolu transakce administrátorem. Může to zabrat až 48 hodin, i když obvykle to trvá okolo 6 hodin.
Krok č. 9: Vyberte si své bitcoiny
Na levé liště klikněte na "Withdraw" (Vybrat peníze) a pošlete si peníze do své bitcoinové peněženky.