The following post is based on my own experience as working as a Bitcoin affiliate for the past two and a half years.
It's with a heavy heart that I write this article, but this has gone too far. When a company with Coinbase's magnitude allows itself to act however it wants, something has got to be said.
I manage 99Bitcoins, a blog for Bitcoin newbies that creates a sustainable business model using Bitcoin referral programs (i.e. affiliate programs).
What is Coinbase's referral program?
Simply put, your refer people to Coinbase and if they become paying customers you get a commission for bringing them in. The program has been around for a long time, but recently the commissions were raised to $75 per paying customer from the $5 it was in the past.
The rules are as follows:
Customers have to sign up to Coinbase by clicking your referral link
They need to buy at least $100 worth of BTC
They need to be from one of the supported countries
Sounds attractive, right? Well, not so fast…
My own results with Coinbase's referral program
Around two weeks ago, I decided to start a promo for 99Bitcoins' readers. Each reader who signs up to Coinbase through my referral link and buys $100 in Bitcoins will get $25 back. This way you could basically get Bitcoins at a 25 percent discount.
As you can see from the comments in the post, it worked out pretty well and everybody was happy. Well, I guess everybody except Coinbase.
At some point I started getting emails from people requesting their $25, but Coinbase never sent the commission for them. In the beginning, I figured this was just a temporary glitch in my workaround, but it got me looking into our own stats for referring people to Coinbase.
Here's what I found:
I started promoting Coinbase on January 2014. I took my "all time referral report" and removed all of the accounts that never deposited any money to Coinbase. So out of 2,134 leads I had brought in during the past 20 months, I had 563 depositing customers that I had referred.
269 customers (47.77 percent) were approved for commission and 294 (52.23 percent) accounts were marked as "not eligible". You can see the complete data (personal information removed, of course) in this spread sheet.
So, up until now, you can say it makes sense: for every eligible account there is a non-eligible account. However, then I decided to look at the last two months of referrals, because during this time period I had been driving more and more traffic to Coinbase, and so the commissions had increased significantly. So it only made sense to take a look at the last two months.
Between August 1st 2015 and September 30th 2015 I had brought in 647 leads, which converted to 157 paying customers. Out of these leads 30 (19.1 percent) were approved for commissions, and… drumroll, please….127 (80.9 percent) were not eligible. So, basically, out of every five paying customers that you bring to Coinbase you get paid for only one. And that, my friends, sucks.
Shortly after, a user named BitcoinKnowledge posted the following on Reddit:
"Over the past 30 days I sent 1,893 clicks resulting in 659 signups (102 not eligible?, 531 account incomplete and 18 payouts) referral payouts or $0.713 per click. This pales compared to the average Google CPC of $3.70 for 'buy Bitcoin' and $5.85 for 'buy Bitcoins'. If Coinbase were skimming (a common practice used to screw affiliates out of commissions) and instead paid out on the 102 'not eligible' then the CPC would have been $13.65, which would seem unusually high; the revenue per click should have been around $8-9.

Either way, given the quality of the traffic on the pages where the clicks were generated it is my conclusion that the Coinbase affiliate program, even at $75 per user, vastly underperformes other alternatives."
This user's statistics shows more or less the same results as mine.
Trying to get some answers from Coinbase
Naturally, I started opening support tickets at Coinbase for our readers who specifically told me that they went through the process and wanted their $25 rebate. The responses I got were delayed and lacking in relevant information.
For example, one representative told me the following: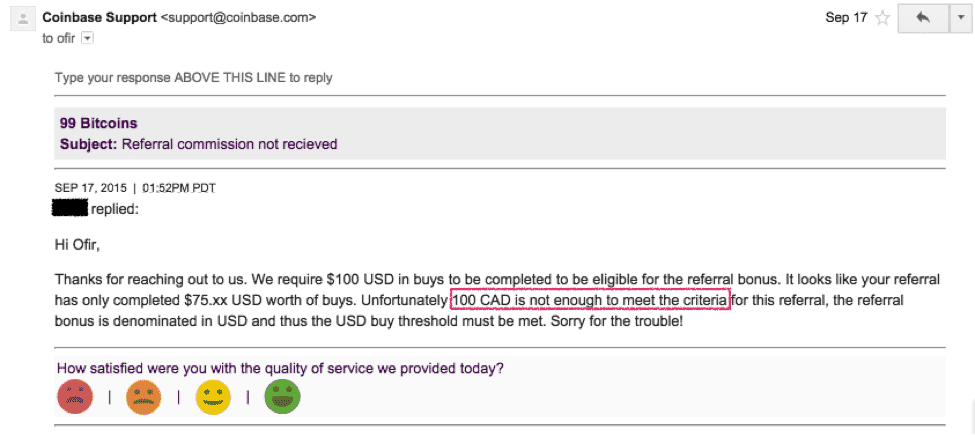 However Coinbase's terms for the referral program strictly show the following:

This may have been changed after the ticket was solved, since I only visited the terms page a week and a half later, but after I asked about this two days ago I am yet to receive a response from Coinbase.
In other tickets I issued I was just told that my referral hadn't been approved due to privacy concerns that they could not further explain, which is really convenient.
Perhaps Coinbase has a flawed business model?
Every referral program usually relies on the assumption that the commission paid to the referrer is equal or less to the acquired customer's lifetime value. In other words, Coinbase assumes that a customer who buys $100 worth of Bitcoins will probably yield at least a $75 profit to the company in the long run.
However, at the moment the Bitcoin economy is pretty stagnant and people are not buying as many BTC as they used to. Furthermore, Coinbase only takes a one percent commission from each transaction, so they are paying $75 to their referrers when they are making only $1 to start out with.
I'm not assuming to know the complete picture of Coinbase's business model, but I do know affiliate commission benchmarks, and on the day Coinbase announced that they were raising the commissions to $75 my first thought was "this is not sustainable".
Best case scenario, what I'm experiencing now is the backlash of a questionable business decision. Worst case, it's an intentional action to get people to promote Coinbase more aggressively without paying them for their work and hiding behind obscure explanations.
UPDATE: Amazingly enough, at the time of writing this post, a Reddit post appeared showing Coinbase has reduced their affiliate commission to $10. This was done without updating the affiliates and many are angry about this "silent" move.
So what's actually lacking from Coinbase's program?
So here are the top three things I believe should be improved in Coinbase's referral program:
Give detailed statistics about conversions. As a professional affiliate, if I don't know why I'm not getting paid for a lead I have no way of optimizing my process. Was it because he didn't deposit enough money? Is he from an ineligible country? Don't let me shoot in the dark.
On the other hand Coinbase may want to go in a different route – making the referral reports anonymous. Since they're not willing to supply any information on your customers why not just present them as "general users". This way they can disclose much more information and still keep their customers privacy. This method is widely adopted throughout the affiliate ecosystem. Since I don't know who the customer is, they can supply almost limitless information.
If all else fails, at least get a dedicated affiliate support rep to handle all referral support requests – the current support system of Coinbase just doesn't cut it.
Make sure to update all affiliates on every change you make to your terms of use. Always.
Some hopes for the future
The Bitcoin ecosystem is not very affiliate/referral oriented. You can see this with many other companies, and not just Coinbase. However my hopes are that in the future companies will notice the true value of professional affiliates and allocate the proper resources to nurture the relationships with them. For the time being – if you're not getting the results you want out of Coinbase's referral program, you're not alone.