Moviegoers can now pay for their movie tickets with Bitcoin before watching the indie teen comedy 'Dope' thanks to a three-way effort. Movie studio Open Road Films teamed up with MovieTickets.com and GoCoin to launch the new payment option.
'Dope', an independent comedy about a high scholl geek named Malcolm and his friends who make a living selling drugs for Bitcoin, opens on June 19th. The movie previously premiered at the Sundance Film Festival and received several positive reviews.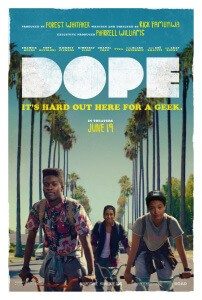 The fact that Bitcoin plays a central role in the movie makes the decision to sell tickets in exchange for cryptocurrency even more relevant. It is definitely a first in the industry, thanks to Open Road Films.
In the beginning of the movie, the main character says: "I just read that money as we know it is dead. Soon the world is only going to buy and sell products using Bitcoins. It's like a complicated math equation." This information makes Malcolm and his friends realise they need to make the most of this opportunity. And that is how the group starts selling illegal substances in exchange for BTC.
According to Open Road Films' Chief Marketing Officer Jason Cassidy, integrating Bitcoin outside the movie was a natural move.
"Bitcoin is an integral part of 'Dope' and we could not be more excited to bring this unique new opportunity to moviegoers."
Fans and moviegoers can buy tickets with BTC starting today, June 15th. The Bitcoin option is available on MovieTickets.com and covers more than 900 theaters in the United States thanks to the integration of GoCoin's system. However, since the movie will open on approximately 2,000 screens nationwide, not all the theathers will accept BTC.
Alex Winter, director of the documentary 'Deep Web', congratulated the movie studio. "It's cool what they're doing," he told TheWrap. Winter is filming the story of Ross Ulbricht, also known as 'Dread Pirate Roberts', the creator of the massive illegal marketplace Silk Road. Ulbricht was recently sentenced to life in prison after the site was shut down in 2013.
"The movie ['Dope'] itself is using Bitcoin for drugs. That's actually pretty accurate. There would have been no Bitcoin without the Silk Road. These disruptive technologies often come into the mainstream via contraband or criminality," Winter added.
It's not the first time that Open Road Films embraces movies connected inspired by technology. The studio also produced the Steve jobs biopic 'Jobs' and the Twitter-inspired hit 'Chef'. However, 'Dope' – whose list of executive producers includes Forest Whitaker, Pharrell Williams and Sean Combs – has been enjoying a major social media buzz since its Sundance debut, TheWrap reports.
And MovieTickets.com is riding this Bitcoin-friendly social media wave. The company "thrives on these types of opportunities. It's cool, it's original and we're going above and beyond the common boundaries to drive ticket sales," CEO Joel Cohen said.
Despite the fact that MovieTickets.com hasn't fully integrated BTC as a payment option, this is a great first step. Several users shared their thoughts on Reddit, in the hope that a smooth first experience ends up creating conditions for total and permanent Bitcoin support.