Tangem Wallet Review
By: Alex Miguel | Last updated: 4/19/23
The Tangem wallet is an NFC-based hardware wallet accompanied by a mobile app, which doesn't require a computer to operate. In this review, I'll cover my personal experience with the Tangem wallet, its setup process, features, and more.
Tangem Wallet Review Summary
The Tangem wallet is a very beginner-friendly hardware wallet, which is also cheaper than its more complex competition. The setup process does not require dealing with seed phrases, which makes it super easy and time-saving – but comes at the risk of losing your funds if the Tangem app is not kept running by the company.
It's a great option for new users, allowing to store thousands of crypto assets safely, but also use Web3 with the WalletConnect.
That's the Tangem wallet in a nutshell. If you want a detailed review of my experience with the Tangem wallet, keep on reading. Here's what I'll cover:
---
1. What is a Hardware Wallet?
A hardware wallet is a type of crypto wallet that enables users to store their coins in "cold storage". In simple terms, this means storing crypto offline and separately from other devices – so that there is no direct connection to the internet.
This enables you to keep your crypto private keys safely stored in the long-run, since offline storage is infinitely more difficult to compromise than storage online.
---
2. Company Overview
Tangem is a blockchain company that was established in 2017 and has its main office in Zug, Switzerland. It also has branches in North America, Eastern Europe, and the Asia-Pacific region.
The company specializes in creating secure microchips, smart cards, and other embedded solutions with built-in support for blockchain operations. They get their integrated semiconductor platforms from industry leaders like Samsung and NXP, while also manufacturing their own chip designs in Singapore and Taiwan through UMC.
In 2019, SBI Crypto Investment Ltd., which is wholly owned by SBI Holdings Inc., invested $15 million in Tangem, to encourage the mass adoption of blockchain technology.
---
3. What's in the box?
The Tangem card wallet pack comes in a nifty pull-out box, which was fun to open (you'll know what I mean if you get one).
Inside, are your Tangem wallet cards (two or three card, depending on how many you ordered), along with a small get-started leaflet, which also contains the terms of service.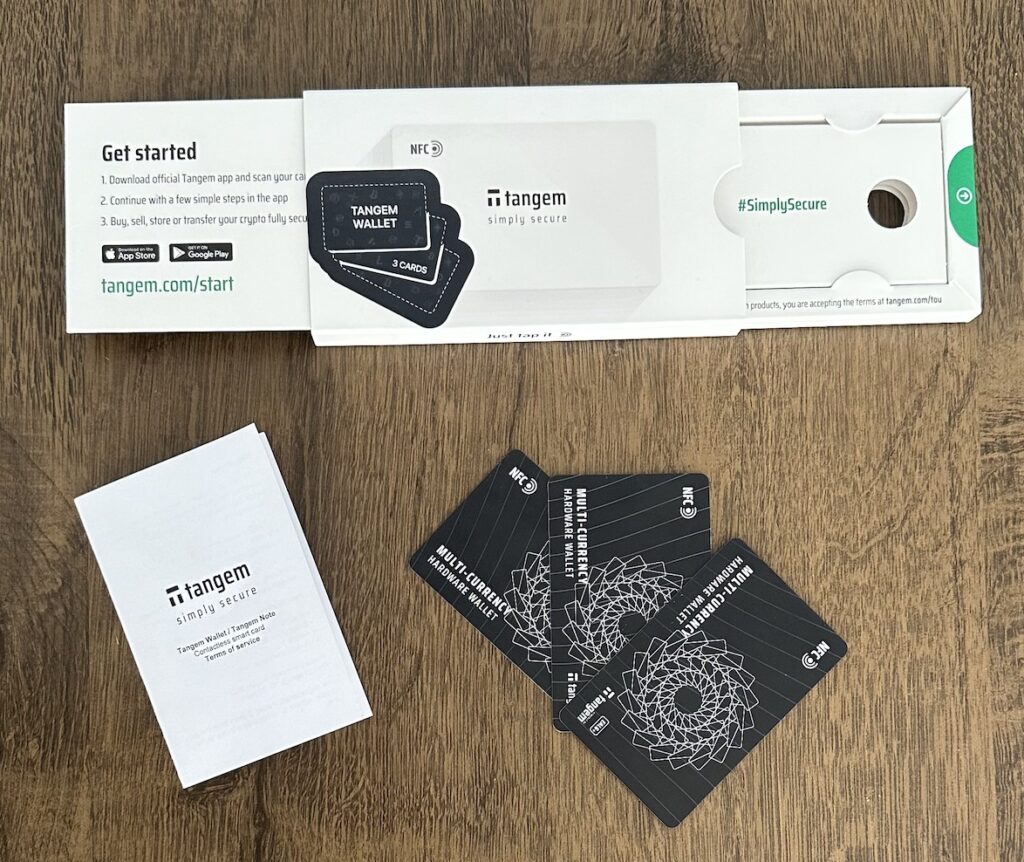 That's basically it! Since the device has no power source, there is no need for any chagrin cables or batteries.
The cards are both high secure and durable – according to Tangem, they are rated at the same level of chip protection used in passports, a rating known as "EAL6+". They also claim the cards are dust-proof, waterproof, and should last for over 25 years in temperatures between -25℃ (-13.℉) and +55℃ (131℉).
---
4. Tangem Wallet Supported Coins
The Tangem wallet supports over 2,700 cryptocurrencies, including ERC-20 tokens and non-fungible tokens (NFTs) such as ERC-721 tokens.
Bitcoin (BTC)
Ethereum (ETH)
BNB (BNB)
USD Coin (USDC)
Ripple (XRP)
Cardano (ADA)
Lido Staked Ether (STETH)
Dogecoin (DOGE)
Polygon (MATIC)
Solana (SOL)
Polkadot (DOT)
Litecoin (LTC)
The wallet also supports access to Web3 applications via WalletConnect.
---
5. How Do I Setup My Tangem Wallet?
Setting up the Tangem wallet is nice and easy – simply download the official Tangem wallet app, and it will guide you the rest of the way. Here's what the process looks like:
Step 1: Download the Tangem Wallet app
To begin, visit the "get started" url that is displayed inside the box (tangem.com/start), scroll down and click on the appropriate download link. Alternatively, you can simply tap one of the cards against your phone and click on the notification, which will send you directly to the app store.
Install the app on your phone.
Step 2: Scan a Tangem card
Once you start up the app, it will direct you to scan one of your Tangem cards provided in the box. Scan one card.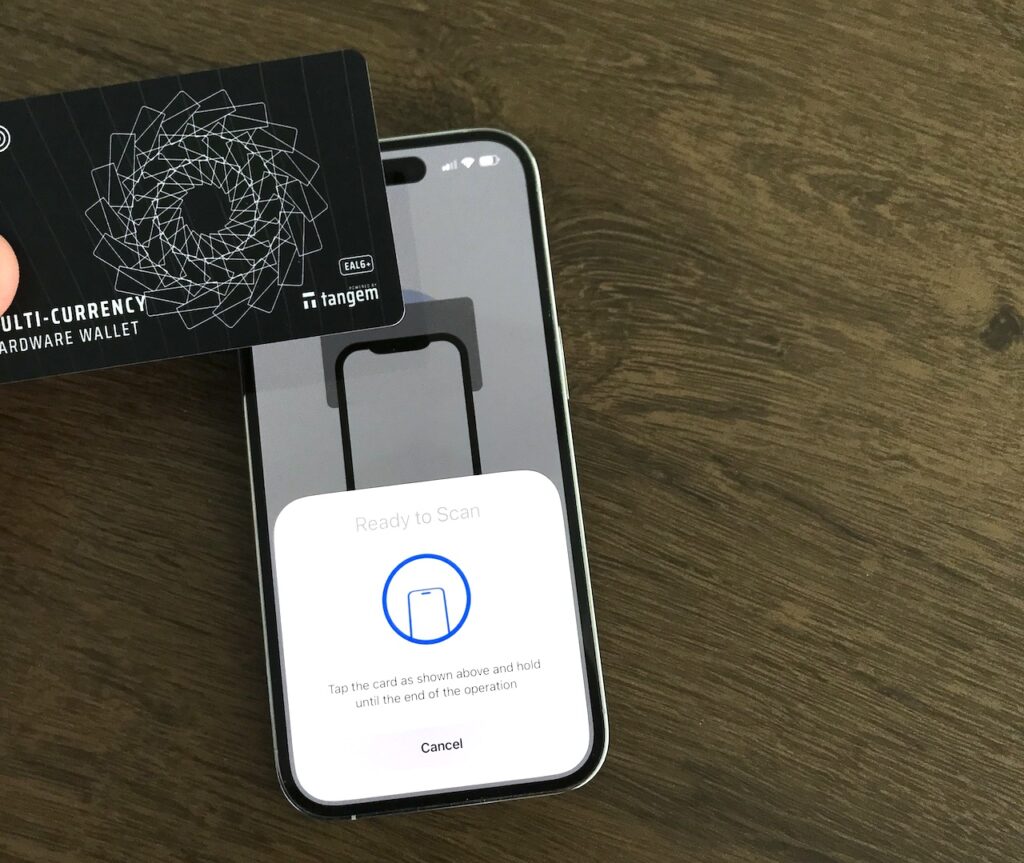 Step 3: Create a wallet & back-up
Once scanned, you will be asked to create a wallet, which involves scanning the card again – hold the Tangem card against your phone until the app tells you the scan is complete.
Scan the additional card(s) to create backups of your new Tangem wallet. Once again, you will have to hold the card against the phone until it shows that the operation is complete.
Step 4: Create an access code & confirm cards
You will be asked to create an access code to protect your wallets. This takes the form of a simple pin number. Once this is done, you will be asked to scan each of your cards once more, to confirm that they have been linked and updated correctly.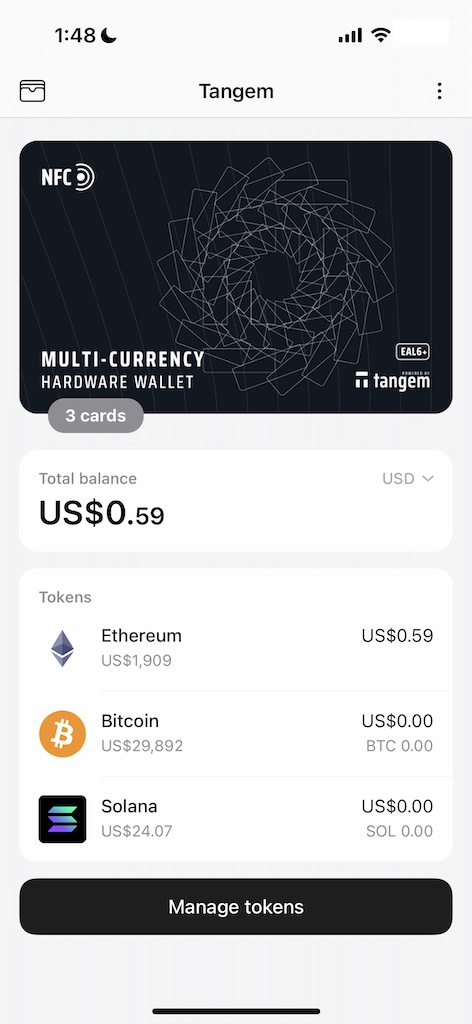 And that's it – you're ready to send funds to your Tangem wallet account and start using dApps!
---
6. Personal Usage Experience
The Tangem wallet was a very interesting contrast to other hardware wallets I've tried in the past, due to it not being a complex independent device.
The setup process was extremely quick, and being the size and shape of a regular bank card, it's very easy to carry and store.
One important note, however, is that you are not able to separately store a seed phrase or similar – you'll always need to use the Tangem card and app to restore your wallet. With other hardware wallets, you have the ability to store your seed phrase in any form you like, so that you can restore it with other wallets if you lose your device.
Tangem believes that the presence of a private key is a potential vulnerability, choosing instead to rely on the card and backup cards, secured by an access code. The value here is that the private key is never exposed to the world in any form – and therefore infinitely more difficult to compromise.
The Tangem wallet is very easy to use, and it's great having the WalletConnect feature if you use Web3 apps.
Approving transactions was also a fascinating experience, requiring nothing but a tap of the card against your phone to send funds. Definitely beginner friendly!
---
7. How Much Does the Tangem Wallet Cost?
The Tangem Wallet, being a simple NFC card with no moving parts or cables, comes at a lower price tag than most other hardware wallet alternatives. A pack of two Tangem cards starts at just $43.90 – almost half the price of the popular Ledger Nano S hardware wallet.
For those looking for an entry-level hardware wallet but don't want to spend a lot of money, this may be a perfect option.
---
8. Conclusion – Is the Tangem wallet Worth It?
The Tangem wallet puts a very user-friendly spin on hardware wallets, doing away with complications from seed phrases, daunting electronic devices and jargon. This does, however, come with the risk of relying solely on the Tangem app to function – unlike other wallets, it can't be restored through alternative apps.
The setup process is extremely nice and easy, and doesn't require a computer like many other hardware wallet alternatives. It supports a huge range of coins, as well as providing a handy WalletConnect integration to enable easy use of Web 3.0 and decentralized apps.
Along with a relatively low price point and great durability, the Tangem Wallet is an excellent alternative to its more complicated competitors.