Ballet Wallet Review
By: Alex Miguel | Last updated: 1/25/23
The Ballet Wallet is a non-electronic hardware wallet, which is in the form of a metal card. In this post, I'll go over my personal experience with the Ballet Wallet and how it compares to some of the more established hardware wallets.
Ballet Wallet Review Summary
The Ballet Wallet is a durable hardware wallet, which contains no electronic parts. It functions similarly to a traditional paper wallet, but in a much more durable and presentable form. The card also comes with a companion app, which can be used to more easily manage funds and add additional assets.
That's the Ballet Wallet in a nutshell. If you'd like a more detailed review of my experience with the Ballet Wallet, continue reading below. Here's what I'll cover:
---
1. Ballet Background
Ballet Crypto is a company founded in 2019 in the United States and headquartered in Las Vegas, Nevada. It was founded by the well-known crypto figure Bobby Lee, along with other international crypto veterans. Bobby Lee is well-known for co-founding BTCC – the first Bitcoin exchange in China – and frequently appearing on news network CNBC as a crypto analyst. He is also the brother of Charlie Lee, the creator of Litecoin.
In 2019, the company successfully raised around $5 million in its seed funding round, which was led by Ribbit Capital. Ballet now produces several hardware card wallets, including the REAL Series (reviewed here), the PURE Series and the PRO Series. They have also produced a companion mobile app, which enables Ballet Wallet users to more easily acquire cryptocurrency, check its market value, activate additional currencies and more. 
To improve the security of Ballet Wallet private keys, the keys are encrypted – the key is generated and printed in China, while the required passphrase is generated and printed in the USA.
---
2. What's In The Box?
The Ballet Wallet box is nice and simple, containing just the Ballet hardware wallet and an acrylic casing that you can store it in.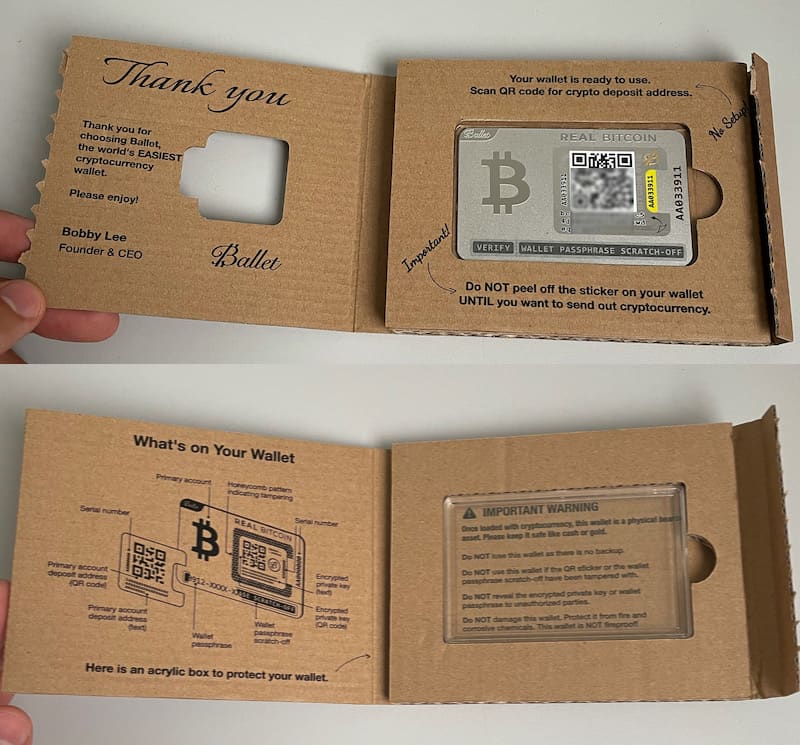 Rather than the typical instruction booklet insert, the box itself has all of the necessary directions and diagrams printed right on it. This includes a QR code that directs you to a quick-start guide, as well as an explanation of the entire mechanism behind the wallet's functionality.
Another thing that can not be seen in the box itself is the Ballet Crypto companion app. This app can be used to load the card with additional cryptocurrencies, spend the coins on your card and even purchase crypto within the app via a third party payments processor.
---
3. My Ballet Wallet Experience
I found the Ballet wallet very straightforward to use, being very similar to using a traditional paper wallet with an encrypted private key. 
In many ways, I preferred the non-electronic device to the much more intricate digital hardware wallets that are popular today. With the Ballet wallet, there is no setup required – simply send cryptocurrency to the public key on the front of the card and you're done!
On the other hand, the Ballet Wallet also has its disadvantages. The fact that you have to manually enter your private key into an online software wallet to spend funds means that the Ballet wallet is probably only highly secure for a single spend, rather than continuous use (which is more secure with digital hardware wallets).
Setting up the Ballet Wallet
There are a few steps you'll need to go through when setting up your Ballet Wallet. 
Step 1 – Send crypto to your Ballet Wallet
If you wish to load your Ballet wallet with the main cryptocurrency only (selected by you when you purchase it), simply send the coins you wish to store on the card using your current wallet or exchange account. This can be done by scanning the QR code on the front of the card, or manually entering the public key that is written below the code.
Step 2 – Storing additional currencies
If you wish to store additional currencies on your Ballet hardware wallet, you'll need to download the Ballet Crypto companion app. This app is available on iOS and Android. There is also a desktop version that is available for Windows, macOS, and Linux.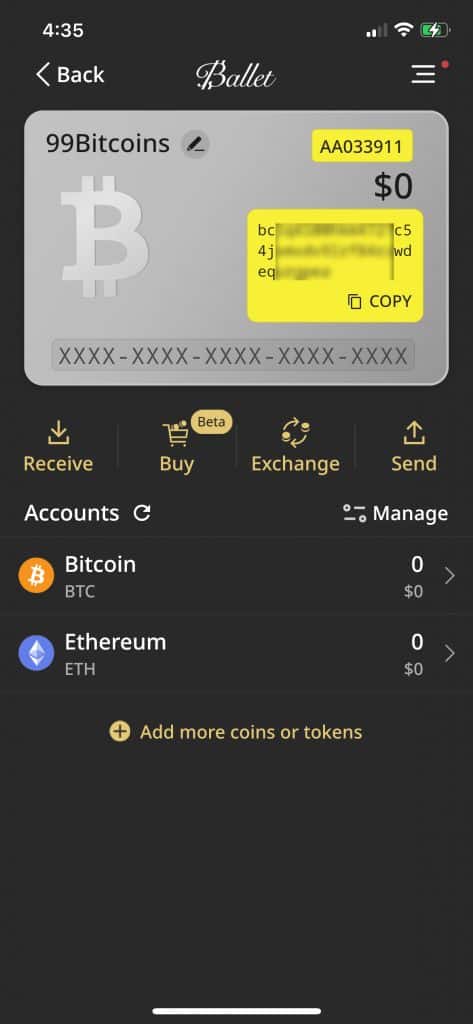 The app is very smooth and easy to use, allowing users to view their card balances, swap them, as well as purchase cryptocurrency using a credit card via third-party payments services.
Step 3 – Spending stored funds
To spend the coins stored on your card, you'll need to import your encrypted private key into a software wallet. Although many software wallets can be used for this, the easiest to use is the Ballet companion App. You'll also most likely need to use the Ballet App to spend any additional cryptocurrencies that are not the primary chosen currency for the card.
Simply open the app and click "send". You will then enter the destination address and the amount of the asset you wish to send, then manually enter the passphrase. Finally, you will scan the private key which is hidden underneath the sticker on your card.
I found the passphrase sticker quite difficult to scratch off, however this is a good indication of durability for the card's security.
---
4. Ballet Wallet supported coins
Customers can choose one of the following cryptocurrencies to be natively by a Ballet Wallet, for direct use without the app:
Bitcoin

(BTC)

Litecoin

(LTC)

Ethereum

(ETH)

Cosmos (ATOM)

Basic Attention Token (BAT)

Dash (DASH)

Bitcoin Cash (BCH)

XRP (XRP)

Uniswap (UNI)

Ravencoin (RVN)

Tether (USDT)
Any number of additional cryptocurrencies can also be loaded onto the Ballet Wallet via the companion app. This includes any of the above assets, as well as several others, for a total of more than 100 possible assets. You can view a complete list of these supported assets here.
---
5. How Much Does The Ballet Wallet Cost?
Being a much simpler hardware wallet than the likes of the TREZOR T or Ledger Nano X, the standard "REAL Series" Ballet Wallet comes at a modest cost of $35 for a single card, $99 for a pack of three, or $149 for five cards.
Other editions of the Ballet wallet cards are also available:
A "PURE Series" that has denominations of Bitcoin engraved into the card (for example, 1 BTC, 0.1 BTC, etc.). This series includes a solid silver card and a gold-plated stainless steel card, which cost as much as $499 for a set.

A "PRO Series" that enables users to create their own passphrase for their card, rather than use a pre-set one. These cost $179 for a pack of three cards.
---
6. Conclusion – Is the Ballet Wallet Worth it?
The Ballet Wallet is a great alternative to electronic hardware wallets, especially for those who expect to have minimal use of their funds in the short-term. It also makes a perfect crypto gift card, which can be loaded with as much or as little of a cryptocurrency you would like.
I would not recommend the Ballet Wallet to more active crypto users, due to the security risk of manually re-using the same private key on multiple occasions. Although they're much cheaper than most other hardware wallets, Ballet wallet cards are somewhat expensive for what they are – a fancy metal version of an encrypted paper wallet. 
Have you tried the Ballet Wallet? Let me know what you think about it in the comments section below.