As you may know, even though Paypal has been very supportive of Bitcoin lately there's still no easy way to purchase Bitcoins with Paypal easily.  I've covered in a previous posts 5 legit ways you can buy Bitcoins with Paypal but most of them take either a lot of time or a lot of money in fees.
Recently I got an email from a subscriber of mine stating the following:

Of course this got me intrigued so I asked him about it. It turns out there's a really simple  hack you can do to get Bitcoins with Paypal instantly using Circle. There are a few limitations though:
1. You need to live in the US
2. You need to have a verified Paypal account linked to a credit card / bank account
If you're OK with these two limitations then you're good to go. Here's how it's done.
Step 1 – Open a Circle account
Head up to Circle and open an account. I've reviewed Circle before and it's a great service provider for buying Bitcoins with a credit card. Opening an account is pretty straight forward and you shouldn't run into any problems.
Step 2 – Get a Paypal Debit Mastercard
If you already have a Paypal Debit Mastercard (not to confuse with a Paypal prepaid card) then you can skip this step. If not, you can apply here. Application takes a few minutes, this includes the result if you're approved or denied. Once approved it can take between 2 to 4 weeks to receive your card in the mail. Once the card arrives you'll need to activate by calling a toll free number or through logging in to your account.
Step 3 – Connect your Paypal Debit Mastercard to your Circle account
Go to your account -> settings -> linked accounts and click on "add account". You can then enter the details of your Paypal debit mastercard.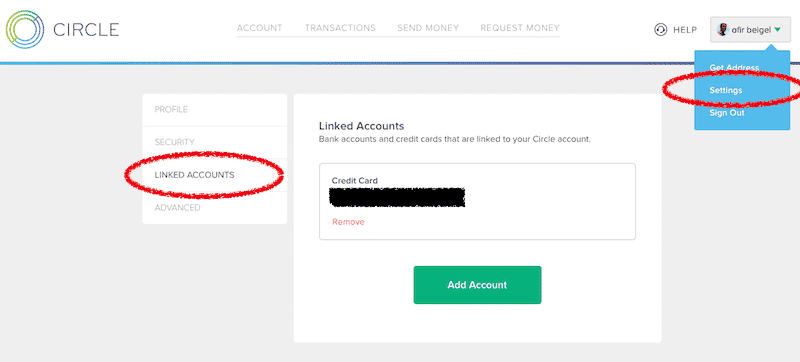 Step 4 – Buy Bitcoins with Paypal instantly!
Once your card is connected you can now but Bitcoins and your Paypal balance will be the first to be used in this purchase. You can also sell Bitcoins and withdraw the dollar balance back to your card.
I want to thank my reader Chadwick for brining this to my attention. This is definitely one great hack which will allow many people to buy more Bitcoins. Personally I can't use this hack since I don't live in the US but I've already confirmed on a recent Reddit post that this actually work. Good luck!