The major environmental organization Greenpeace has announced their American operation has started accepting Bitcoin donations as of today. This means the cryptocurrency ecosystem conquers yet another big name in the world of charity, one of the most important so far.
Greenpeace – a giant organization with offices in 40 different countries and a $200 million budget – has teamed up with the payment processor BitPay. The Atlanta-based company will be responsible for handling all the donations and converting them into fiat currency.
The eco-organization's goals are all about educating the public on concerning issues like deforestation or commercial whaling, for instance. However in order to fulfill these goals Greenpeace completely relies on donations that come from all over the world. And that usually means losing three percent of the donated value to pay for processing fees. But not with Bitcoin.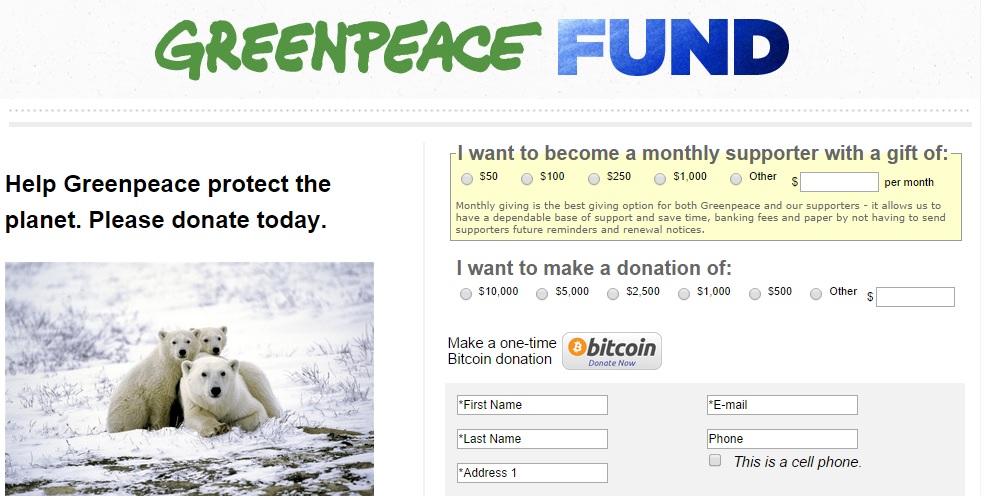 By deciding to accept cryptocurrency – despite the fact that the donations are then converted into fiat currency -, Greenpeace receives "100% of what is being donated increasing the amount of each donation received", says Elizabeth Ploshay, Non-profit Account manager at BitPay, quoted by NewsBTC.
"As a completely independent organization, we do not take money from corporations or governments and rely primarily on individual donations. BitPay's reputation as a trusted and secure third-party Bitcoin payment processor made it easy for us to begin accepting Bitcoin thus opening us up to new markets and donors", says Ben Kroetz, director of Online Strategy at Greenpeace USA.
Cryptocurrency donations can be made through Greenpeace USA's online page.