This last year was definitely a great one for Bitcoin and 2014 promises even more good news. In 2013, Bitcoin became one of the most researched words across the world in platforms like Google or Wikipedia and there's already a study made by a well-known economist that shows how the people's curiosity exponentially grows when cryptocurency's price goes up.
According to the economist Ladislav Krištoufek, from Charles University in Prague, understanding Bitcoin demand is an essential step to properly analyze the virtual currency. And an important part of demand (and its evolution) is the number of people interested in knowing more.
That is why Krištoufek, quoted by Forbes, used Google Trends and Wikipedia to determine how many times people searched for the term 'Bitcoin' during the past year. The biggest peak was achieved in November, when cryptocurrency climbed to its maximum price ever, around $1,200.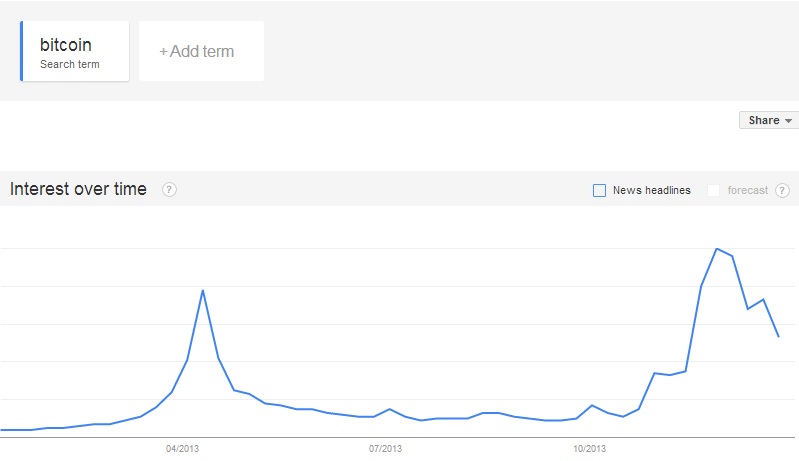 The second peak happened months before, between April 7 and 13, when the first big crash happened and Bitcoin's price went from a bit over $200 to a value around $60.
In his study "Bitcoin meets Google Trends and Wikipedia: Quantifying the relationship between phenomena of the Internet era", Ladislav Krištoufek analyzes the research data according to the price of cryptocurrency. There's obviously an influence in these peaks of interest.

The recently released Google Zeitgeist 2013 report confirms this trend: "What is Bitcoin" was considered the tenth most popular search in the United States, at least under the "What is …" category.
According to Digital Trends, the world's most famous cryptocurrency made it to the top 10, ranking behind the winner "what is twerking" and other examples like "what is gluten" or "what is Snapchat".