Although the Reserve Bank of India stated that it would not regulate Bitcoin due to lack of knowledge regarding the world of digital money, there are new cryptocurrency-related companies popping up in the country. The most recent one is BTCXIndia, which claims to be the nation's first real time Bitcoin trading platform.
The company, promoted by S Capital Solutions Pvt Ltd, announced the official launching of the service will happen next Monday, on 5th May.
According to the platform's website, BTCXIndia will offer "a secure, real time trading platform, following KYC-and AML-guidelines and allowing instant INR deposits and withdrawals". Their online page also states that the exchange follows "strict Know-Your-Customer (KYC) procedures and Anti-Money-Laundering (AML) guidelines at par with similar requirements imposed on regulated financial institutions".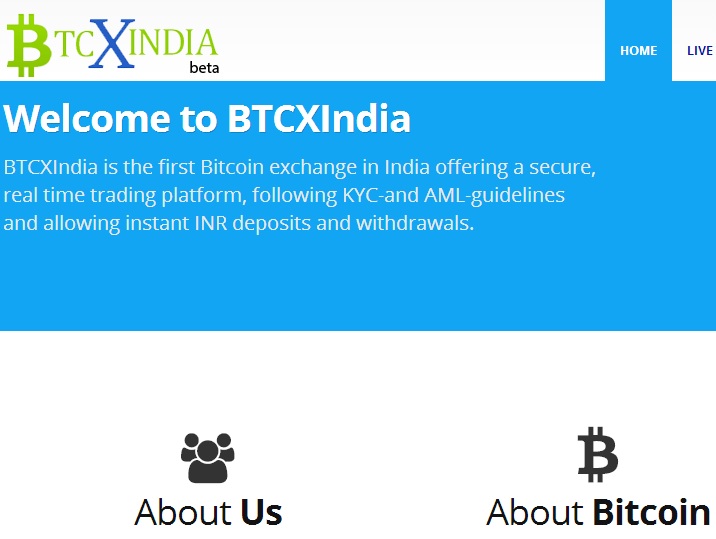 Besides, BTCXIndia claims to maintain regular contact with Indian regulatory bodies, while closely monitoring the legal situation for cryptocurrencies in the country.
Once fully operational the exchange will allow the users to buy and sell BTC for Indian rupee "with a tight spread", as well as follow their orders through a live order book. The transfers will be quick and made through NEFT-, IMPS- and RTGS.
The company claims to be using the "same level of log-in and account security as used by established financial institutions". Trying to appease any concerns, BTCXIndia has also guaranteed it will store the received deposits offline to avoid any losses in case the system is compromised.
"Our back-end systems are de-connected from the trading platform, also reducing the impact of hacker attacks and software malfunction", the website adds.
Bitcoin trading might not be not a clear activity to the Indian authorities, but back in January a press conference headed by Nishith Desai, India's top taxation and legal expert, brought good news to the local Bitcoiners and investors. According to Desai, Bitcoin is a legitimate currency that could bring several benefits to the Indian economy.