Bitcoin is both a network and a currency, and thus there are ways to earn it without paying for it with another currency.  In fact, that is the point of the currency side of bitcoin.  It is to be used to purchase goods, services, etc., or for other avenues that the instant, digital transmission of funds is beneficial.  Bitcoin's advantage over traditional currency is exactly this, as it allows individuals to make money, or spend money, in ways that would be nearly impossible with a fiat currency.
Ways to Earn Bitcoins Without Spending Cash
There are many ways to earn bitcoins, but some require a much larger investment of time than others.  We will focus on ones that can be handled quickly, and start to earn you bits the first day you do it.
Mining Altcoins for Bitcoins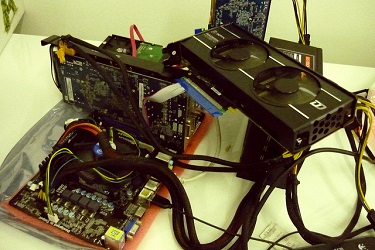 It is basically impossible to make any sort of profit by mining Bitcoin, or a Scrypt-based altcoin, with a GPU at this point.  ASICs are required for profitable Bitcoin mining.  However, one thing that many people do not realize is that there are other altcoins, using other algorithms, that can still be profitably mined with a decently powerful GPU.  We recently released a guide to mining the X family of algorithms (such as X11, X13, etc.), and there are others, such as Keccak, NIST5, NeoScrypt, Qubit, Skein, Groestl, etc. which are still mined with GPUs, and even CPUs in some cases.  Some currencies, such as Myriadcoin, even use multiple algorithms.
Of course, in order to profitably mine an altcoin that uses any of these algorithms, you need a relatively powerful graphics card.  Generally AMD graphics cards work the best, and you should have an R7 series or better to have any hope of really mining at a profitable rate.  That being said, if you do have a graphics card such as this, you have multiple options.
The simplest way to get involved in mining this type of algorithm is to go to NiceHash, and sell your mining power to the highest bidder.  Nice Hash has a simple setup that will usually result in higher profit margins than one could obtain by mining a currency directly, and then trading it for Bitcoin.  Also, rather than paying out in various altcoins, Nice Hash simply pays it's users in Bitcoin directly.
Using a high end AMD GPU, one can expect to get a hashrate of 2-3 MH/s for the X11 algorithm.  Profitability will depend on the wattage of the GPU, as well as the cost of your electricity in your area.  The R9-280X, MSI 280x Gaming Edition has been clocked at 2.2 MH/s for 135 watts of electricity.  According to the current rates on NiceHash, that would earn around .0005 BTC per day, or 500 bits.  That is the equivalent of ~$0.18 per day, which doesn't leave a lot of room for profit unless you live in an area with very low power rates.  Still, if you have access to low cost, or free, power, or you own a large supply of graphics cards for some reason, it may be worth looking into the various algorithms, your hashrate, and what you could earn.  No matter what, it is a way to get your hands on some Bitcoin without paying for it up front.
Another way to mine altcoins, to earn bitcoins, is to look for newer coins that are using a non SHA-256 or Scrypt algorithm, and are listed on one of the altcoin exchanges.  It is not uncommon to find a coin that can be mined and sold for a much higher rate than you would earn with an automatic system, such as NiceHash.  However, with the volatility of young altcoins, or digital currency in general, earning BTC this way requires diligence.  Just because a coin is profitable to mine one day does not mean that it will remain profitable the next.
Finally, there are altcoin and Bitcoin cloud mining services.  These services do cost money to purchase hashing power, so this is not a method to obtain BTC with no money up front, but they will often sell mining power by the MH or GH with maintenance fees that are cheaper than running your own machines.  Two companies that are engaged in this type of mining are Genesis Mining (use promo code: uWarOX for a 2.5% discount), and CEX.IO.  Both companies have their own pros and cons, but the end result is mostly the same.
 Selling Goods or Services for Bitcoins
One of the most straightforward way to get bitcoins is the same as obtaining other currencies.  If you have a skill that can be performed from your computer, be it writing, graphic design, programming, video editing, or anything else that may have value, you can find work that will pay in BTC.  In many cases, the rate at which people will pay for these services is considerably higher if you accept Bitcoin, as it simplifies the payment process significantly, and the employer is likely quite involved in the community.
The same is true for selling goods.  If you have an eCommerce website, you can integrate Bitcoin into your payment system by using one of the many Bitcoin to fiat payment processors that have been developing over the past few years.  Bitpay and Coinbase are the two largest, if you would like to integrate it directly, and will allow you to cash payments out to USD, or keep a portion of the payments in bitcoins.

Many know about Shopify's integration of Bitcoin, but as far as I know, Shopify does not allow any of the Bitcoin to be kept by the merchant.  It is instead instantly exchanged for USD, and paid to the merchant via PayPal.
If you do not have an eCommerce website, and do not want to start one, you can still earn BTC by selling items directly to individuals through one of the various Bitcoin markets.  Basically anything can be sold, and almost everyone can find some item that is just lying around, and is no longer useful to them.
There are various ways to accomplish direct selling both goods and services:
Use a forum, in the same way as trading an altcoin for BTC.  Bitcointalk's Goods Marketplace, or the Services Marketplace,are a good place to start.  Alternatively, you can try the /r/Bitmarket subreddit.
Use a service that provides a way for users to buy/sell goods for bitcoins.  Glyde is one such service that focuses on electronics, phones, and games.  Another, Cryptothrift, is not as established, but seems to offer a platform for buying and selling nearly anything.
Use a decentralized market, such as OpenBazaar.  This is perfect for a decentralized currency like Bitcoin, as it reinforces some of the features of Bitcoin that make it great.  OpenBazaar is still in beta, and we recently published an article about OpenBazaar's Beta 3.0, which expands it's service to Windows users.  To learn more about OpenBazaar, and decentralized markets, check out our interview with OpenBazaar's Sam Patterson.
To find anything from a partnership, to a full time job, to hourly contract work, you can use Coinality.  Coinality is a job board built for Bitcoin related jobs, and most employers are willing to pay in BTC.
Bitcoin Tips, Altcoin Faucets, and Signature Advertising
These methods are the "easiest" way to get some bitcoins, though tips cannot be obtained reliably, faucets are going to pay very small amounts, and signature advertising is generally paid weekly or monthly.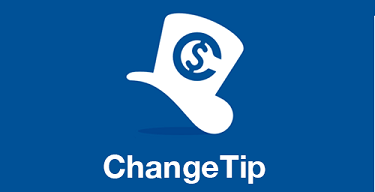 Tips are obtained on Reddit, Twitter, Youtube, and other social networks via programs such as ChangeTip, or directly by posting your Bitcoin public address.  Users will often tip for high quality, informative, or thoughtful posts, comments, tweets, or videos.  ChangeTip requires that you register with the service to accept your tip, but you can register after the tip has been given to claim your BTC.  The other option, which is posting your Bitcoin public address, is generally most effective when put in a signature, "about" info for your social media account, or in the description for YouTube videos.  This allows users to send Bitcoin as a tip directly to your wallet, rather than through a 3rd party service.
Faucets are websites that provide small amounts of various currencies, for free, just by inputting your wallet address.  Early in Bitcoin's life, there were BTC faucets, but most of these have been shutdown as the value of Bitcoin has grown.  However, individuals that support various altcoins often setup a faucet to increase the use of their currency of choice.  These faucets can be found just by searching on Google with any altcoin's name + faucet.  The easiest way to use a faucet to obtain bits this way is to create a Cryptsy account, and start going through each altcoin supported by the exchange.  Use your Cryptsy deposit addresses to have the coins sent directly to the exchange, without needing to download a wallet for each altcoin.  In fact, you can even set each coin to be automatically traded for BTC when received by Cryptsy, and avoid needing to exchange each one manually.
Signature advertising is almost completely exclusive to the Bitcointalk forums, though there may be other places it is used.  Businesses use the forum for advertising purposes by paying users to include a link  in their signature.  Generally this is paid weekly or monthly, based on a set amount per post the user makes with the post in their signature.  However, most of these programs also have restrictions, such as requiring the link to be the only thing in the user's signature, maximum weekly/monthly caps for payment, and a requirement that each post be a constructive post, rather than spam.  Often the per-post pay rate is tiered, with users that have older accounts with a higher number of posts receiving more for each post.  This is to deter people from making multiple accounts to get around caps, and because Bitcointalk has restrictions on signatures that are slowly removed as the account has is used to post more threads or replies.
Even More Ways to Get Bitcoins
This guide is nowhere near a complete list of all ways to obtain bitcoins.  This has outlined a few different methods, but the number of ways to use, or obtain, Bitcoin are unlimited.  It is a currency, and thus is used as such.
This guide will be updated over time to include more methods, tips, and information.  If you have a suggestion that you think should be added or a correction to anything stated here, please let us know.  Leave a comment, or contact Coin Brief at [email protected], or any of the listed methods on our contact page.