Many people have been voicing concerns about GAW, mentioning problems, or listing their losses, either in terms of Bitcoin or USD, on Hashtalk.  Unfortunately, many of those individuals are silenced, either by being banned, or having their comments deleted.  Some of the ones that have not been banned are still active members…and just kept quiet after their thoughts were pushed aside.  Some of the most effective criticisms, or unfortunate stories, will be listed below.
GAW's Own Hashtalk Mods and Ex-Mods
To start this off, I wanted to post a comment that was made today by an ex-mod on Hashtalk.  He goes by the username AnimoEsto, and finally voiced his frustration today.  Of course, he was promptly banned, and his account was deleted, but not before a screenshot was saved: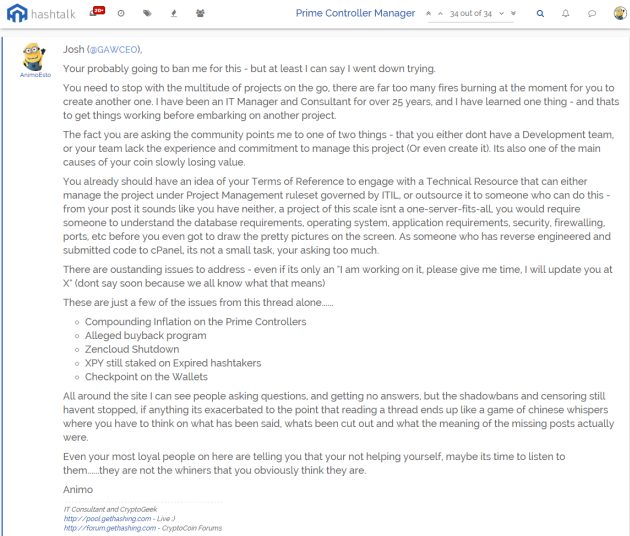 His points are valid, and he deserves answers.  Instead, his comment is removed, and he is banned.
Then there is BitJane.  BitJane has always been, and as far as I know, still is, a supporter of GAW.  However, some time ago, she made a post with quotes from Josh Garza, which was quickly removed: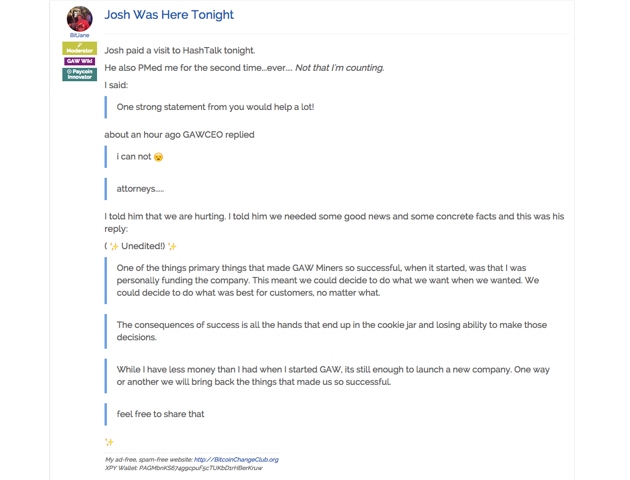 Why was this removed?  Well, it has been pointed out that one of Josh's statements is quite unsettling:
While I have less money than I had when I started GAW, its still enough to launch a new company.
So, if everything falls apart, it is ok!  Josh Garza will survive, and start a new company!  Though, realistically, when considering some of the recent events, that statement may not be too accurate soon.
More will be posted as I sort through the comments that were saved via screenshot before being hidden.