While the first page of this analysis was focused on the SEC investigation, and GAW's team, the second will focus more on missed promises, misleading statements, serious losses due to mistakes, shady behavior, and related issues.  We will start with Primegate, which was probably the single largest drain on GAW's finances.
GAW and "Primegate"
Obviously many people have heard of "Primegate", but few know how serious it really was.  For those that have not heard of it, when GAW launched their "Hashlet Primes", they made a mistake.  Since these machines weren't physical hardware, which means there was no limit on how much power could be sold, then the "hashing power" was just part of the code for a "Hashlet Prime".  Well, when these first launched, there was an issue, and some people were being given many times the hashing power they had ordered.  Combine that with the fact that Hashlet Primes could be purchased with a credit/debit card, and could be sold for bitcoins on "Hashmarket".
Needless to say, those who figured out this exploit were quick to use it to their advantage.  By buying Hashlet Primes at a fraction of their normal cost, and flipping them on Hashmarket, many individuals ended up walking away with incredible profits.  On top of that, as Hashlet Primes could be purchased with debit or credit cards, chargebacks were an issue, which meant that GAW ended up with $0 for Hashlets that had been sold to innocent users.  Many many accounts that had exploited this were locked, but not fast enough.  The total amount lost is not fully known, but from the document I have access to, which includes a partial list of accounts that benefited from this bug, I can see that GAW lost well over 100 bitcoins from only a few accounts.  Including chargebacks, undocumented losses due to how Hashlet Primes were created, and the segregation of Hashmarket, Zenpool, and GAW's main website from one another, it is likely impossible to get an accurate total.
Much of the timeline leading up to this, and what happened after, has been documented on gethashing.com by a user named "cyberdexter".

Now, with recent events resulting in GAW's "cloud mining service" being shut down, it seems that chargebacks will only intensify.  Some individuals have already claimed that they have initiated that process.

Vaultbreaker Vaporware
This is "old" in digital currency terms, but still very relevant.  Shortly before Vaultbreakers were scheduled to begin shipping, I wrote an article extolling GAW and their "Vaultbreaker" over KnC and their "Titan".  At that time, the experience I had with GAW had been nothing but positive, and the same was true for other people that I know.  I, and a few of my friends, had ordered their scrypt mining machines, receiving them quickly, and they functioned fantastically well.
When the Vaultbreaker was announced, I was amazed that they would be releasing a 750 MH/s Scrypt ASIC, but had complete confidence that they would pull through.  GAW had lived up to their promises before that point, and Josh's confidence was reassuring.
Then, when it came time for the Vaultbreakers to be shipped, something changed.  Instead of physical machines, people were offered hosted machines instead.  Now, that had been part of the original plan for Vaultbreakers, if the shipping was not going to meet the deadline, but it was only supposed to be temporary hosting until the machines could be shipped out.  I have searched and searched, but I cannot find a single instance of any individual who ordered a Vaultbreaker actually receiving the physical machine.  "Batch #2 Vaultbreakers" are supposedly available, in hosted form only, at bringbackroi.com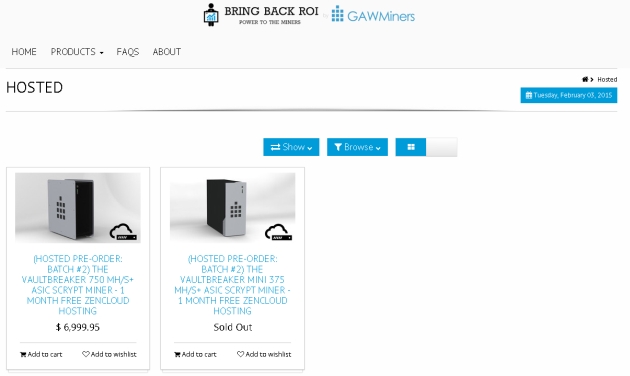 but still, cannot be ordered in physical form.

Interestingly, Bring Back ROI's About page includes this:
Q: Where is your company located?
A: GAWMiners is located at 280 N Main St, East Longmeadow, MA 01028, USA.
Do Vaultbreakers exist in any form or are they complete vaporware?  It is hard to say for certain, but there has never been a large enough spike in Scrypt mining power to suggest that a large number of these machines were created, if any were.

Paycoin Inflation is Rising
Paycoin's inflation rate had been rather stable after the initial jump in December.  This was almost reassuring, as rapid inflation was one of the dangers I foresaw in my article "Paycoin Succeeding May Be More Dangerous Than it Failing".  Unfortunately, a few days ago the Prime Controllers were switched back to extreme-inflation mode, and are now producing large amounts of XPY every day.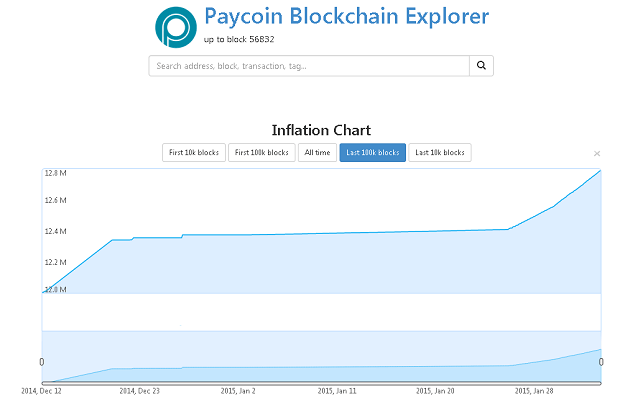 This is not good for anyone that is holding paycoins outside of the wallets connected to the Prime Controllers.  Their "market share" is being diluted at an unfair rate.  It is unknown at this time if this inflation is connected to any dumping of XPY on the market, but I will update this when I have confirmation one way or the other.
The final page of this article will be focused on community members, and other individuals, who have lost large amounts of money, feel betrayed, or have been silenced.  Many of these people have lost so much, and often when they speak up about it on the official Hashtalk forums, their comments are removed, or their account is banned.