Trendon T. Shavers is the name of the man recently charged by the US Securities and Exchange Commission (SEC) for allegedly running a Bitcoin-related Ponzi scheme. However, the Bitcoin world knows him better as the famous 'pirateat40'.
The founder and main operator of Bitcoin Savings and Trust (BTCST) offered and sold Bitcoin-denominated investments through the platform, collecting a true fortune. The suspect gathered at least 700,000 BTC, what was equivalent at about $4.5 million at the time of the alleged take. However, that's almost $63 million at today's prices.
According to the complaint submitted by the SEC, "from at least September 2011 to September 2012", Trendon Shavers "falsely promised investors up to 7% interest weekly based on BTCST's purported BTC market arbitrage activity, including selling BTC to individuals who wished to buy BTC 'off the radar', quickly or in large quantities".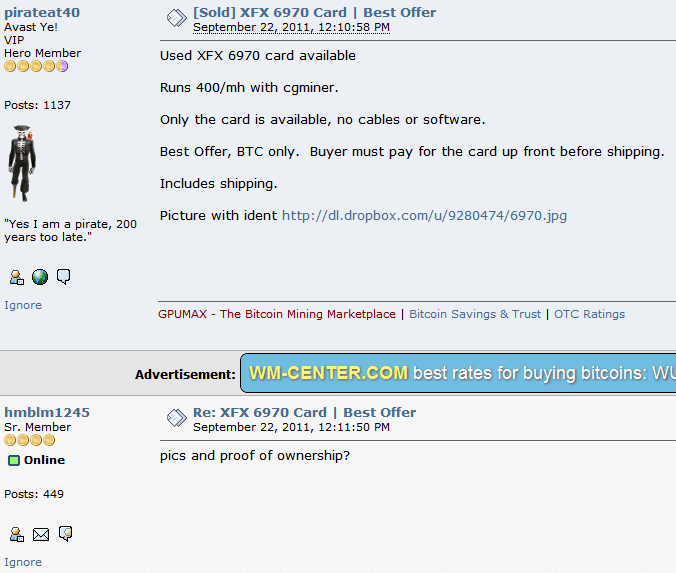 However, in reality, his project was a scam… It was a Ponzi scheme "whereby Shavers used new BTCST investors' BTC to pay the promised returns on outstanding BTCST investments and misappropriated BTCST investors' BTC for his personal use".
During the relevant period, directly or indirectly, Shavers sold BTCST investments over the Internet to at least 66 investors, including investors residing in Connecticut, Hawaii, Illinois, Louisiana, Massachusetts, North Carolina, and Pennsylvania. Contrary to representations made to BTCST investors and potential investors, BTCST was a sham and a Ponzi scheme, and Shavers misappropriated BTCST investors' BTC, among other things, for his personal use.
The man known as 'pirateat40' transferred a big part of the gathered Bitcoins to his day trading account. The SEC claims that Shavers paid 507,148 Bitcoins in investor withdrawals and purported interest payments.  But he also transferred at least 150,649 Bitcoins to his personal account at an online Bitcoin currency exchange.
"As a result of this activity, Shavers suffered a net loss from his day-trading, but realized net proceeds of $164,758 from his net sales of 86,202 BTC. During the relevant period, Shavers transferred $147,102 from his personal account at the online BTC currency exchange to accounts he controlled at an online payment processor and his personal checking account, which he then used for, among other things, his personal expenses, including rent, car-related expenses, utilities, retail purchases, casinos, and meals".
Looks like the end of an ugly chapter in the Bitcoin history!