History's first "specialized bank for crypocurrencies" might become real until the end of this year thanks to a new partnership formed by the German 'web 2.0 bank' Fidor and the well-known digital currency exchange Kraken. The two companies plan to enter the project's first stage of development before the beginning of 2015.
The open initiative intends to aggregate several cryptocurrency providers and form a unique independent company. All potential partners can already register and declare their interest through the new website Cryptocurrency-Bank.
Companies that want to join the initiative should have the necessary expertise, a professional set-up (including funding) and must be accepting of regulatory rules, as well as restrictions (e.g., anti-money-laundering processes, full customer authentication etc.). All future partners are asked and very welcome to contribute by providing technical solutions, financing, and/or market know-how to this crypto-banking platform.
According to Fidor CEO Matthias Kröner, the ultimate goal of the partnership is to create a "cryptocurrency marketplace". The platform should include mechanisms for trading, payment and currency exchange. Fidor will make the most of its European connections by being in charge of all matters related to regulation and licensure logistics. On the other side, San Francisco-based Kraken will manage the technological details of the project.
"We want to build a regulated and specialized banking home for entrepreneurs and retail customers who are intrigued by the idea and vision of a virtual currency system. But this, we cannot and we will not do on our own", Kröner added.
As a bank regulated in Germany we are pleased to be the first point of call for this significant international initiative. Conversations with existing and potential new partners have strengthened our conviction in enabling a more focused handling of alternative currency initiatives, like Bitcoin.
Kraken, Fidor Bank and all the selected partners should be taking first steps in setting up the future platform by December 2014. "Due to the fact, that this is an open platform, competitive partners are invited to collaborate on this platform. It should be in the interest of all of us to create a network which is as wide as possible. All partners will be shareholders of this platform, which also means that we will only kick it off with a sufficient group of partners and shareholders", says the CEO of the German bank.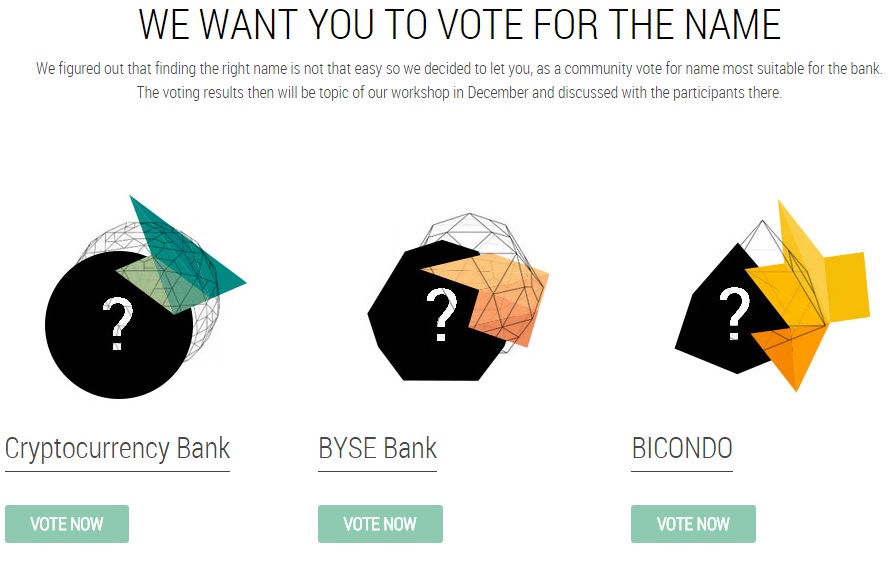 The goal is to create an open environment that welcomes both regulators and digital currency stakeholders. "We hope that in opening up our relationship and expanding our circle of trust, we'll see the industry grow, regulators become more comfortable and other banks thaw out", said Jesse Powell, Kraken's CEO.
And you can also be part of the world's first crypto-bank. All visitors of the project's official website can vote and help to decide the name of the future institution. The three available options are BICONDO, BYSE Bank or Cryptocurrency Bank. The results will be known in mid-December, during a workshop that will be held in Fidor's Munich headquarters on the 15th and 16th.
Images source: website Cryptocurrency-Bank