The following guide will show you how to get $100 in Bitcoin at a 25% discount in just 2 minutes
UPDATE: This promotion is no longer valid due to Coinbase's refusal to pay out affiliate commissions for a large number of participants. For more information read this post.
I gotta tell you, I'm pretty excited about this hack. In the following post I'm going to show you a way you can get $100 worth of bitcoins and pay only $75 for them. But before I explain the process there are a few limitations you need to be aware of.

First, this will only work if you have a bank account in one of these countries:
Austria
​​Belgium
Bulgaria
Canada
Croatia
Cyprus
Czech Republic
Denmark
Finland
France
Greece
Hungary
Ireland
Italy
Latvia
Malta
Netherlands
Norway
Poland
Portugal
Romania
Slovakia
Spain
Sweden
Switzerland
United Kingdom
United States
Second, you can't be an existing Coinbase customer. Meaning you have to be completely new to Coinbase.
Last but not least, I'm not sure how long this promotion will last. If you're reading this then it means it's still on but Coinbase can decide to remove this at any second.
So if you've made it this far, here's what you need to do:
Go to Coinbase using this link and open an account. You should see the following screen on your computer: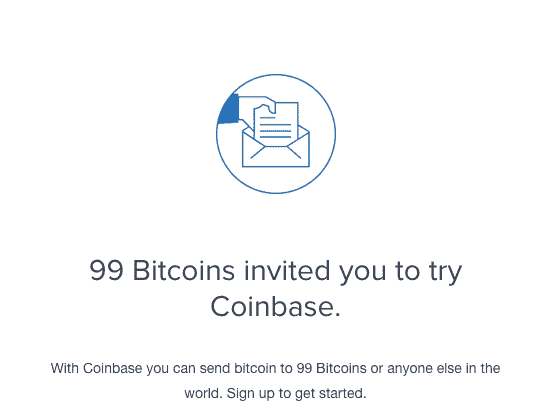 Connect your bank account to Coinbase and buy $100 worth of bitcoins.
Once the bitcoins arrive in your account contact us and state the name your registered under in Coinbase and your Coinbase bitcoin address.
We will then send $25 back to your account within 24 hours.
Important! 
We will only be able to send you back the money if you qualify as a Coinbase customer. This means you need to follow the rules at the beginning of this post (mainly using our link to sign up to Coinabse as a new customer).
Also, the minimum amount to deposit for this to work is 100USD so if you're from Canada for example you'll need to deposit more than 100CAD.
Furthermore, Coinbase states:
Unfortunately we can't guarantee payout on every account you refer due to the limitations mentioned above and risk of fraud, but we make a good faith effort to do so whenever possible.
It's important to understand that sometimes Coinbase will not approve you as eligible for a commission and in that case we won't be able to pay you back. However, based on past experience 95% of our referrals get paid back.
Last but not least, it may take some time for the bitcoins you purchased at Coinbase to show up in your account. Therefor we will only be able to send you the money once the process is complete. Also, we will send you $25 equivalent to the exchange rate at which you bought your coins.
I'm not sure how long this promotion will last
Like I said at the beginning of this post, I'm not sure how long this promotion will last so if you're looking to buy bitcoins at the cheapest price possible, this opportunity will probably be it.
Why are we giving you back money?
Pretty simple, we get a commission for each new customer we bring on board to Coinbase, so we decided to split this commission with our readers in hopes of getting as many people on board as possible. It's a win win situation.
As always if you have any questions or comments about the process feel free to leave them in the comment section below. Good luck!