Here is another place to add to the list of businesses that accept Bitcoin: the Kit Kat Club, considered Portland's finest strip club. The place is known for its original shows and ambiance, but is also conquering new customers thanks to the exclusive payment method adopted in the end of December.
The club is located on SW Ankeny, fairly close to the river side, and features several theme nights inspired by a cabaret feeling. Purrsday, Feral Friday or Katurday are just some of the original nights you might find interesting, all with a feline touch.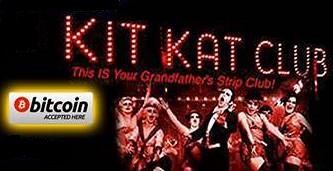 On his blog, Jacob Grier describes his visit to the Kit Kat Club after the place started accepting cryptocurrency payments. "We hoped that this might mean that one could tip performers in Bitcoin, perhaps through creative use of tattoos and QR codes. Alas, that isn't the case, and for obvious reasons they don't want customers using phones that could just as easily be recording video as transferring currency. That aspect of the business remains a cash affair".
The innovation levels might be low in this case, but it is still positive to see different types of businesses accepting Bitcoin. Especially in a city like Portland, known for its famous (and sometimes peculiar) strip clubs.
However, if you don't find this idea particularly exciting, Portland has more to offer. Besides the usual restaurants and stores, the city also has a center called Float On where you can trade your Bitcoins for 90-minute sessions in a sensory deprivation chamber.
Images from Kit Kat Club's Facebook page