The St. Petersburg Bowl will no longer be known as the 'Bitcoin Bowl'. The postseason college football game matching up the Atlantic Coast Conference against the American Athletic Conference lost its BTC sponsorship after the three-year deal was abruptly cancelled this week.
Brett McMurphy from ESPN.com dropped the bomb on Thursday (2nd) on Twitter.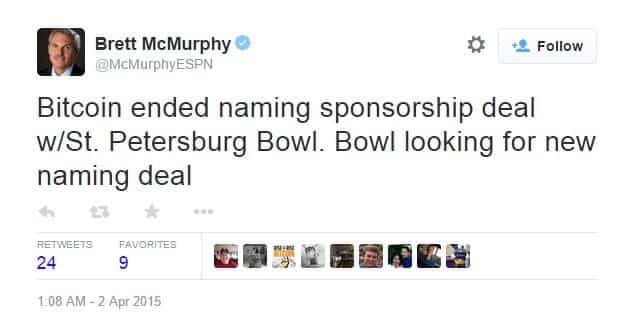 The sports event, held every year in St. Petersburg (Florida), obtained cryptocurrency's support thanks to Atlanta-based firm BitPay. The well-known payment processor announced the sponsorship deal with ESPN (through its subsidiary ESPN Events) in 2014.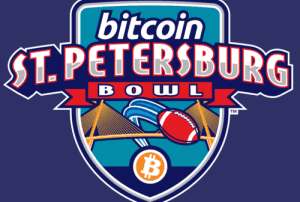 At the time, both companies signed a three-year contract, which would be valid until the end of 2016. Tony Gallippi, executive chairman for BitPay, said the company's goal was to "continue to move Bitcoin into the mainstream" and sponsoring the St. Petersburg Bowl would provide that opportunity.
However, last year's 'Bitcoin Bowl' – broadcasted on December 26th – ended up being a unique event.
Although no explanation has been made public, the official version is that both BitPay and ESPN mutually agreed to rebrand the event one more time and go back to the original name St. Petersburg Bowl.
However, the decision is quite surprising taking into account the success of the sports event from a business point of view. The first and only 'Bitcoin Bowl' was a ratings success with more than 3.3 million viewers watching not only the game, but also three ads showcasing the wonders of cryptocurrency.
ESPN has made no additional comments as of yet. Coindesk tried to contact BitPay, but the firm has been unresponsive.
Still, there could be hope. Commenting on the news, a representative from Tropicana Field – the home of the St. Petersburg Bowl since 2008 – said "we have no reason to think that Bitcoin will not be back."