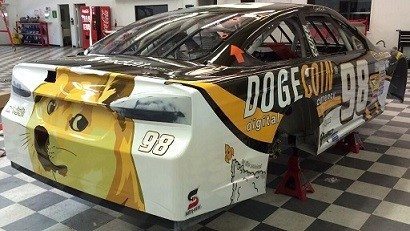 As mentioned recently, in the "What is Dogecoin?" article, the Dogecoin community pooled their resources to sponsor NASCAR's #98 car, driven by Josh Wise, to the tune of $55,000.  Rendered images have been available for some time, but now the new car is ready, and the first real photos have been released.  The car is beautifully done, and will be driven in the Aaron's 499 Sprint Cup race on May 4, 2014 at the Talladega Superspeedway in Alabama.
NASCAR fans, digital currency supporters, and the media have all shown a favorable response to the sponsorship, and Josh Wise himself has actually become involved in the digital currency community in recent weeks.
This event is expected to put the spotlight on digital currency, and may very well introduce an entirely new section of the population to the idea behind it.  The NASCAR "Dogecar" design uses subtle colors, but flamboyant images, and stands out when compared to the other NASCAR cars.  The excitement is palpable in the Dogecoin subreddit, and across Facebook, Twitter, various forums, chat rooms, and other mass communication channels.
How Can This Help Dogecoin, or Other Cryptocurrencies?
As Josh Wise races around the track, he may very well help to change the public opinion on digital currency.  A professional sports sponsorship is a huge step toward mainstream adoption of digital currencies, and it is amazing to see NASCAR as a progressive force in this respect.  If Mr. Wise wins, it will probably be the start of a new breakout rally, not just for Dogecoin, but for all of the major coins.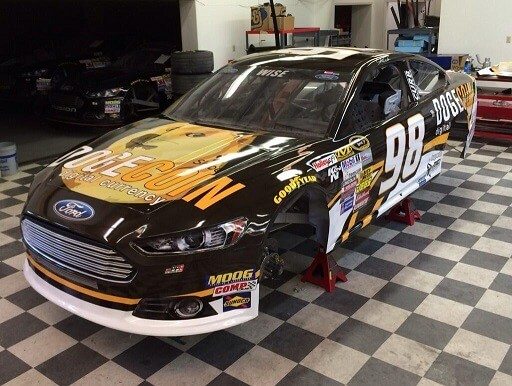 The entire digital currency world is watching, and if this venture is successful, it would not be surprising to see sponsorships, and advertisements, from other coins in the near future.  Just imagine a future where a new college football bowl game, the BTC bowl, is played in the "Bitdome" with a trophy that has an over-sized physical bitcoin on top of it.  Or, Reddcoin could sponsor Mr. Wise's closest rival, and allow spectators to watch a physical representation of the online competition that can be seen today.  Beyond that, the Sacramento Kings, who have wholly embraced Bitcoin, and digital currency, could include a Bitcoin image on their jerseys, images of Litecoin, Reddcoin, Dogecoin, Vertcoin, and other coins on their stadium concessions, and mention the currencies in interviews with the media.  Digital currencies are Decentralized Autonomous Corporations (DACs), and thus can effectively sponsor an organization simply by that organization holding coins and advertising the currency, which can increase the value of the coins they have.
These ideas may seem unlikely today, but at the start of 2014, who would have believed that Dogecoin would be on the side of a car racing in Talladega by May?