Last updated on October 12th, 2017 at 01:17 pm
Bitcoin is a serious cryto-currency community with high transaction value, real world applications and a fairly large amount of VC funding floating around. Dogecoin is none of those things, and its enthusiasts – many of whom come from Reddit – seem to like it just fine that way.
One difference is that dogecoin's value remains fairly consistent and low – currently the value of one dogecoin is just under 4.6 percent of one penny, according to Coin Market Cap. This has led users of the crypto-currency to give it away relatively freely and take a relaxed, fun-loving attitude toward the issues that seem so serious in the bitcoin community. The silly, slightly-mysterious expression of the Shiba Inu on the digital face of the currency doesn't hurt either. One redditor created a gif to express his (or her) feelings on the subject: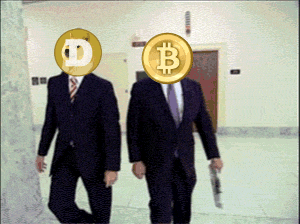 Dogecar enters the race
The dogecoin community, and the broader Reddit community for that matter, is no stranger to elaborate crowd-funding projects when they capture its imagination. A few months ago, the dogecoin community on Reddit raised approximately $30,000 to help send the Jamaican bobsled team to the winter olympics, presumably in a nod to the cult classic Cool Runnings.
This time, dogecoin users, who are also known as "Shibes," managed to raise $55,000 to sponsor NASCAR racer Josh Wise to compete in the Aaron's 499 at Talladega Superspeedway on Sunday, according to NBC Sports. At the going rate, that's about 120 million dogecoin. Wise managed to rise into the Top 5 with fewer than 25 laps to go in his No. 98 DogeCoin Ford, but in the end was shuffled back to finish 20th out of 43.
Wise demonstrated some extremely talented driving, narrowly avoiding a four-car pileup by driving straight through the middle of the chaos that stopped drivers Jimmie Johnson, Joey Logano, Kurt Busch and Michael McDowell, the news source reported.
While some Shibes may have hoped for a win, the response to Wise's "Ask Me Anything" on Reddit was overwhelmingly positive, in classic dogecoin form.
"I would just like to say I have never been interested in watching Nascar until now," one redditor wrote. "Now I have someone to root for and someone that makes me want to pay close attention to what before seemed like a mind numbing circle of cars. THANK YOU JOSH"
Another redditor made this gif using footage from the race. When asked about the possibility of taking dogecoin funding for the duration of the racing season, Wise seemed excited, writing, "If we seriously want to make this happen I can get with Phil and see what it would take. He's the boss!"
Dogecoin is unlikely to fit into any of the ambitious roles that bitcoin has been envisioned as filling, but it undeniably fills its own niche. Shibes comprise a fun-loving, generous community that doesn't seem to much care about making money off of their digital currency of choice. I would argue that there's a whole lot that's right with their approach.

CoinBuzz provides news and analysis on Bitcoin and other digital currencies. Founded in 2014, the site has quickly become a leading source of information on digital currency technologies, businesses, markets, and regulation.