The Bitcoin ASIC mining hardware manufacturers Boscombe Pierlytics opened its online store this Tuesday (10) and it's already taking pre-orders for its ASIC miners.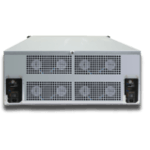 The company's "menu" includes three different units: the Boscombe Miner Thunderstorm 1000 at 1 TH/S, the Boscombe Miner Firestorm 2000 at 2 TH/S and also the Boscombe Miner Hurricane 3000 at 3 TH/S. All the rigs use "a newly developed ASIC chip especially designed for Bitcoin mining, which gives more power with improved efficiency reducing the amount of watts required to power the unit", states a press release.
"We are aiming to deliver a price that is highly attractive" and hardware that can "deliver a solid and fast return on investment", said Zden?k Skupe?, CEO of the company based in Prague, in the Czech Republic.
Besides, all units produced by Boscombe will have a led screen at the front that will be running basic data, including the hashrate. With these new features, the company promises to deliver good products at a competitive price and hopes to have "an interesting impact on the Bitcoin mining market".
The first batches of the Boscombe Miner Thunderstorm 1000 and Boscombe Miner Firestorm 2000 will be shipping in January 2014. The first 200 units of the Hurricane 3000 should be shipped in mid-February.