Last updated on October 14th, 2017 at 11:21 am
Últimamente se ha hablado mucho de la moneda alternativa más popular de la comunidad: Ethereum.
¿Qué es Ethereum?
Ethereum es una criptodivisa y una plataforma de cadena de bloques de transacciones o blockchain con funcionalidad de . Es, básicamente, una plataforma descentralizada para que los desarrolladores construyan apps sobre ella y fue inventada por Vitalik Buterin en 2013.
Ethereum se puede usar para codificar, descentralizar, proteger y comerciar prácticamente sobre cualquier cosa: votos, nombres de dominios, intercambios financieros, crowdfunding, dirección de compañías, contratos y acuerdos de la mayoría de los tipos y propiedad intelectual.
¿Y qué es Ether?
Bien, pues Ether es la divisa de la plataforma Etherium. Ether es requerida por cualquiera que desee usar o construir sobre la plataforma Ethereum. Al igual que Bitcoin, Ether se puede comercializar en todo Internet y se puede minar. En un segundo voy a mostrarle exactamente dónde puede comprarla. La mayoría de la gente usa el término Ethereum para referirse a la divisa en lugar de Ether, y por eso a veces puede ser confuso.
Las existencias totales de ethers y su tasa de emisión fueron decididos por las donaciones reunidas en la preventa de la divisa de 2014. Los resultados fueron aproximadamente así:
se crearon 60 millones de ethers para los contribuyentes de la preventa
12 millones (el 20 % de lo anterior) se crearon para el fondo de desarrollo, la mayor parte del cual fue a los primeros contribuyentes y desarrolladores, y el resto a la Fundación Ethereum
Se crean 5 ethers cada bloque (unos 15-17 segundos) para el minero del bloque
2-3 ethers se envían a veces a otro minero si también fue capaz de encontrar una solución, pero su bloque no estaba incluido (llamado recompensa tío/tía)
Los fundadores de Ethereum afirman que Ether no es una divisa, sino que es una especie de "criptocombustible", lo que significa que es una ficha que tiene un uso principal: pagar por la plataforma Ethereum. Esto quiere decir que usted probablemente no pueda comprar cosas con Ether en Internet. Sin embargo, puede operar e invertir en ella con la expectativa de que su precio suba.
Debido a que Ether es menos "madura" que Bitcoin en este momento, es menos adecuada para las personas no técnicas. Por ejemplo, usted puede descargar la app de cartera electrónica oficial de Ether desde github, pero no hay todavía una versión "adaptada para el usuario". También están disponibles MyEtherWallet y EthereumWallet con una interfaz sencilla.
Ethereum (ETH) y Ethereum Classic (ETC)
Ethereum Classic es una criptodivisa que fue creada como derivada (dividida) de la Ethereum original. La razón del derivado fue debido a que un hacker encontró una forma de robar 60 millones de dólares en monedas Ethereum. Los partidarios de ETC dijeron que se debería alterar el código y se deberían devolver las monedas robadas, mientras que los partidarios de ETH dijeron que "el código es ley" y lo que pasó, pasó.
Por lo tanto, se crearon 2 divisas idénticas opuestas que tenían 2 tipos de cambio diferentes. Hoy, el precio de ETH es mucho mayor y es más común en la comunidad general de la criptodivisa.
Cómo comprar Ethereum (tarjeta de crédito, transferencia bancaria y efectivo)
La forma más sencilla de comprar Ethereum (es decir, Ether) sería a través de uno de los sitios populares de intercambio de bitcoins que también suministran Ethereum.
Comprar Ethereum a través de Coinbase
La forma más cómoda y barata de comprar Ethereum sería Coinbase (si está disponible en su país):
Abra una cuenta de Coinbase
Añada su método de pago (tarjeta de crédito o cuenta bancaria)
Vaya a "Comprar/Vender" y seleccione la cantidad de Ethereum que desee
Haga clic en "Comprar Ethereum"
Coinbase le venderá ETH por una comisión del 1,49 %-3,99 %, dependiendo de su método de pago (las tarjetas de crédito tienen una comisión mayor que las transferencia bancarias).
Buy Bitcoins on Coinbase
Read our Coinabse review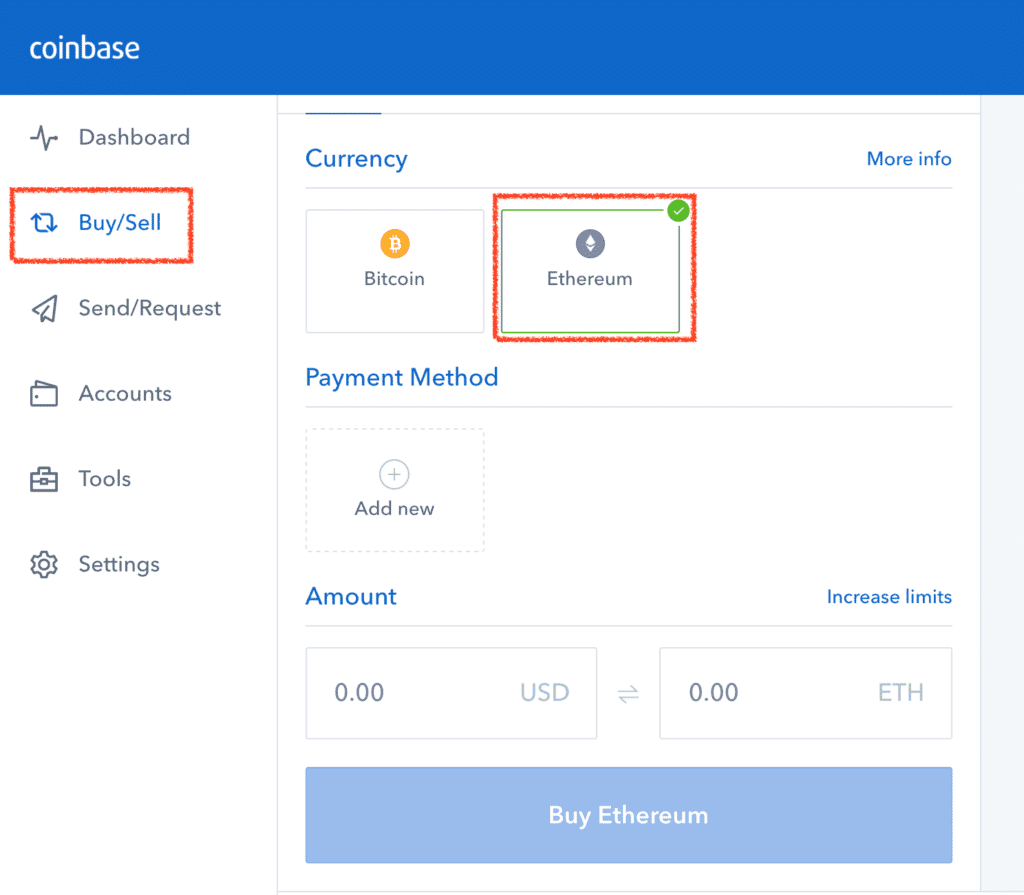 Comprar Ethereum a través de Cex.io
CEX.io es un sitio de intercambio de bitcoins que también vende ETH mediante tarjeta de crédito. Las comisiones de CEX.io ya se calculan en el tipo de cambio, por eso parece mayor que otros cambios. Por ejemplo, el tipo por 1 ETH en Coinbase es de 19,62 $, mientras que en CEX.io es de 21,08. Sin embargo, CEX.io trabaja con países de todo el mundo (al contrario que Coinbase).
Abra una cuenta de CEX.io
Añada su método de pago (tarjeta de crédito o cuenta bancaria)
Vaya a "Comprar/Vender" y seleccione Ethereum
Elija la cantidad de Ethereum que desea comprar
Haga clic en "Comprar Ethereum"
Buy Bitcoins on Cex.io
Read our Cex.io review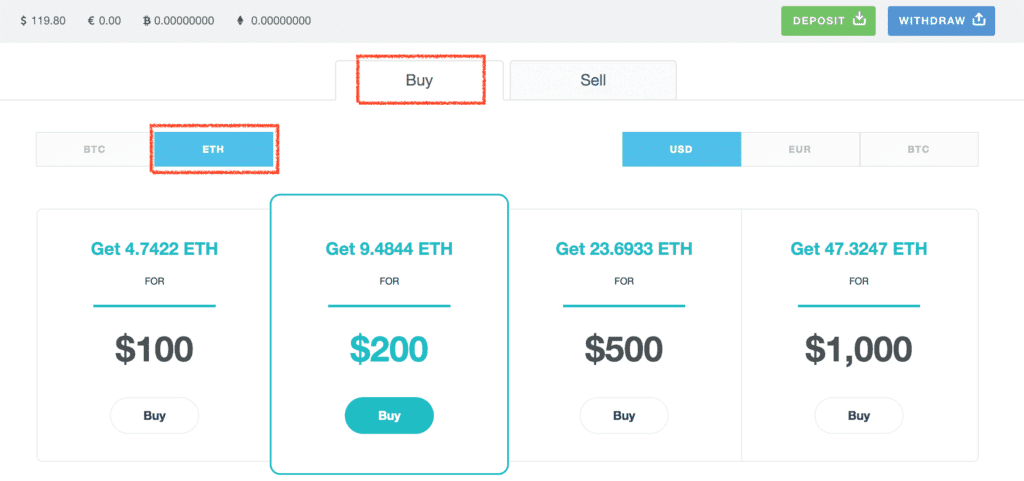 Comprar Ethereum mediante Coinhouse
Si usted vive en la UE (Eurozona), otra buena opción sería comprar Ethereum desde Coinhouse. La compañía es un bróker de Bitcoin y Ethereum que comenzó proporcionando servicio solo a ciudadanos de Francia y que se expandió gradualmente al resto de Europa. Puede pagar mediante tarjeta de crédito, tarjeta de débito o Neosurf.
Buy Bitcoins on Coinhouse     Read our Coinhouse review
También puede conseguir Ether desde varios sitios de intercambio de Bitcoin como Kraken, poloniex y shapeshift.io.
¿No quiere comprar? Pruebe a minar Ethereum
La minería de Ethereum usa prueba de trabajo. Es similar a la minería de Bitcoin en el sentido de que hay una recompensa de bloque decreciente por cada bloque minado.
Puede probar la minería de Ethereum usando su propio ordenador (minería de CPU), pero probablemente no llegue demasiado lejos. Sin embargo, si tiene una GPU dedicada para la tarea, entonces es cuando puede conseguir recompensas de verdad. Para más información sobre cómo realizar exactamente la minería de Ether, visite la página web oficial de Ethereum o publique en nuestro blog sobre ello.
Ether y Ethereum en general son tecnologías disruptivas que están empezando a cambiar cómo funciona Internet. Queda por ver si tendrá éxito o no, pero por ahora, usted puede entrar fácilmente en una parte del "futuro de Internet" siguiendo los pasos mencionados arriba.
Si quiere saber más de Ethereum, puede usar los diversos canales sociales dedicados a la plataforma: Facebook, Twitter, YouTube, Reddit, StackExchange y el blog de Etheruem.

Blogger and owner of 99Bitcoins. I've been dealing with Bitcoin since the beginning of 2013 and it taught me a lesson in finance that I couldn't get anywhere else on the planet. I'm not a techie, I don't understand "Hashes" and "Protocols", I designed this website with people like myself in mind. My expertise is online marketing and I've dedicated a large portion of 99Bitcoins to Bitcoin marketing.