Nota: Si usted quiere operar Bitcoin con Paypal o tarjeta de crédito tratar AvaTrade y Plus500. Para obtener más información, lea este artículo.
Aquí damos una breve explicación acerca de cómo comprar Bitcoins con PayPal o con tarjeta de crédito normal. Usaremos un intercambio llamado VirWoX.
IMPORTANTE: Este proceso tiene sus propios gastos de transacción. Es importante que sea consciente de los diferentes gastos de la transacción.
Paso 1: Vaya a VirWoX.
VirWoX es un intercambio de moneda virtual, usted puede comprar allí Lindens, Bitcoins, y más …
Paso 2: Abra una cuenta gratuita
Haga clic en "No estoy registrado todavía" para abrir una nueva cuenta como se muestra aquí: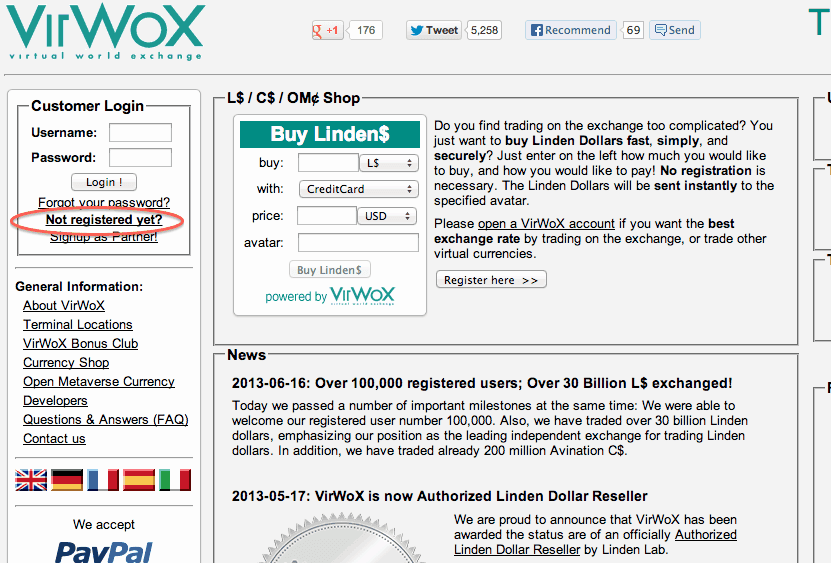 Paso 3: Complete con sus datos personales
Complete con su nombre de usuario y dirección de correo electrónico. Cuando se le pregunte por "nombre de avatar" déjelo como está.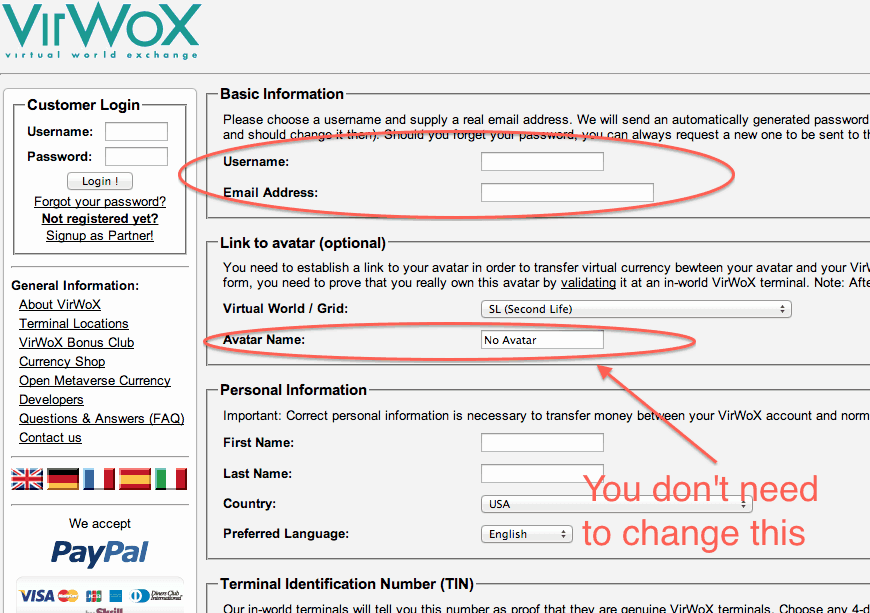 Una vez que termine haga clic en "registrarse".
Paso 4: Active su cuenta
Una vez que haya hecho clic en "Registrarse" obtendrá una confirmación por correo electrónico con su contraseña. Abra el correo electrónico, copie la contraseña y vuelva a iniciar sesión en VirWoX.
Paso 5: Deposite en cuenta a través de PayPal
Haga clic en depósito en el lado izquierdo y seleccione PayPal Express. Realice un depósito en su cuenta con los USD que desee.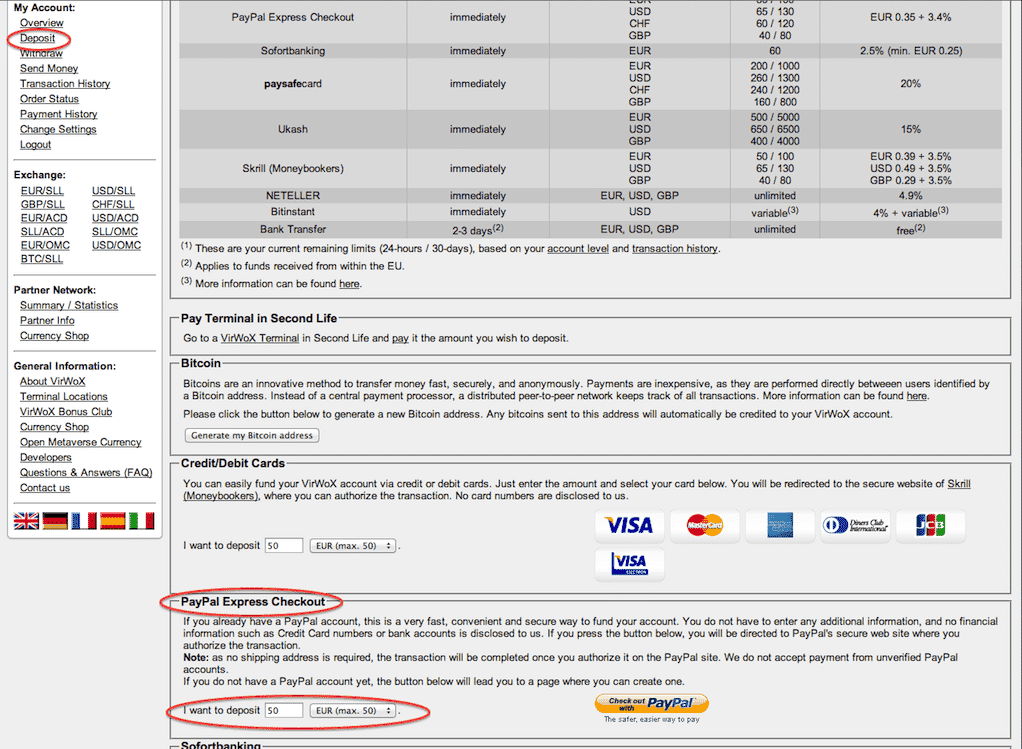 Nota: A partir de ahora por cada transacción que haga habrá un impuesto – asegúrese de ser consciente sobre depósitos relevantes y los impuestos por retiro.
Paso 6: Comprar SLL con USD
Vaya a Exchange-> USD / SLL en el lado izquierdo. Compre SLL (que significa Lindens Segunda Vida). Lo haremos más adelante en el intercambio de estos SLL a Bitcoins.
Nota: Si usted no ha hecho un depósito todavía tendrá la pantalla que se muestra por encima solicitándole que deposite antes de comprar SLL.
Paso 7: Comprar BTC con SLL
Una vez que tenga SLL en su cuenta, vaya a BTC / SLL y compre Bitcoins con sus SLL.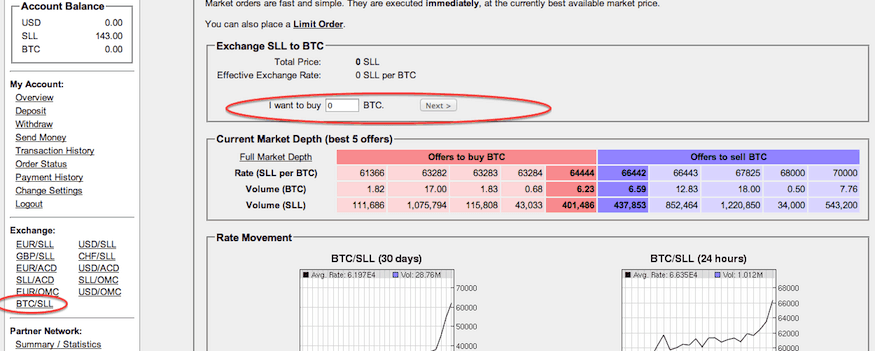 Paso 8: Retire sus Bitcoins
Seleccione la opción "retirar" en el lado izquierdo y envíe los Bitcoins a su billetera.

Bitcoin Video Crash Course
Dummy-proof explainer videos enjoyed by over 100,000 students. One email a day for 7 days, short and educational, guaranteed.
We hate spam as much as you do. You can unsubscribe with one click.