Note : Si vous voulez faire du commerce Bitcoins avec Paypal ou une carte de crédit essayer AvaTrade et Plus500. Pour plus d'informations lire cet article.
Voici une explication courte de comment acheter des BTC avec PayPal or alors avec une carte de crédit. Nous allons le faire à travers une interface de transactions appellé VirWox.
IMPORTANT: Ce procédé detient plus de frais de transaction que d'habitude. C'est important pour vous d'être attentifs aux differents frais de transactions.
Etape 1 : Aller sur Virwox
Virwox est un échange de monnaies virtuelles, vous pouvez y acheter des Lindens, Bitcoins et plus …
Etape 2 : Ouvrir un compte gratuit
Cliquer sur "not registed yet" pour ouvrir un nouveau compte tel que montrer ici :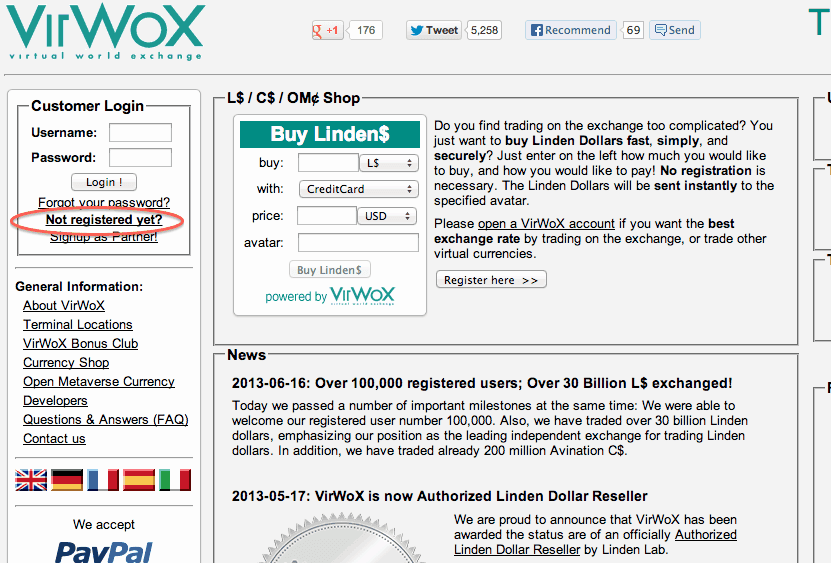 Etape 3 : Remplisser vos informations personelles
Completer vôtre username et adresse email. Quand on vous demande pour "avatar name" juste laissez le comme il est déjà presenté.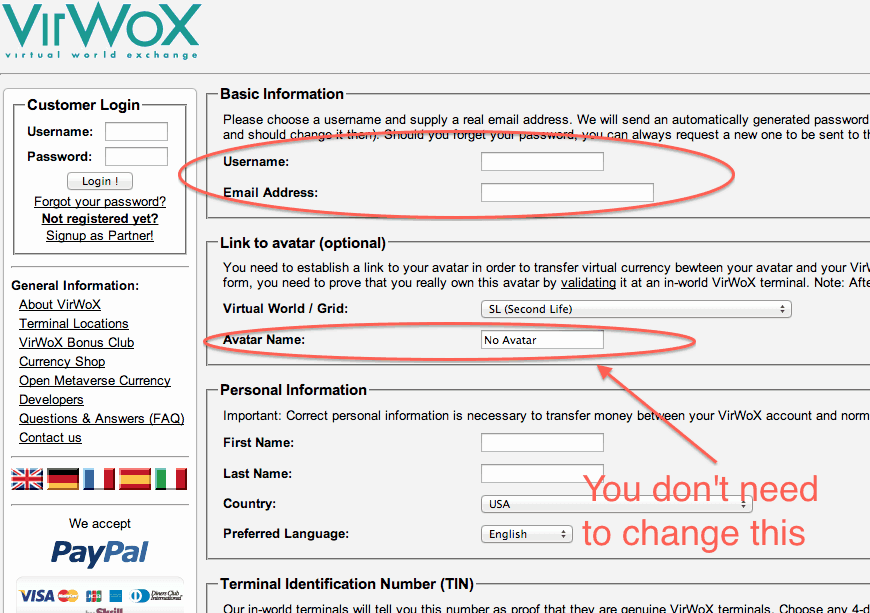 Une fois terminé clicquer sur "register"
Etape 4: Activer vôtre compte
Après avoir clicqué "register" vous recevrez un email de confirmation avec votre mot de passe. Ouvrez l'email, copiez le mot de passe et retournez vous logger sur Virwox.
Etape 5: Alimenter son compte à travers Paypal
Clicquer sur "deposit" si le côté gauche et choissisez Paypal Express. Alimentez votre compte avec autant de USD que vous souhaitez.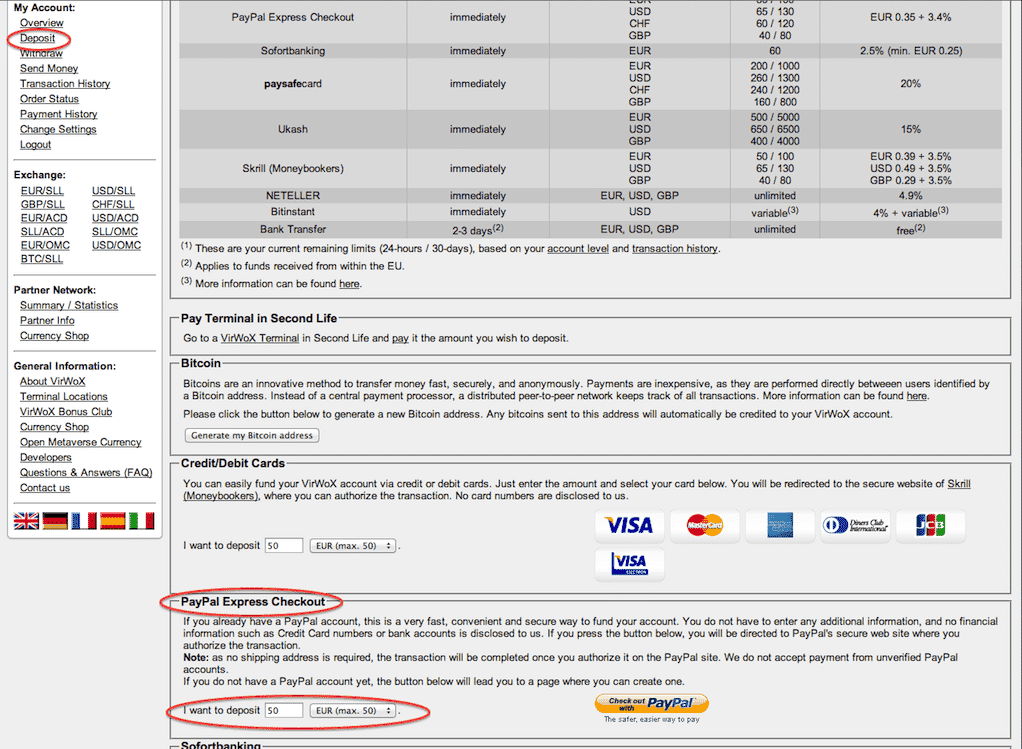 Note: A partir de maintenant pour chaque transaction que vous allez faire il y aura des frais – Soyez sur que vous êtes conscient des frais associés aux dépôts et aux retraits.
Etape 6: Acheter SLL avec USD
Aller sur "exchange->USD/SLL" sur la partie gauche. Acheter SLL ( ce qui veut dire "Second Life Lindens", des Lindens de seconde vie). Nous allons échanger plus tard ces SLL pour des Bitcoins.
Note: Si vous n'avez pas encore fait un dépôt vous allez avoir l'écran montrer au dessus vous demandant de faire un dépôt avant d'acheter SLL.
Etape 7 : Acheter BTC avec SLL
Une fois que vous ayez SLL dans votre compte, allez sut BTC/SLL et acheter Bitcoins avec votre SLL.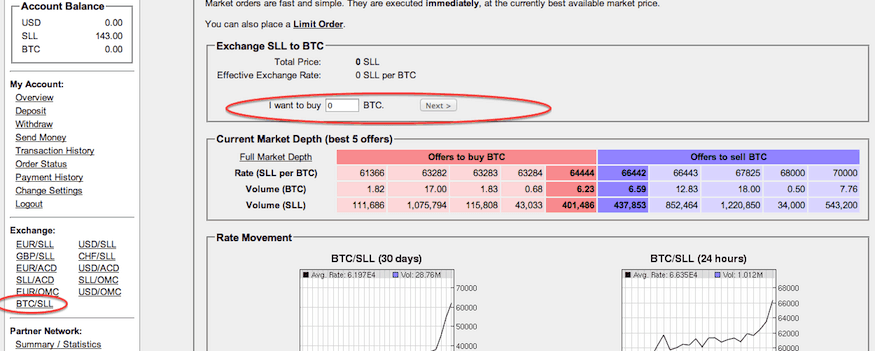 Etape 8: Retirer vos Bitcoins
Choissisez "Withdraw" sur le cote gauche et envoyez les Bitcoins dans votre "Wallet", portefeuille

Bitcoin Video Crash Course
Dummy-proof explainer videos enjoyed by over 100,000 students. One email a day for 7 days, short and educational, guaranteed.
We hate spam as much as you do. You can unsubscribe with one click.