Last updated on August 31st, 2016 at 02:13 pm
Bitcoin is the newest payment option at Meltdown Comics, a well-known comic book and collectibles store located in Los Angeles. The business claims to be the first brick-and-mortar store of its kind to accept cryptocurrency.
Meltdown Comics has already sold its first issue – "The Death-Ray" by Daniel Clowes – paid with Bitcoin, since announcing the good news last Friday (31) on Twitter. The buyer was a correspondent for the site Spelunk.in, who was also the person that convinced the store to accept digital money in the first place, SCPR.org reported.
But the store's general manager is already thinking about ways to attract more Bitcoiners, such as future discounts and related events. Francisco Dominguez hopes this new payment option can have a positive impact on the business, which can be found in the Hollywood area, on Sunset Boulevard.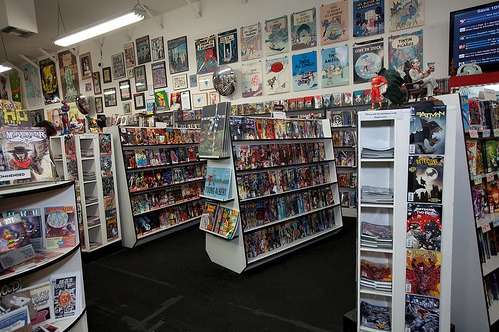 "Brick-and-mortar or 'Mom and Pop' shops are closing as digital takes over paper print. Hopefully this new way of bringing revenue into a business will help keep them/us alive", he told Spelunk.in. Dominguez also thinks Bitcoin will definitely be "a good fit for artists" when it comes to payments and micro transactions.
The store, founded back in 1993, is currently working with BitPay, the company that is processing all the cryptocurrency-related payments.
Images from Spelunk.in / pinguino k – Flickr Creative Commons
Maria is an experienced journalist currently living in the UK. She has been writing about Bitcoin and the altcoin universe since 2013. She is also a member of the Lifeboat Foundation's New Money Systems Board and a big cryptocurrency supporter.