After scoring a major grant awarded by the Bitcoin Foundation, Coinpunk's beta version is finally available. The project, which is being developed by the veteran startup founder Kyle Drake, intends to build the first fully open-source, self-hosted do-it-yourself Bitcoin wallet service that you can run on your own server.
The basic implementation of this tool, which managed wallets on the server side, was released earlier this year. However, according to a message published during this weekend at Coinpunk's website, there are now several changes worthy of attention. Drake says he has spent the summer rebuilding Coinpunk from scratch "to support a hybrid-wallet design that moves the encryption to your web browser, where the server can't touch it".
Kyle Drake

It wasn't the easy route (the original server-based implementation only took a week), and there's plenty of new problems (HTML5 is… still pretty wild west), but it was the route I thought was right for the project, and also for the future of Bitcoin. We need web wallet solutions that are simple and easy to use, but also build upon Bitcoin's biggest strength: decentralization.

I believe strongly in the notion that you should be able to truly control your own money. Not corporations, not banks (central or private), you. That means you control your private keys, and can run the wallet on your own server if you choose to.
Kyle Drake is now asking for the help of developers – especially those proficient with client-side HTML5/JS and node.js) -, in order to fully test this beta version. "I'm asking for developers to start playing with it, so we can make sure we've stamped out the bugs, code smells, and potential issues before doing a formal release. It defaults to Testnet Mode by default, so you can try it out without losing real Bitcoins", Coinpunk's developer adds.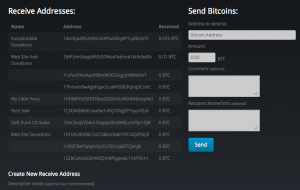 To reward the work of the developers, Drake is "offering three bounties of 0.20 BTC each for anyone that finds and fixes (via pull request) any bugs/code issues that potentially cause wallet data loss, a major security bug in the Coinpunk wallet code (coinpunk/models/wallet.js), bitcoinjs-lib, or in the random number generation code".
The creator of Coinpunk is welcoming donations to make new bounties for developers (to this address: 13PQxWUfjo1z1Y2PTL7STodBZ5V6ZsLb9M), as well as general donations that can be sent to a different tip jar (in this case, it's the 1MHbxLgsgFQyvWkW1qiZs1HaXxU4S4LuWH).
Drake also reveals some plans for the near future: he wants to improve the mobile support, build an internationalization framework and an API for developers.