July 2015 update: Coin.MX has suspended its business due to charges brought against the owners.
CoinMX is one of the leading Bitcoin exchanges allowing you to purchase Bitcoins with a credit card today. I've heard a lot about it and decided to finally try it for myself. This review will describe my personal experience with the exchange as well as different opinions of other CoinMX customers I've managed to gather from the web.
CoinMX is an american based Bitcoin exchange based in Dallas Texas. It was established in early 2013 and has been accepting customers worldwide since. The first thing I've noticed is that other than a physical location there are no individuals shown on the website who actually run the site. This always sets off an alarm for me as many of the scams I've encountered have this characteristic. However I'm not going to eliminate an exchange based on that alone.
Verification is a bitch, but things go smoothly after..
Once you create an account on CoinMX you'll need to verify your identity. Unlike other exchanges CoinMX asks you to shoot a video of yourself holding a government issued ID (e.g. passport). This was a pretty awkward moment in my life as I've never been requested to shoot a video for verification but I complied. It took about 2 days to get verified but I believe that if you email them right after submitting the video you can get it done in less than 12 hours.
Once I got verified things went pretty smooth. Deposits were timely and withdrawals of Bitcoins were instant. I remind you NEVER to leave Bitcoins lying in an exchange. For example, just the other day CoinMX's website was down for a couple of hours and I couldn't withdraw my coins. You always want to have control over your funds. It also helps to cut down losses in case a site shuts down.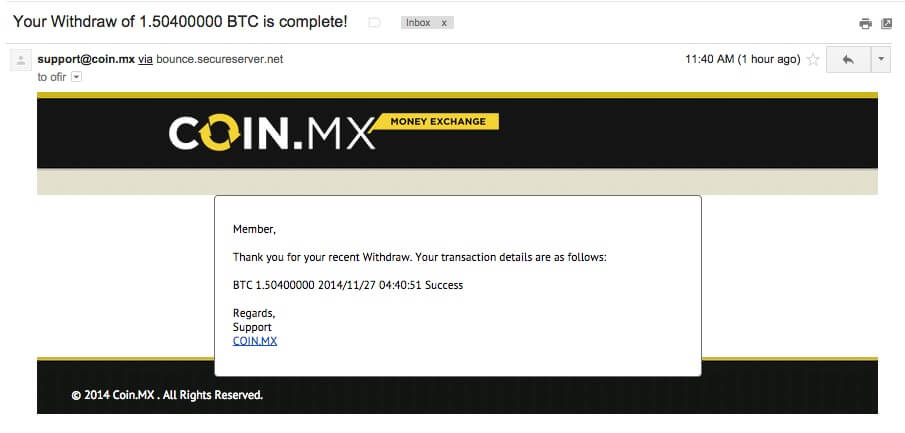 The site's interface is pretty straightforward and navigating through it is easy. The exchange rate is higher in about 2% than what you'd see on Coinbase. Considering the fact that you can use a credit card (which you can't on Coinbase) makes it ok in my book.
Bitcointalk and Reddit users are divided in their opinions
I'll start off with the bad examples. A Reddit user named apehxtron posted a screen shot of a conversation he had with an online chat representative. Long story short, he demonstrates how he requests to cancel his acount by giving an email id and no other form of verification and manages to do so. This shows some very low security standards by CoinMX. However, this issue was addressed by CoinMX on CryptoCoinsNews and explained in detail, showing that security seems pretty tight on CoinMX's website.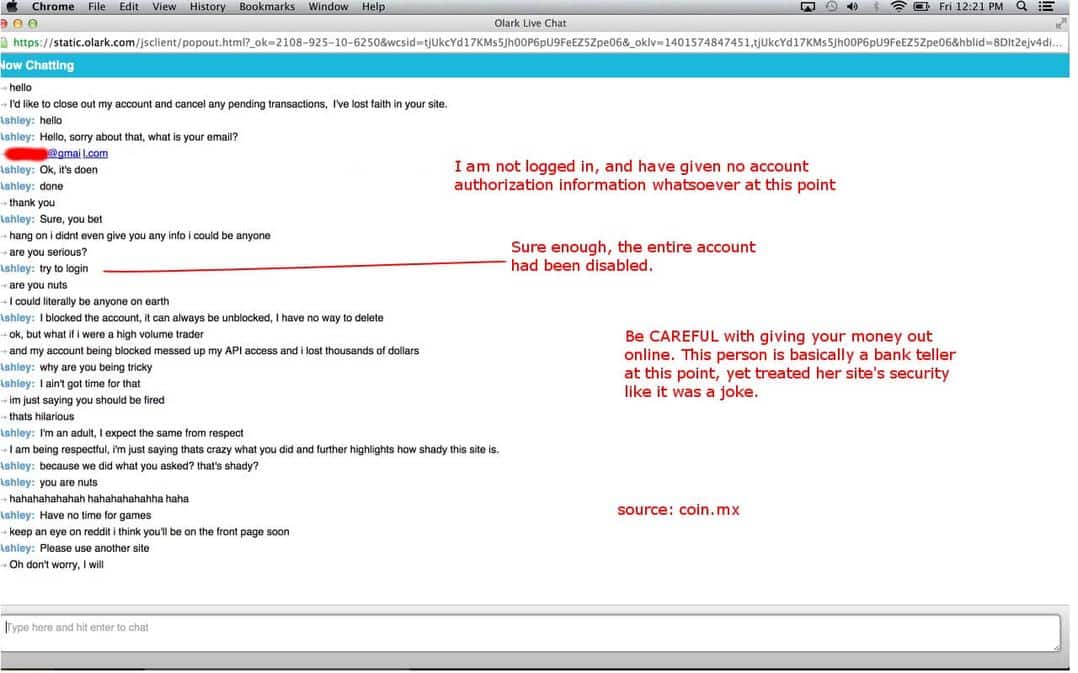 When I looked at Bitcointalk's reviews of CoinMX I found that most people were happy with the site but were stating it's relatively high exchange rate. The only thing that bothers me with these Bitcointalk reviews is that they were made mostly by newbies so you can't really trust many of them. Another thread with more veteran users again confirms that CoinMX is legit and only has higher prices.
35 Facebook user reviews give a 4.2 star rating
Once of the more unbiased reviews you can probably find on the web are Facebook user reviews. It's pretty hard to manipulate these reviews since Facebook shows them randomly and you can't actively write a review, you need to "invited" by Facebook. Looking at CoinMX's Facebook user reviews You can see many people complaining about video verification process. I saw no issues of people not getting their money and most of the positive reviews seemed legit as well.
CoinMX is a slightly expensive legit solution for buying Bitcoin with a credit card
To sum up this review I believe that if you're looking to purchase Bitcoins with a credit card CoinMX is a good solution. It may take some time to get your account verified but after thing should go much faster. Even though the price is a bit high it's probably the cheapest solution to buying Bitcoins with a credit card today. Since chargeback issues cause many exchanges not to accept credit cards , those who do accept them need to charge some sort of a premium – CoinMX's premium is the cheapest one I've seen yet.