Coinigy is a desktop and mobile platform for serious cryptocurrency traders. Coinigy consolidates orders, charts and data from over 45 crypto exchanges into a single, customisable interface. Everything you need to trade Bitcoin or any other exchange-featured coin or token is made available in one place, along with support and education in the form of articles and videos.
Coinigy features attractive TradingView-based charting, price alerts, portfolio tracking and a crypto news feed. This brings together all the essentials necessary to trading Bitcoin, altcoins or tokens. Coinigy also features "ArbMatrix," a grid display of exchange prices for arbitrage traders. Coinigy was founded in the US in 2014.
While Coinigy is undeniably useful and convenient for active traders using multiple exchanges, there are three big question marks hovering over their service:
Is Coinigy private?
Is Coinigy secure?
Is Coinigy worth the fee?
The Coinigy Interface
Coinigy's interface is well-designed. It presents a lot of data in a manageable way. Seen in the above image, from left-to-right, are the following: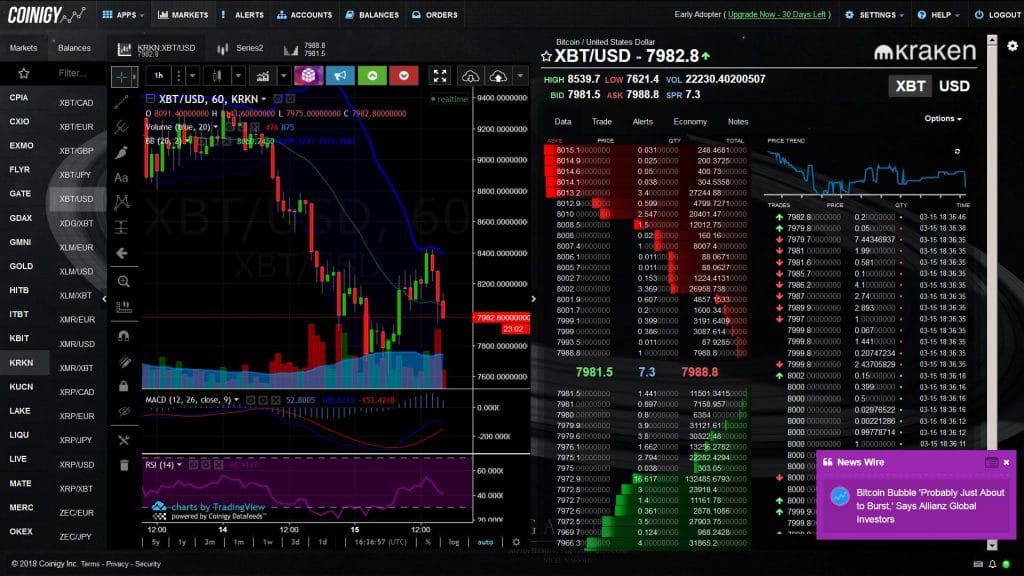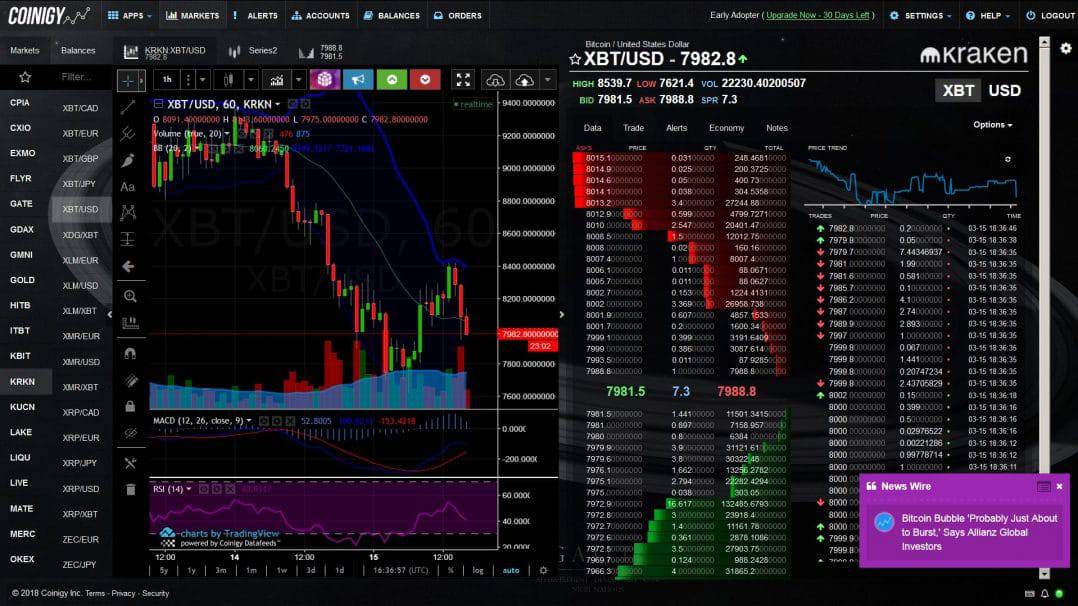 Selectable markets, with their relevant trading pairs next to them. Here Kraken and its XBT [Bitcoin] / USD trading pair are selected. The "Balances" tab displays coins held on each exchange.
The TradingView price chart and selectable indicators (MACD and RSI are shown).
The order book for the XBT / USD pair.
The list of recent trades in that market.
In the bottom right corner, occasional news updates are displayed.
The side panels may be closed to focus on the price action: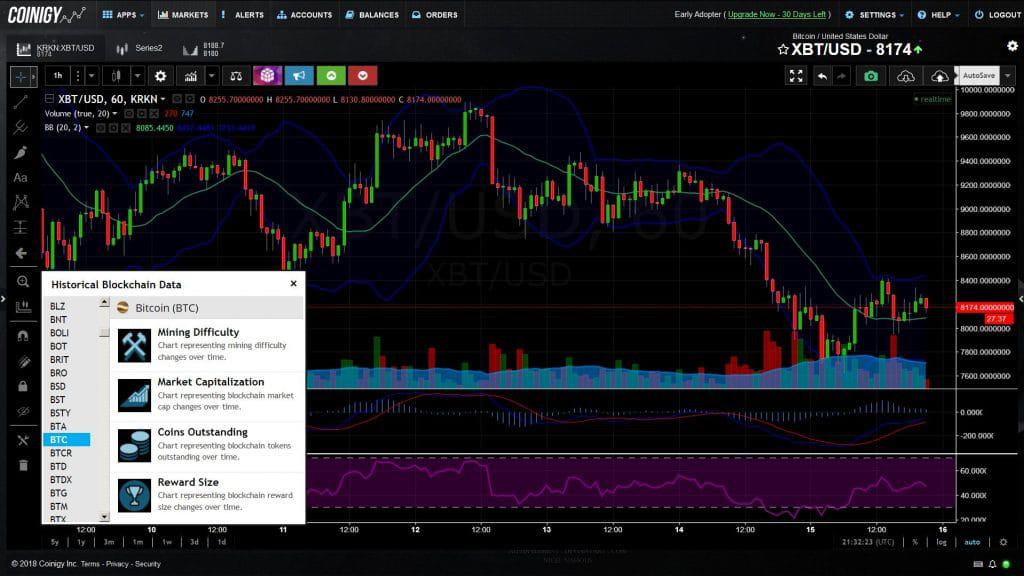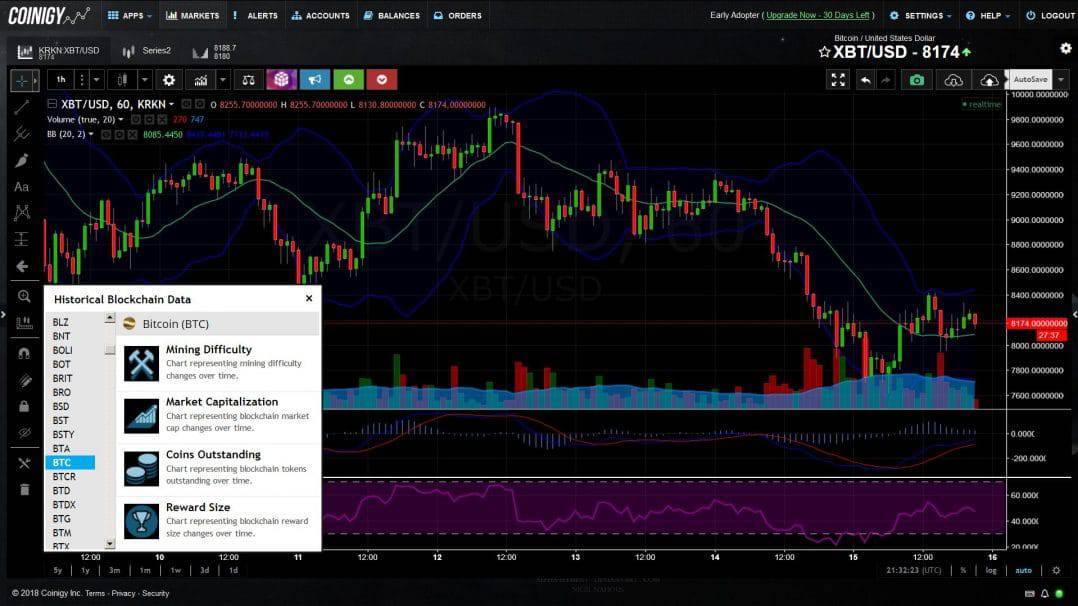 Note the white block which offers further data graphs on each cryptocurrency. This is accessible from the cube icon. Next to it, the megaphone icon sets price alerts and the green or red arrow icons buy or sell on the selected exchange.
If you're familiar with TradingView, you'll know that all kinds of technical indicators and visual studies may be applied to a chart, and its colors and formatting modified extensively. Although 75 indicators are provided, Coinigy doesn't support the coding or addition of custom indicators.
Finally, the top menu bar allows you to access additional features:

The "Apps" dropdown naturally displays additional apps, such as block explorers, data and news feeds, ArbMatrix, etc.
The "Markets" tab accesses charting, as shown in the above images.
"Alerts" lets you set and view price or trading alerts for specific exchanges and markets. Alerts may be received via SMS, email or both.
"Accounts" lets you link up your trading exchanges to Coinigy by entering your exchange API keys.
"Balances" shows the value of the current holdings in your linked crypto addresses.
"Orders" allows you to place new exchange orders or review historical ones. Having all your crypto trades recorded in one place is pretty neat!
Coinigy Exchange Integration
If you're a cryptocurrency trader, chances are that you're registered with at least a few exchanges. If you trade altcoins, particularly the more exotic and low-volume ones, you're probably registered with a dozen or so. If trade arbitrage is your game, manually or through bots, you're probably registered on every liquid exchange out there. In the last case, you'll find ArbMatrix particularly helpful.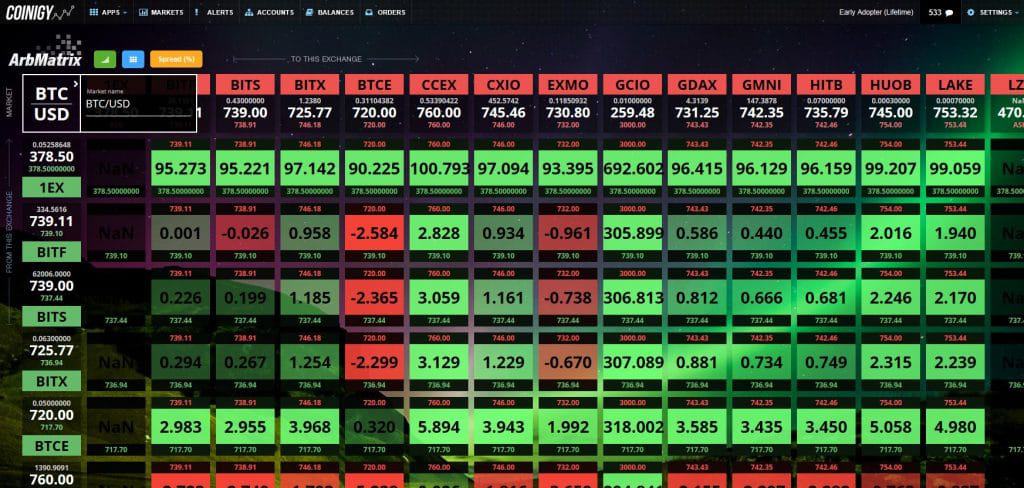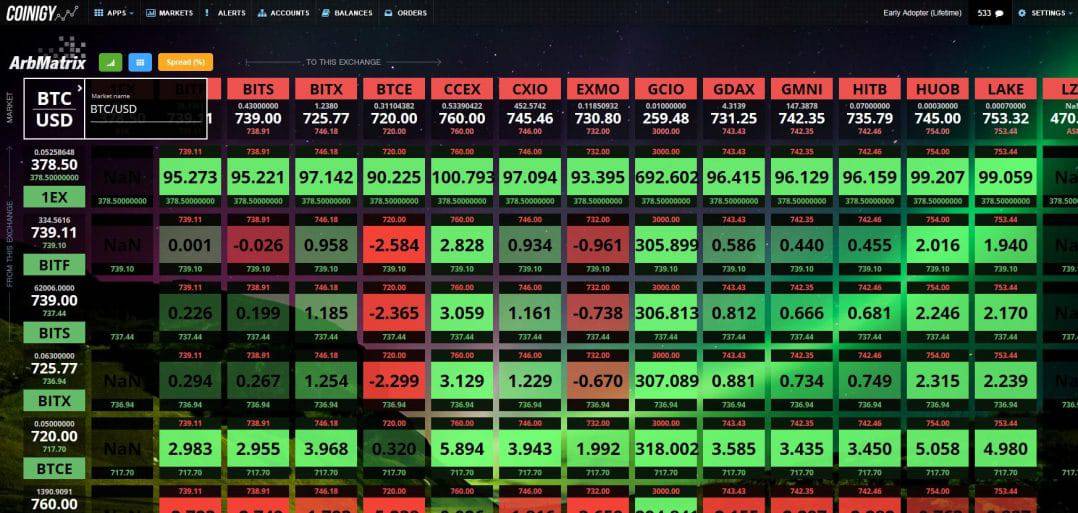 ArbMatrix makes it easy to find arbitrage opportunities between Coinigy exchanges.
Coinigy supports the following exchanges and all their trading pairs (ordered alphbeitcaly):
Bitcoin Exchange Thailand, Bitcoin Indonesia, Bitfinex, Bitflyer, Binance, Bithumb, BitMEX, Bitstamp, Bittrex, Bleutrade, BTC Markets.C-Cex, CEX.io, Coinmate, Coincheck, Coinone, Coinsbank, Cryptopia, Exmo, Gatecoin, GDAX, Gemini, HitBTC, ItBit, Kraken, Kucoin, LakeBTC, Liqui.io, Livecoin, MercadoBitcoin, OKCoin Futures, OKEX, Paymium, Poloniex, QuadrigaCX, The Rock, Vaultoro, Virwox, Yobit
While this list covers all the majors, it's probably less than one-tenth of all exchanges. If your go-to exchange isn't listed, Coinigy won't be useful to you. However, Coinigy will likely integrate further exchanges in future, so long as there's user demand for them and they have a compatible API.
Is Coinigy Private?
Short answer: no. Coinigy is probably not for those who place a high value on financial privacy. Your balance on linked addresses is transparent to the company, as is all trading activity conducted through Coinigy across linked exchanges.
Although Coinigy doesn't demand identity verification, many of their supported exchanges require it – certainly all those which support fiat currency. It's conceivable that such an exchange might collude with Coinigy in order to reveal an identified individual's entire crypto portfolio (at least to the extent it's shared with Coinigy).
Is Coinigy Secure?
While Coinigy has clearly put serious work into their security features, some concerns remain. To be able to trade on your exchange through Coinigy, your exchange API keys must be shared with the platform. This means that if Coinigy got hacked or turned evil, your accounts could be hijacked via the API keys across all linked exchanges.  If someone gets hold of your Coinigy login details, the same risk arises – so keep it safe!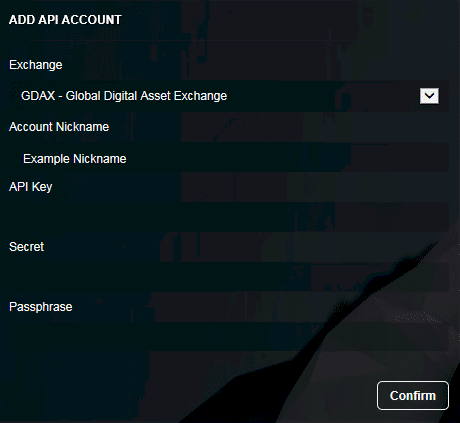 It's possible to set up most exchange APIs such that withdrawals aren't enabled through the API or must be confirmed via 2FA. I'd strongly advise users to take all such measures to secure their accounts. Doing so will prevent (or at least minimize the risk of) theft of funds via Coinigy.
Even so, sharing account API access is not something I'm personally comfortable with from a security standpoint. In Coinigy's defense, it's been going 4 years without major incident.
Value – is Coinigy Worth the Cost?
Below are Coinigy's monthly fees, which drop increasingly as you pay for 3, 6 or 12 months. The fees seem reasonable for large volume traders who'll benefit from Coinigy's services, especially as they include extended TradingView functionality which is otherwise only available through a separate subscription:


TradingView's monthly fees for various levels are also shown below. Coinigy subscriptions include something similar to the "Pro" level. While TradingView can be used for free, this option is quite limited. For example, you may only save fives charts or use a few indicators simultaneously.

If you trade arbitrage and / or many alts, then $180 to $220 per year for Coinigy seems like reasonable value, considering the convenience factor.
What do Reddit Users Think About Coinigy
While composing this review I also went over dozens of Reddit reviews. Seems like in general people are happy with the platform although some say it's a bit limited in features. If you're only interested in charting users recommend using tradingview as Coinigy relies on them anyway. The overall sentiment is very positive in most of the reviews I read.
Bottom Line
If appropriate steps are taken to contain the security risks, then Coinigy may be worth the cost for serious traders if they're active across multiple, supported markets. However, Coinigy is a luxury rather than a necessity. While Coinigy offers a lot of convenience through its integration of exchanges and features, all these things are available elsewhere, often for free. If you have the money to spare and you take trading seriously, Coinigy is highly recommended.