The popular freelance microtasking platform Fiverr is the newest addition to the Bitcoin world. The website has teamed up with Coinbase in order to accept cryptocurrency as a payment option for the buyers.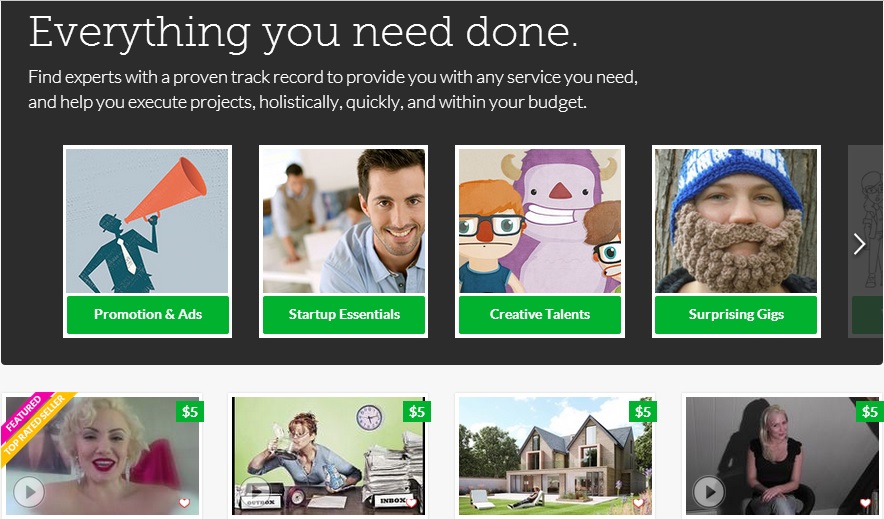 Fiverr is currently the world's largest marketplace where people in need of different services and freelance professionals can connect and exchange small services for a payment that always starts at $5. Although variety is one of the website's characteristics, the platform is mainly known for its content production, marketing and advertising services, as well as intensive courses and art-related gigs.
Starting this Tuesday (11), all these services can be purchased with BTC. According to Coinbase, besides reducing transaction fees, "Fiverr is also opening itself up to new, first-time customers who are actively making purchases with Bitcoin".
The Bitcoin-friendly buyers that want to place an order at Fivver only have to select the world's most famous cryptocurrency as their payment option at the checkout page. "Transactions will be processed through Coinbase, however the Bitcoins can come from any source. Payments will be settled in US dollars", the company explained on a blog post.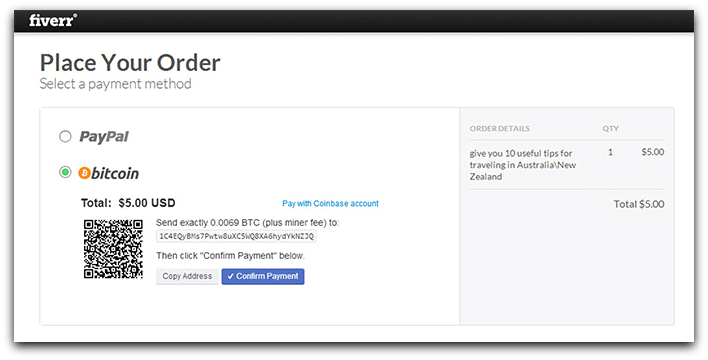 "On the seller side, it's business as usual. Revenue is earned and withdrawn in US dollars. The option to withdraw revenue in Bitcoin is currently not available on Fiverr", the platform adds. Cryptocurrency is not supported on the Fiverr app as well, but will be soon, the company guarantees.
The response of the users on Fiverr was rather positive. Here are some comments made by the members of the platform.
This is huge news. I've been a featured seller for two years and a bitcoin fanatic for the past few months. Please tell me you will be giving the option to withdraw in Bitcoin. Paypal already takes a lot of our earnings, so it would be great to be able to withdraw to a bitcoin wallet.

Please, please, please talk to your bosses at Fiverr and push to allow for us to get paid in Bitcoin. You have no idea how many people are waiting to find a site like this which pays out in Bitcoin for gigs.

Awesome news and great work! Do you plan to introduce withdrawals in BTC? That would be huuuuge!

I'm very excited for this. I hope to see Bitcoin withdrawals as an option in a near future.
"Our community is passionate about innovation and creativity and Bitcoin represents this spirit of innovation in the payment space", said Fiverr's director of business development. According to Constantine Anastasakis, quoted by City A.M., "it is only natural that Fiverr will be in the forefront of marketplaces embracing this new digital currency and security standards".
Fiverr was launched in February 2010 and is currently available in more than 200 countries, being considered by some people "one of the most useful sites on the Internet".