After a huge spike of interest registered in May, China's interest in digital coin seems to have cooled down in June. Last month, the country was the only one among the top Bitcoin-adopting nations registering a monthly growth in the cryptocurrency field. Besides, the Chinese yuan percentage of the total Bitcoin exchange volume had tripled since January.
But, apparently, all this has changed, since June is being a bad month for the Chinese statistics. This month, China only registered 15,000 downloads so far, against the 85,000 registered in May. This means a huge decline of the downloads rate: 82 percent to be more precise, as you can see in the chart below.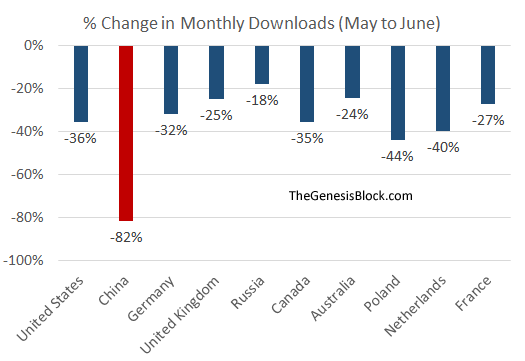 And this is all happening while the United States of America are able to maintain their rates balanced between May and June. Until the 24th, China's share of the global network represented only 15 percent.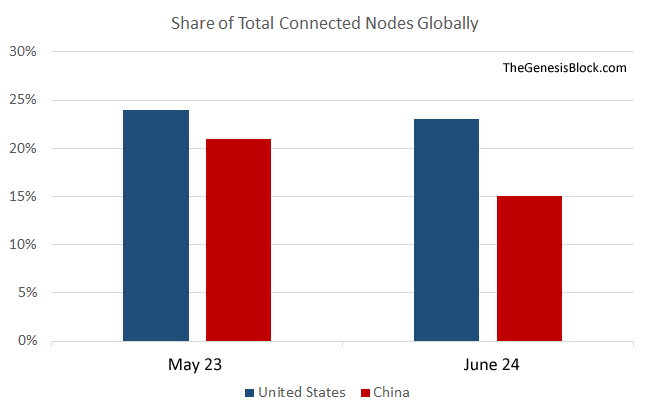 Maybe the Chinese are worried about other issues like the recent equity market crash or the possibility of a credit crisis in the country. And then there were the rumors about Chinese communication companies that were blocking the websites related to Bitcoin, which a highly unlikely theory. Speculations aside, the only thing we know for sure is that the Chinese are getting behind in the Bitcoin race.
And, like we said before, in the meantime the USA is getting stronger and stronger. The country hit the one million downloads target just in time to celebrate the mark during the holiday of the 4th of July. Quite impressive!
Via thegenesisblock.com