Patrick Byrne is a man surrendered to the power of Bitcoin. The CEO of the major online retail platform Overstock.com, which started accepting cryptocurrency payments last week, says that big companies like Amazon will have to change their point of view about digital money and make the same move.
If Bitcoin was still a mystery to most people, Overstock's decision of accepting it will surely help to change that. However, the "good deed" had its reward, as the company's orders skyrocketed over the last few days. According to Byrne, the online retailer registered $130,000 worth of Bitcoin orders just during the first day after cryptocurrency payments were enabled for the North-American market.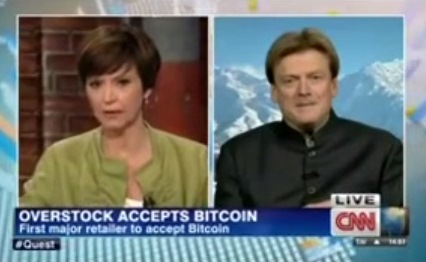 Since then, the company's CEO has talked with CNN International regarding Bitcoin acceptance, but also left some warnings to other merchants. "I'm a true believer [in Bitcoin]. (…) It's like digital gold", he said at the beginning of the interview.
The most important remark was probably when Byrne said that big retailers like Amazon will be forced to accept Bitcoin at some point. "They have to follow suit. (…) I'll be stunned if they don't because they can't just cede that part of the market to us. We're the only large retail site taking Bitcoin", he explained.
The entrepreneur stated that "that piece of the market is growing at about a rate of 30 percent per month".
Overstock.com is not holding on to the received Bitcoins for now. The company immediately converts them into US dollars, according to Byrne, not due to the volatility but because their suppliers are still not accepting cryptopcurrency.
Despite this fact, the entrepreneur assured that Overstock did not make this move as a publicity stunt. Their goal, according to the CEO, is to "tap into that market of consumers who are really committed to Bitcoin".
CEO of PayPal tweets about cryptocurrency
Speaking about big companies and their bosses, PayPal's CEO also had something to say about Bitcoin this Monday (13).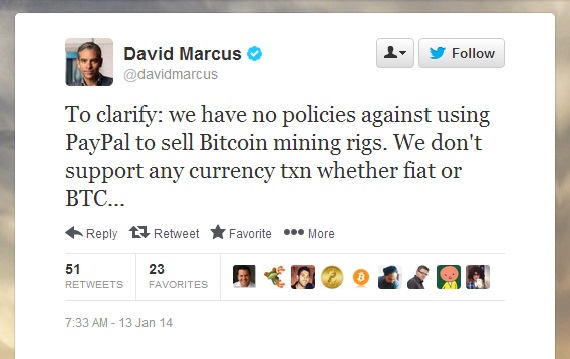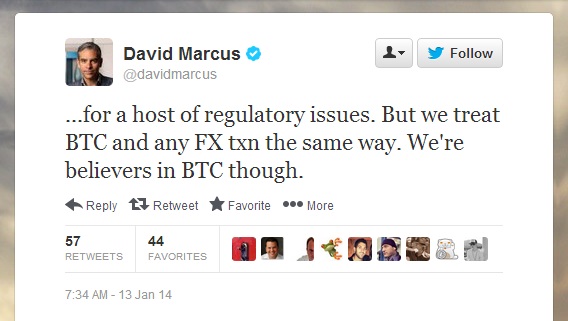 David Marcus tweeted the following message: "To clarify: we have no policies against using PayPal to sell Bitcoin mining rigs. We don't support any currency txn whether fiat or BTC (…) for a host of regulatory issues. But we treat BTC and any FX txn the same way. We're believers in BTC though".
Despite Marcus' declaration of trust in cryptocurrency, the tweet was awarded with a lot of criticism from other users of the social network.