The legal problems continue for the Dominion Bitcoin Mining Company Ltd., a cryptocurrency firm based in Saskatchewan, Canada. The company is now facing new accusations by the Financial and Consumer Affairs Authority (FCAA) and a potential $10,000 fine for allegedly seeking investors without being compliant with the local regulations.

Dominion is not a rookie when it comes to problems with the law. The company was hit with a cease-trade order issued by the FCAA between May until September of 2014. However, the ruling issued due to violations of The Securities Act of 1988  expired with no consequences for the company.
The authority says that not only Dominion was not compliant when seeking investment, but the company's website featured statements that the company's three shareholders "knew or reasonably ought to have known were misleading or untrue". Besides, Dominion is also accused of trading in securities and not having a prospectus to show potential shareholders, Leader-Post reports.
"Bitcoin isn't a security. If they say it's a security, they would be the first government in the world to give Bitcoin that sort of value or endorsement", said the president of Dominion. According to Peter Voldeng, the FCAA doesn't understand cryptocurrency or how the crypto-system works. The entrepreneur believes the record will be set straight at the hearing.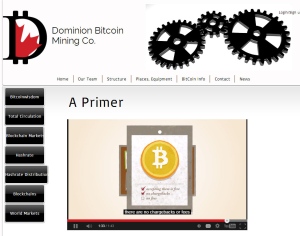 Dallas Smith, the FCAA Securities Division's legal counsel, replied by saying that "whether Canada or the banks or anyone else has assigned a value to the Bitcoin yet is neither here nor there. It is valuable consideration, obviously. They [Dominion] are exchanging shares for it". This statement was issued in May.
Dominion's website has been down for about a week. In the meantime, Voldeng has announced that the company is now looking for a new web hosting service and plans to expand its operations into other Bitcoin-related fields like ATMs or digital wallets.