In this post you will learn how to buy Peercoin with Paypal or a credit card.
Note: If you're looking to buy Peercoin with Paypal or a credit card for trading purposes only check out FXOpen's crypto trading. 
Peercoin (PPC / PPCoin / Peer-to-Peer-Coin) is a digital currency that is alternate to Bitcoin. It distinguishes itself from other altcoins by using a proof of stake/proof of work (don't know what that means ? Good….me neither).
At the time of writing this post Peercoin's market cap is 126,411 BTC and it's the third largest altcoin. It's also an inflational currency which means that the more people use it,  more Peercoins are available. One last thing to keep in mind are that transaction fees in Peercoin are higher and cost 0.01 PPC for each transaction. This makes this for of money much less liquid than Bitcoin or Litecoin for example.
Peercoin is also considered to be environmentally friendly since the energy consumption for mining it will be substantially lower than what Bitcoin or Litecoin requires.
Today the main exchange that deals with Peercoins is BTC-E. Since there is no way to deposit money to BTC-E with Paypal or a credit card  we will need to first buy some Bitcoins with Paypal  or a credit card through VirWox and then convert these Bitcoins into Peercoins.
Step 1 – Buy Bitcoins with Paypal or a credit card through VirWox
Go to VirWox and create an account. If you find yourself having trouble in the process of creating the account you can find a full explanation here. Once the account is created you can fund the account using Paypal or a credit card. Keep in mind that according to the days our account has been active you will have a max deposit amount available.
Once you deposited money you can then buy SLL with that money and trade it for BTC. For new users it may take up to 48 hours to get your account confirmed manually and to see the BTC in your account, so don't worry if you don't see the Bitcoins right away.
Step 2 – Move your Bitcoins into BTC-E
Once you see the Bitcoins in your account it's time to move them to BTC-E. First you will need to sign up / log into BTC-E and create a Bitcoin address. This is done by clicking on "Funds" and clicking on "Deposit" next to Bitcoin.
Now go back to VirWox and click on "Withdraw". You will then be able to send those Bitcoins to the BTC-E address you've just generated.
Step 3 – Buy your Peercoins
Once your Bitcoins show up on BTC-E it's time to go to the BTC/PPC exchange and buy some Peercoins. After the transaction is complete you will be able to see your Peercoins under the "funds" section in BTC-E.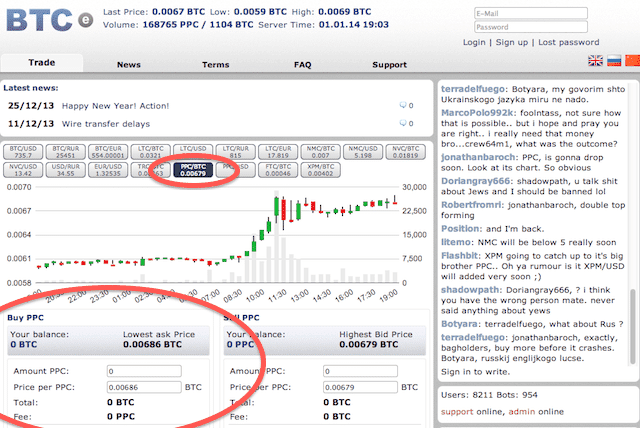 You're done!
To conclude I want to say a couple of things. First this process can take anywhere from 1 hour to 2 days depending on how fast the guys at VirWox approve your account and transfer your Bitcoins. Second, this process has a lot of transaction fee since you are going through 2 different exchanges so keep that in mind. If you want lower fees you can always use the normal wire-transfer method but that takes even longer.