Last updated on January 2nd, 2018 at 12:00 am
Note: If you're looking to buy Namecoin for trading purposes only check out FXOpen's crypto trading. 
Namecoin isn't designed to act as a currency but rather to act as an alternative, decentralized DNS. Meaning it wants to replace the control ICANN currently has over domain names and deny the possibility of censorship.
If you want to buy namecoin (NMC) in order to trade it you will have to find an exchange that supplies it. My choice will be BTC-E since it's the most respectable exchange today. At the time of writing this post, Namecoin has a market cap of $28 million and is ranked as the 9th largest altcoin.
If you already have Bitcoins or USD deposited in BTC-E you can go to the NMC/BTC or NMC/USD exchanges and just trade them for Namecoin. If you do not have any money deposited into BTC-E you can use one of the following tutorials in order to obtain Bitcoins with Paypal, a credit card, cash or wire transfer:
Buy Bitcoin with Paypal – Worldwide, High commissions (can reach up to 10%), fast delivery.
Buy Bitcoin with a Credit Card– Worldwide, High commissions (can reach up to 15%), very fast delivery.
Buy Bitcoin with wire transfer – US only, low commissions, delivery can take up to 4 business days.
Buy Bitcoin with cash – Worldwide, find someone located physically near your location and set up a deal for buying Bitcoins.
After you've secured your Bitcoins you can open an account on BTC-E and deposit it your wallet. Just go to "finances" on the top of the screen and click "deposit" next to the BTC currency.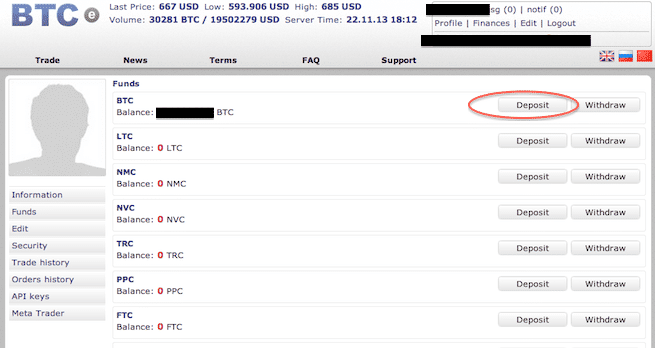 You will now be able to find your depositing address at the bottom of the screen.

It can take up to 1 hour for you to see the Bitcoins that you've transferred in your account. Once the Bitcoins have arrived go to the relevant exchange and make your trade.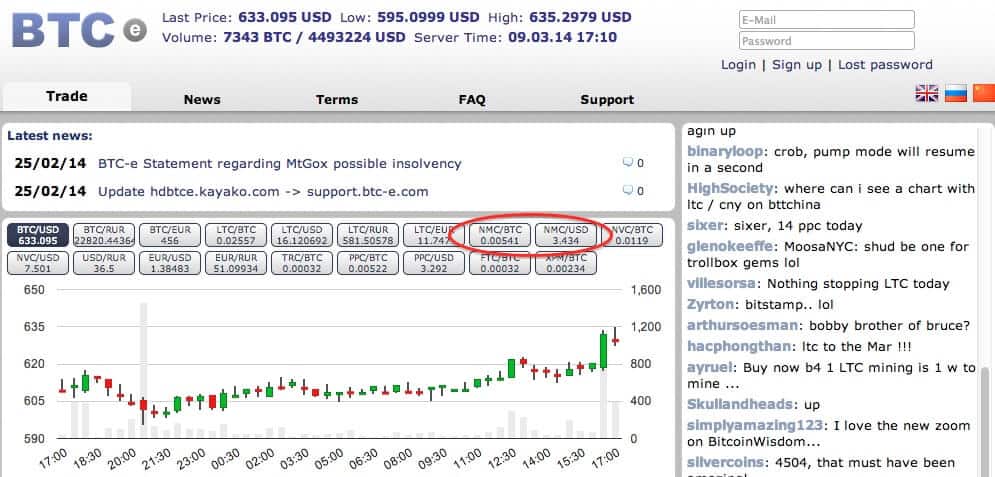 Keep your Namecoins in a safe place!
Remember that after you purchase your Namecoins it is wise to move them into a secure wallet and not leave them lying in the exchange. You can download a Namecoin wallet for Mac or for Windows from the official Namecoin site and install it on your computer.
Additional exchanges
If you do not want to use BTC-E you will find also Namecoin to Bitcoin exchanges at BTER. These are all pretty well established exchanges (currently) and you can feel safe trading on them.