How to Buy Bitcoin in the UK
By: Ofir Beigel | Last updated: 11/22/23
Looking to buy Bitcoin in the United Kingdom? In this guide, we'll go over the legal status of Bitcoin in the UK, its level of popularity, and some of the various exchanges you can use to buy Bitcoin in the UK.
Buying Bitcoin in the UK Summary
Bitcoin is accepted as a payment method in the UK, and residents are free to buy, sell, and trade it through cryptocurrency exchanges. To buy Bitcoin in the UK, you can follow these steps:
Get a Bitcoin wallet
Go to Kraken and sign up for a free account
Choose how much Bitcoin you want to buy
Enter your debit or credit card info and your Bitcoin wallet address
If Kraken isn't the right exchange for you, this article provides details on several other exchanges that might be a better fit.
That's the basics of how to buy Bitcoin in the UK. If you're looking for more details, continue reading below. Here's what we'll discuss:
---
1. Is Bitcoin legal in the UK?
The regulation of cryptocurrencies in the UK is primarily overseen by the Financial Conduct Authority (FCA).
While cryptocurrency is legal to buy, sell, and trade in the UK, the FCA continues to warn people that crypto assets, including stablecoins, remain largely unregulated and high-risk, with no protections if something goes wrong, like the infamous FTX collapse.
In June 2023, the UK Parliament's Upper House approved the Financial Services and Markets Bill (FSMB), which focused on including stablecoins and all other cryptocurrencies under the country's payment regulations and detailed measures to supervise how firms promote cryptocurrencies to consumers.
The FCA began monitoring and regulating how cryptoasset companies promote and advertise to consumers. This led to them blocking Binance's plan to attempt to navigate these new rules, and as a result, Binance announced it has temporarily stopped accepting new user registrations from the UK.
If this wasn't enough, the UK has published its final proposal for regulating the crypto ecosystem, and it plans to roll out a phased introduction of its new regulations. Legislation for fiat-backed stablecoins is expected in early 2024.
So, to answer the question, yes, Bitcoin is legal. But be prepared for a roller coaster of news and regulations from the UK and elsewhere over the next 6 to 12 months.
---
2. How popular is Bitcoin in the UK?
The Google Trends graph below displays interest in Bitcoin in the United Kingdom. The linked graph is live data, updated directly from Google. Using the search term 'bitcoin,' the graph represents the search interest of users through Google. A mark of 100 indicates peak popularity, while a score of 50 means half as popular.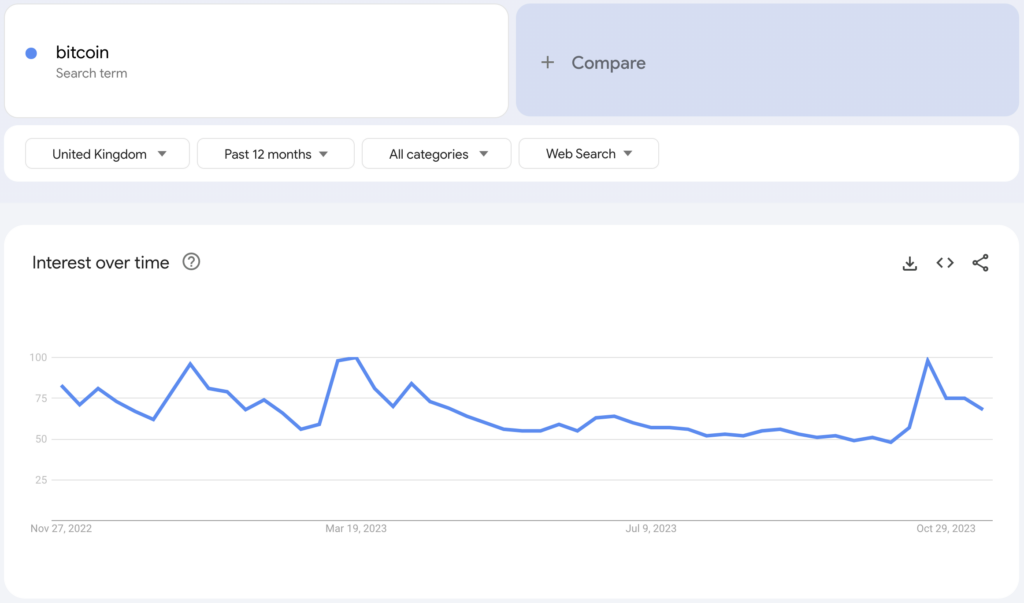 ---
3. Main Bitcoin communities in the UK
There is an abundance of English-speaking communities for British people to stay updated about Bitcoin. Various forums and social groups provide support, information, and discussion on a number of Bitcoin and cryptocurrency subjects. This includes gaining first-hand advice and reviews on Bitcoin exchanges and wallets. Here are some of the most popular online communities:
There is also a huge number of cryptocurrency Meetup groups throughout the United Kingdom.
Note: These support groups are meant for informational purposes only. There exist many scams, phony "support staff," and fake tokens in most cryptocurrency-related groups. Never give anyone your seed phrase or private wallet keys.
---
4. UK-based Bitcoin exchanges
There are various Bitcoin exchanges headquartered in the UK. Most of the larger ones have strict know-your-customer (KYC) and anti-money laundering (AML) processes that require users to provide certain personal details and upload their government-issued IDs to fully unlock an exchange's services.
CEX.IO
CEX.IO was founded in 2013, with its headquarters in London. The exchange is available in most countries around the world. This cryptocurrency exchange allows users to buy and sell Bitcoin, as well as a selection of altcoins.
Both credit cards and bank transfers are accepted payment methods, as well as Google Pay, PayPal, and Apple Pay. CEX.IO offers both a trading platform and a brokerage service, entailing different fees. You can read my full CEX.IO review here.
Luno
Luno is headquartered in London but operates across Africa, Southeast Asia, and Europe. Originally founded as BitX, it was renamed in 2017. Depositing and withdrawing GBP via a bank transfer is free.
There are three levels of verification on Luno, and each one unlocks a higher limit. For Level 1, there is a maximum account limit of £1,000 for deposits and withdrawals. For Level 2, there is a £5,000 monthly limit for deposits and withdrawals. And for Level 3, there are no limits. Luno has a 1.5% fee when you buy or sell using the Luno Wallet/Instant Sell feature.
Luno has an app available for Android and iOS. You can read my complete Luno review here.
---
5. International exchanges available in the UK
Should none of these exchanges fit your fancy, there are several international exchanges that also provide services to those in the United Kingdom. Here are a few you can try:
Kraken
Founded in 2011, Kraken is a veteran US-based cryptocurrency exchange known for its robust security measures and recent expansion across Europe. The exchange offers an advanced trading platform (Kraken Pro) with features like staking, spot trading, margin and futures trading, and OTC options.
Kraken offers most of its services to users in the United Kingdom. Users in the UK cannot participate in Kraken's Opt-In Rewards or its referral program. Users also cannot deposit or trade Monero (XMR). Otherwise, Kraken's full suite is available to British people.
Kraken has an easy-to-use mobile app for iOS and Android. You can read my full Kraken review here.
Coinmama
Coinmama may be based in Israel, but it's available in a huge number of countries, including the UK. It was launched in 2013, and it offers convenience: you can easily buy Bitcoin with a debit or credit card.
The downside is that the fees are on the high side, with about a 10% fee total whether using your debit card or ACH transfer. For users in the UK, Coinmama accepts Visa and Mastercard, as well as Google Pay, Apple Pay, and SEPA transfer.
You can read my full review of Coinmama here.
Paybis
Paybis is a cryptocurrency exchange based in Poland that offers its services to 180 countries, including residents of the United Kingdom.
Users from the UK can use their credit and debit cards, as well as Google Pay and Apple Pay, to purchase cryptocurrency through Paybis. They also accept Skrill, Giropay, Neteller, and bank transfers.
Paybis has an exchange app and wallet for Android and iOS devices.
---
6. How many Bitcoin ATMs are there in the UK?
As of late 2023, there is 1 Bitcoin ATM in the UK, according to CoinATMRadar. This lone Bitcoin ATM is in Birmingham. The lack of Bitcoin ATMs in the UK likely has something to do with the Financial Conduct Authority (FCA) cracking down on illegal cryptocurrency 'machines.'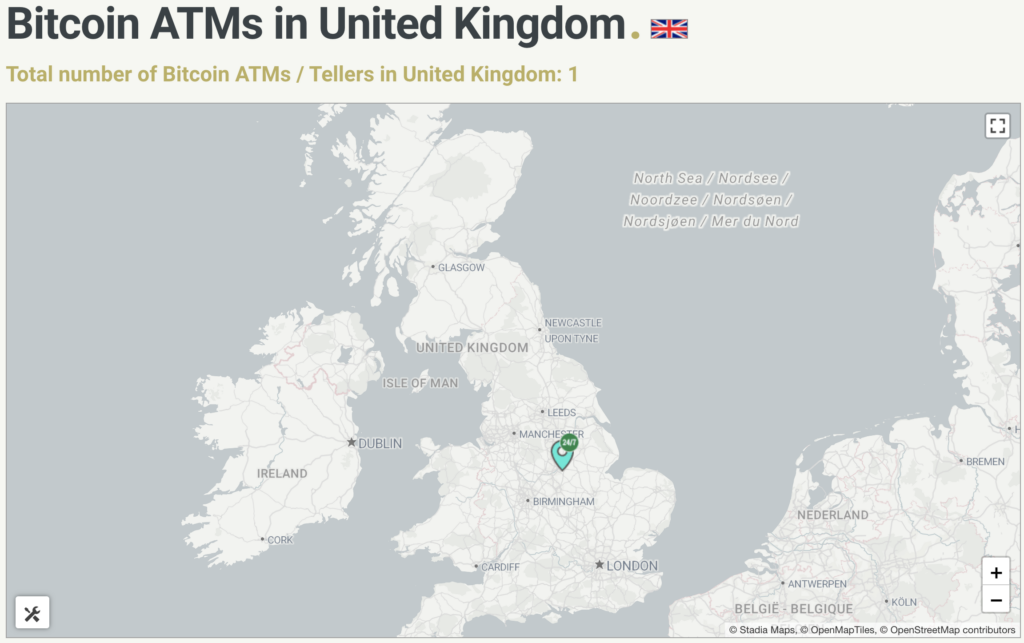 ---
7. Conclusion
While Bitcoin is legal to buy, hold, sell, and trade in the UK, its fast-moving regulation does leave me wondering about its future prospects. However, as it seems right now, these new and upcoming regulations by the Financial Conduct Authority (FCA) are meant to provide protection for consumers, especially after the global meltdown and bankruptcy of the FTX exchange. 
If you're in the UK or elsewhere in Europe, stay tuned, as the next 6 to 12 months could be full of new laws and regulations surrounding cryptoassets.
If you're looking to buy Bitcoin or any other cryptocurrency, there are a number of exchanges available to UK residents, including Kraken, CEX.IO, Coinmama, and Luno. 
That's it! If you have any comments or wish to share your own experience with any of the above exchanges, please comment in the comments section below.