How to Buy Bitcoin in the UK
Last updated: 2/1/21
Looking to learn how to buy Bitcoin in the United Kingdom? In this guide, we'll go over the legal status of Bitcoin in the UK, its level of popularity, and some of the various exchanges you can buy Bitcoin with in the UK.
Buying Bitcoins in the UK Summary
Bitcoin is generally not accepted as a payment method in the UK, but residents are free to buy, sell and trade it through exchanges. To buy Bitcoin in the UK, you can follow these steps:
Get a Bitcoin wallet
Go to CEX.io
Choose how much Bitcoin you want to buy
Enter your card info and your Bitcoin wallet address
If CEX.io is not the right exchange for you, this article will also provide details on several other exchanges that might be a better fit.
That's the basics on how to buy Bitcoin in the UK If you're looking for more details, continue reading below. Here's what we'll discuss:
---
1. Is Bitcoin legal in the UK?
In the UK, Bitcoin and other cryptocurrencies are not currently considered to be currency or money, which means they can't be used as a legal means of payment. On the other hand, it is perfectly legal to trade, purchase and sell cryptocurrencies such as Bitcoin with ease through an exchange.
In 2021, the UK government began seeking guidance from the public to improve general regulation around cryptocurrencies, which until that point has been somewhat unclear.
Crypto-focused businesses may be expected to register with the Financial Conduct Authority (FCA), while crypto users may be required to pay taxes on digital transactions.
As of January 6, new regulations were passed to ban all crypto-based derivatives and exchange-traded notes (ETNs). While digital currencies themselves are not banned, a lot of popular trading products are now no longer permitted in the UK.
---
2. How popular is Bitcoin in the UK?
Despite the size and population of the United Kingdom, Bitcoin's popularity has been rather inconsistent, with trading volumes only surging in the UK during late 2017 when BTC was reaching its then all-time high of almost $20,000.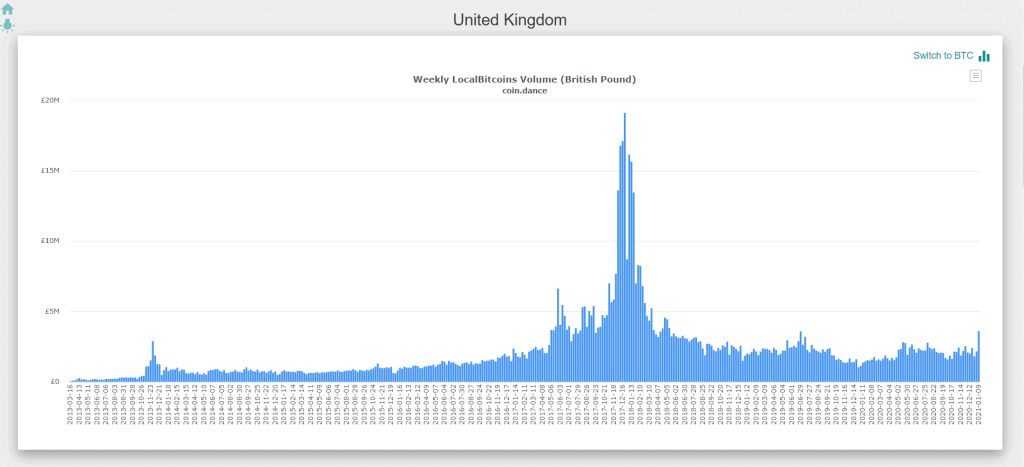 In contrast, Bitcoin is trading much higher in 2021, but the same source shows trading has significantly fallen in the past few years. Weekly volumes are only reaching around three million pounds on a good week – considerably smaller than anything in 2017.
Data from Google Trends follows the same pattern, showing Bitcoin-related searches also peaking during late 2017 in the United Kingdom. Throughout 2018 and 2019, traffic died down heavily and didn't begin to show any signs of life again until early 2021, even though Bitcoin enjoyed a solid bull-run in 2020.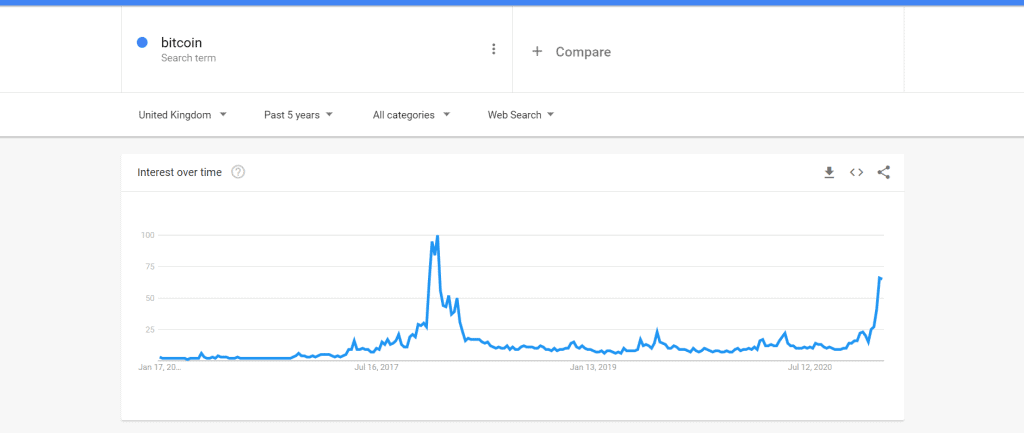 ---
3. Main Bitcoin communities in the UK
A small number of online communities exist for residents of the United Kingdom to explore if they're looking to improve their knowledge on Bitcoin and cryptocurrency.
These forums and websites are great for giving visitors genuine discussion about which of the UK's exchanges might serve them best, as well as any laws they may need to comply with. A great place to start is the Bitcoin UK subreddit. Aside from Reddit, there are a few interactive UK crypto groups on Facebook, as well as a Bitcoin-related forum on uk.investing.com.
---
4. UK-based Bitcoin exchanges
There are various Bitcoin exchanges set up in the UK Some of the larger ones have strict know-your-customer (KYC) processes that require customers to provide certain personal details, or even upload their government-issued IDs:
CEX.IO
CEX.io is one of the UK's larger crypto exchanges. It also boasts offices in several other regions such as Ireland, the United States, Gibraltar and the Ukraine.
The company offers a feature known as "Instant Buy," which allows customers to buy crypto with a debit or credit card, in just a few clicks.
Fees are about 3% for credit card purchases, while regular on-exchange trading fees sit around 0.2%, depending on your trading volume.
The exchange has established relationships with plenty of mainstream banks and offers an assortment of crypto products—including mobile apps for both Android and iOS phones—to make trading easier and more accessible.
Paybis
Paybis is a crypto exchange based in the United Kingdom that is registered with the Financial Crimes Enforcement Network (FinCEN). It currently provides services to customers in over 180 countries.
Among the platform's many benefits is a high monthly transaction limit of $50,000 and a quick ID verification process.
Fees on Paybis are a little higher than other platforms, charging a substantial 10% on debit and credit card purchases. Other payment methods are cheaper, the best of which is SEPA with a 1.5% fee.
Luno
Luno exchange is based in London, but also has offices in Singapore, Indonesia, Nigeria and Australia, among other regions.
The exchange's regular trading fees range from 0.25% to 1% but it also has a more expensive instant buy feature. This accepts bank card purchases of Bitcoin for a variable fee that depends on your purchase amount.
Some of the company's other unique features include a Bitcoin savings wallet, which allows users to earn a target rate of 4% interest on their BTC holdings.
Luno customers can also send money to each other without paying fees and set up price alerts for themselves if they're looking to follow specific coins.
---
5. International exchanges available in the UK
Should none of these exchanges fit your fancy, there are several international exchanges that also provide services to those in the United Kingdom. Here are a few you can try:
Coinmama
Founded in 2013 and based in Dublin, Ireland, Coinmama offers its services to customers in more than 188 countries and boasts more than 2.5 million user accounts.
The exchange supports many leading digital coins—including Bitcoin, Ethereum and Ripple—and offers instant delivery of coins once a purchase has been made. The company is known to verify new customers within 60 minutes.
The great service comes at a price though, with premiums commonly reaching 10% above market rates.
Bitpanda
Bitpanda is based in Vienna, Austria, and employs a team of more than 250 people. Customers can trade over 50 different cryptocurrencies, along with precious metals like gold.
The company is a legally compliant exchange which has recently received their PSD2 banking license. It also allows customers to cash out through several different payment methods for multiple fiat currencies, including EUR, CHF, USD, TRY and PLN.
Fees on Bitpanda are about 1.49%, with deposits costing 1.50% for bank cards. Bank transfers, on the other hand, are free.
---
6. How many Bitcoin ATMs are there in the UK?
As of 2021, there are approximately 236 Bitcoin ATMs in the U.K, according to data from CoinATMRadar. You can see where these are located using the map on their website, shown below: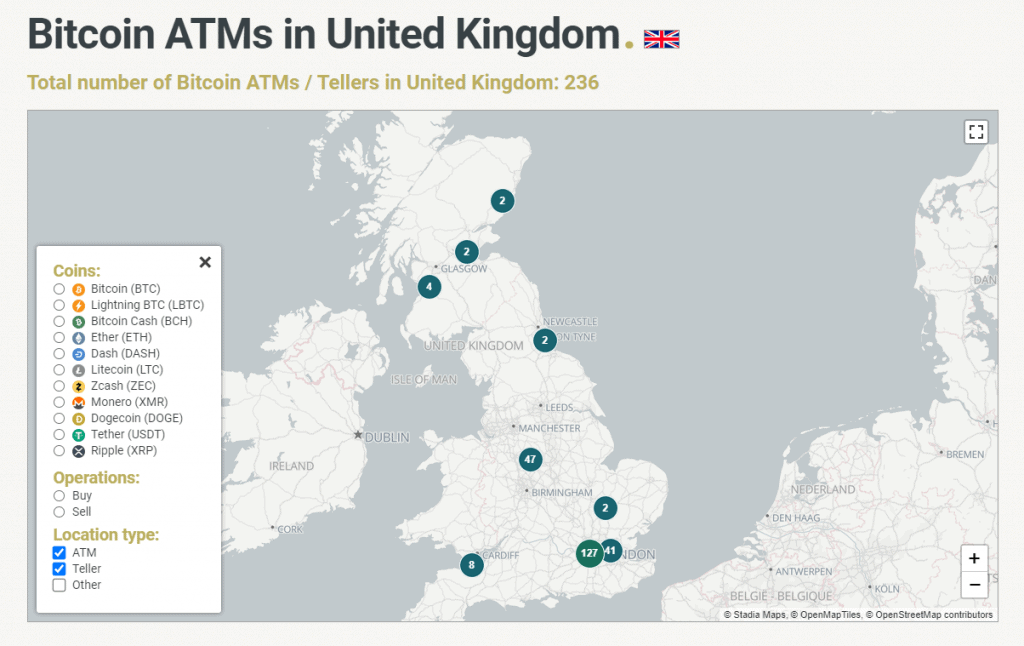 ---
7. Conclusion
While Bitcoin is legal to hold and trade in the UK, its regulation so far has been a little vague and restrictive – especially for derivatives products like futures trading. The government's initiative to get feedback about Bitcoin from the public is a positive turn, and will hopefully improve clarity in the future.
Overall, crypto has a lackluster presence in the UK, which has tapered off since the 2017 boom. Unfortunately, the FCA has also banned crypto derivatives platforms, which might impact more advanced traders.
If you're looking to buy Bitcoin outright, however, there are still a handful of prominent UK-based exchanges to choose from,
CEX.io, Paybis or the Vienna based Bitpanda.
That's it! If you have any comments or wish to share your own experience with any of the above exchanges, please comment in the comments section below.