More than 200,000 hotels spread across the planet are now available for Bitcoiners who want to book their vacations through the online travel agency CheapAir.com.
The platform's crypto-adventure began back in November, when the website started accepting Bitcoin as a payment option for plane tickets and the results couldn't be better, so the company decided to add its hotels list to the experiment. Jeff Klee, the company's CEO, claims that CheapAir.com conquered several new clients due to the addition of the new payment method.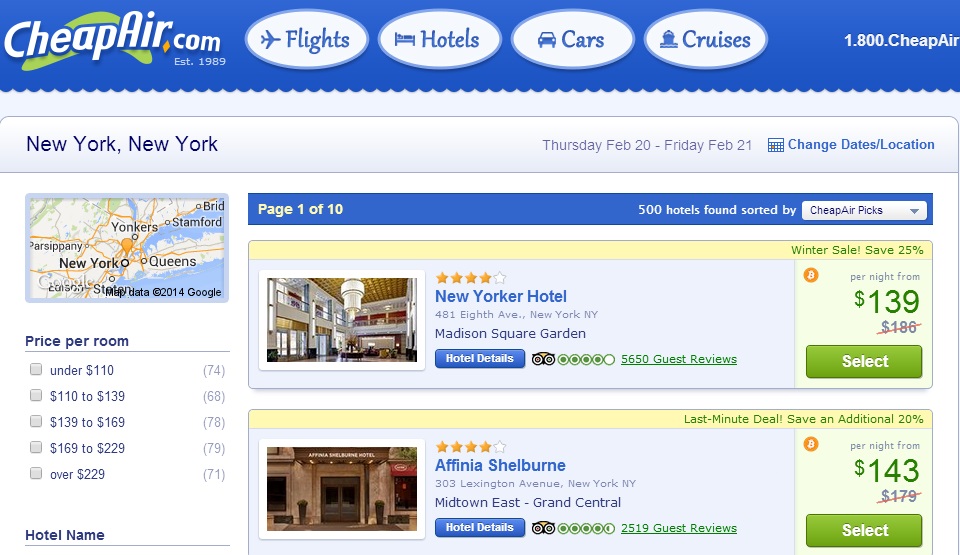 "We've been really pleasantly surprised by the response. We're making a lot more Bitcoin sales than we expected to make", he said, quoted by USA Today.
But CheapAir.com's new Bitcoin feature is just part of the icing on the cake. According to Jerry Brito, a senior research fellow at the Mercatus Center at George Mason University, even more mainstream merchants are likely to adopt the currency:
We're going to see an ever-growing number of merchants begin to accept Bitcoin. Bitcoin is a network […], Facebook is a network. Why do you join Facebook? Because everyone else is on Facebook. The more people will own and spend the Bitcoin, the more merchants will accept them, and more people will use them.
Despite the trust in the cryptocurrency system, CheapAir.com is still exchanging the received Bitcoins for US dollars through Coinbase as soon as the transactions are completed.
Klee plans to keep and use the BTC once the suppliers start accepting it. "Until they start accepting Bitcoin, it's a little bit difficult for third-party companies to do it. The suppliers will be the ones to dictate how widespread they are".
Main image from Wikimedia