The world's biggest Bitcoin exchange and digital wallet provider, Blockchain.info, lost some of their clients' digital savings last night during a scheduled software update that went wrong. The incident was disclosed a few hours ago by the company on Reddit and other social networks such as Twitter.
"When making a scheduled software update overnight to our web-wallet, our development team inadvertently affected a part of our software that ensures private keys are generated in a strong and secure manner", Blockchain revealed.
The issue affected less than 0.0002% of the company's user base and "was limited to a few hundred addresses", between 12:00 am and 2:30 am GMT on 8th December. However, according to Blockchain, the problem "was detected quickly and immediately resolved".
There are several online discussions about the incident that estimate the loss of 250 BTC amidst the update, an amount of Bitcoin worth around $90,000, InsideBitcoins.com reports. A user posted the image below on Imgur.com as soon as the problem was noticed.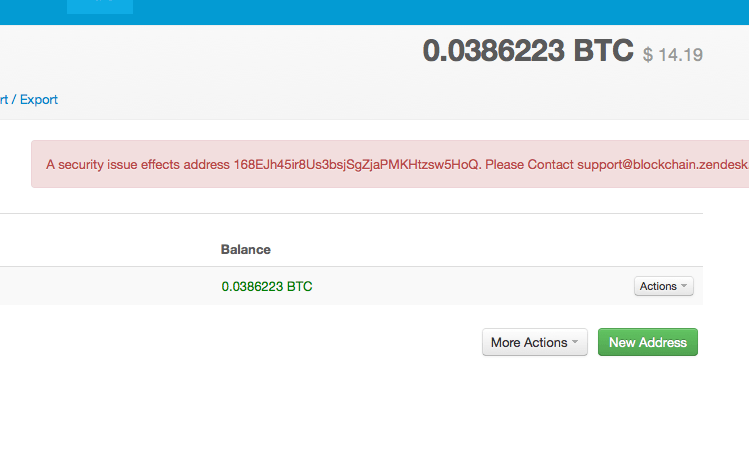 Following the incident, the Bitcoin exchange confirmed it was trying to find out more, as well as "working with affected users and reimbursing those users which lost funds". Blockchain.info also revealed that addresses, wallets and transactions created via the wallet's iOS and Android apps were not affected. The Bitcoiners using the browser Google Chrome are also safe.
The team at Blockchain.info alerted all the vulnerable users whose wallets might have been attacked. "We are committed to working with any affected users to assess and rectify any issues", the company assured.
By vulnerable users, the platform means any user that "created a wallet, generated a new address via Blockchain.info's web-wallet, or sent Bitcoin" between 12:00 am and 2:30 am GMT. If you did any of these actions without providing an email address to the company up to the moment, you can contact the platform's support desk at [email protected] or simply create a new wallet.