Bitstamp seems to be having issues with their hot wallet at the moment, and has released an email to their customers warning them to not deposit Bitcoin until the issue is resolved.  While many Bitstamp users may have already read the email, we felt it necessary to mention this.  If it saves even one person from losing bitcoins, then it is worth it.
Currently the cause of this issue is unknown, but a few hours ago a Reddit post by Tsuyoku_Naritai appeared: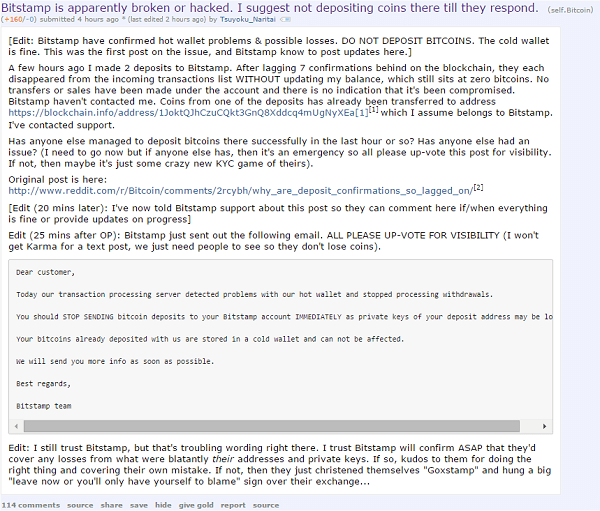 Bitstamp has been one of the more stable exchanges in the Bitcoin world, and generally is quick to fix any issues.  Hopefully this problem is not as serious as it seems at first glance, and all works out in the end.  However, if the Bitcoin exchange was actually hacked, and this ends up causing customers to lose coins, that could be a devastating blow.  Of course, in that same situation, if Bitstamp were to step up and cover any losses, this could result in company gaining a massive amount of respect from the community.
Either way, we will monitor the situation and update this post when more information is available.  Until then, again, do NOT deposit bitcoins in your Bitstamp account if you have one.
Update:  On January 4th, 2015, 19,000 BTC or less were stolen from Bitstamp's operational wallets.  Bitstamp has promised to cover all losses from deposits made by users before 9AM UTC on January 5th, 2015.