The Slovenian Bitcoin exchange Bitstamp is back with a "newly redeployed website and backend systems that are safer and more secure than ever". This is the promise made by Nejc Kodric, the company's CEO, who announced the comeback following a massive attack that hit the exchange on January 4th. 
On Sunday, some of Bitstamp's operational wallets were compromised, resulting in a loss of less than 19,000 BTC, the equivalent to $5 million. "This breach represents a small fraction of Bitstamp's total Bitcoin reserves, the overwhelming majority of which are held in secure offline cold storage systems. We can assure customers that any Bitcoins held with us prior to temporary suspension of services on January 5th at 9am UTC are completely safe and will be fully honored", said Kodric.
Upon learning of the breach, we immediately notified all customers that they should no longer make deposits to previously issued bitcoin deposit addresses. As an additional security measure, we suspended our systems to fully investigate the incident and actively engage with law enforcement officials.
Although it took a bit more time than initially announced, Bitstamp managed to recover and resume all operations in five days. The good news was announced this Friday (9th) on the company's new website and on Twitter.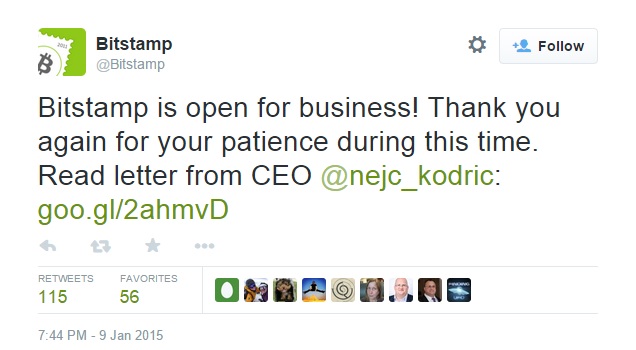 According to the CEO of the Slovenian exchange, these past days were essential to rebuild the platform's systems "from the ground up from a secure backup for a few reasons".
"By redeploying our system from a secure backup onto entirely new hardware, we were able to preserve the evidence for a full forensic investigation of the crime. We have also taken this time to implement a number of new security measures and protocols so that customers can resume using Bitstamp with full confidence and trust. While this decision means we have not been able to provide you with services for a number of days, we feel this extra measure of precaution was in the best interest of our customers", Nejc Kodric added.
This means Bitstamp is not only back to normal, but it has returned to its online status with a number of key improvements. The list includes BitGo multi-sig technology and new hardware deployed from a completely secure backup of Bitstamp's code and data.
Also, the platform is "now running on Amazon's world-class AWS cloud infrastructure, architected to be one of the most secure and reliable cloud computing environments available".
In order to thank the customers for their "patience and understanding during this disruption of services", the exchange will be offering commission-free transactions until the end of the North American Bitcoin Conference, on January 17th.
Image source: Bitstamp and Twitter