99Bitcoins Editorial Note: 
Hi guys, it's Ofir from 99Bitcoins. I think there are some things that need to be put straight before reading this review. The main thing is this – we can't say for certain if Bitconnect is legit or not. People who are arguing that there aren't enough evidence to support the claims made in this post are right, we wish there were more.
However, personally I wouldn't invest my money in it. Why? Because it has too many red flags in my personal opinion. You are free to think differently, that's your opinion. So take what's written here with a grain of salt and let us know your opinion in the comment section. As always, none of this is investment advice, just the writer's personal opinion.
Jan 16, 2018 update: Bitconnect is shutting down its lending and exchange services.
---
You have probably read several stories about the guys who bought $1000 of Bitcoin 5 years ago and are now millionaires. Even if you bought your first cryptocurrency at the beginning of 2017 you're probably still pretty happy with the investment.
Some people haven't settled for the gains to be made in an expanding market. Over the last couple of years, several Bitcoin investment schemes have popped up. One of those platforms is Bitconnect. On the face of things, there are some pretty impressive returns. Users report high rates of interest—sometimes up to 1% per day, as well as a very generous referral reward.
Just look at the price of BCC (Bitconnect Coin) over the past 8 months. It went from $0.16 to over $300. That's an ROI of 187,500%, which is pretty crazy.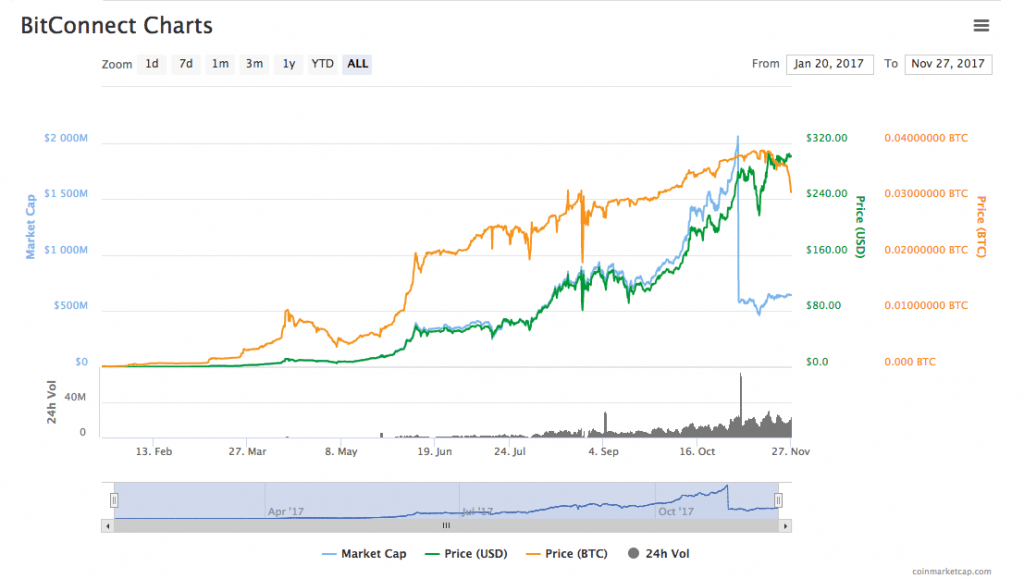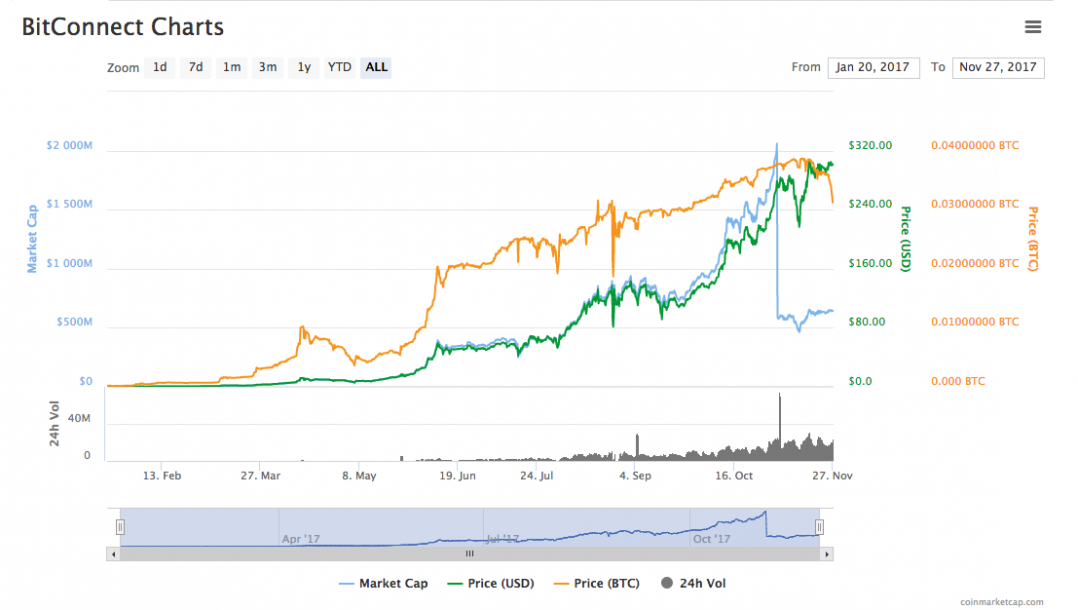 Update: Apparently the founder of Ethereum, Vitalik Buterin is also concerned about Bitconnect's reputation.
You'll probably notice that BCC's market cap has dropped dramatically on November 3rd 2017. This is due to a "[r]evised circulating supply calculation," according to Coin Market Cap. Vitalik pointed out to TNW over email, it has not affected BitConnect Coin's price. That is very strange as such a huge change in coin circulation should have a massive effect on the price.
What is Bitconnect?
That's a good question, I'm not sure anyone can provide a simple answer. It seems like Bitconnect is trying to create a Bitcoin clone—with the main benefit being making money. Here's the very perplexing intro video for the company:
Bitconnect has developed its own cryptocurrency to help users transact quickly via the inbuilt exchange. Many Bitconnect investors are aggressively chasing rewards through the service. They appear to be latecomers to the market, who have missed the recent upsurge in Bitcoin value.
I first came across the service when watching a YouTuber with the screenname Cryptonick. He reported that he made hundreds of thousands of dollars on Bitconnect through loans and referrals. Sounds too good to be true, right?
How exactly does the company operate, and make these astounding returns? What's the secret?
How Can You Make Money with Bitconnect?
According to the website, Bitconnect utilizes a uniquely developed trading bot. It is known as "volatility software," which takes advantage of the changing Bitcoin market. Bitcoin's price can swing up and down by hundreds of dollars a day, so anyone who can predict these changes can make a fortune. That's what the trading bot reportedly does, and loaning your Bitcoins to the software allows you to enjoy these returns.

To make an investment, users must first buy the Bitconnect token with Bitcoin via the exchange. Then you will be able to loan the token to the Bitconnect bot. It is important to note that the investment stake is locked away, and can't be accessed for or anywhere between 120 and 299 days.  Any interest earned is available to be immediately withdrawn.
Interestingly, referral codes come though the real moneymaker. Users with large followings (such as Cryptonick) earn a far greater return from this method. Hearing about this situation really raised the first questions in my mind. Is it a legitimate lending platform, or is it a modern Ponzi scheme? It all sounds too easy to make quick money.
So for example, if I bring in an active lender that loans out $100 BCC, I will receive a $5 commission. For any additional loans, I will receive additional commissions. But it gets even "better." If that lender brings in additional lenders, I get 3% of their lending amount, as well as 2% of any additional lenders brought in by these lenders.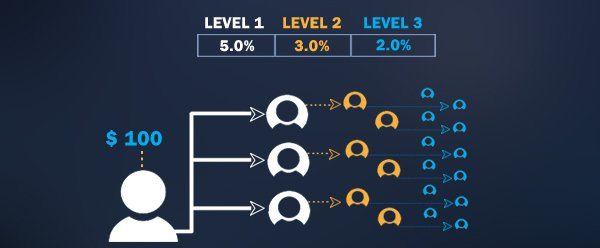 The whole thing starts to sound a bit shady, as shown here:
Of course, this affiliate commission model makes people go crazy for spreading the word about Bitconnect. Not because there is real value in the platform, but mainly due to the fact that they want to make a quick buck.
I'm not surprised to see my old friend, who previously promoted the Bitclub Network, now promoting Bitconnect and USI Tech (supposedly another Ponzi scheme) as well.
People are even getting so creative that they are giving away their affiliate bonus, just to sign up people under their downline.

The Company
I really wanted to find out more about Bitconnect. What is actually going on? Consider this title: "17-year-old makes $100,000 in one month." Anywhere else on the web, you'd probably think this article is a scam. But with cryptocurrencies, it doesn't feel like such an outlandish statement, especially when you see the exponential growth.
Then when just scratching below the company's surface, things take a shady turn. When there is no apparent owner of a business, it is always concerning. Nobody publicly attributes their name to running the BitConnect platform, and the website gives very little away. Browsing the website doesn't exactly inspire confidence, especially in a place where I'm meant to make an investment.
After exhausting Google's resources, I decided to try and find some contact details for Cryptonick. I fired a couple of requests via the contact form, and even asked some of the listed partners for an introduction. All requests fell on deaf ears.
I was surprised to find that several Bitconnect iterations are currently registered in the UK. Companies House lists the original director as Ken Fitzsimmons with offices at Park Street, Ashford. A few days later, I received word that the British government is shunning the Fitzsimmons' original company, since it didn't file any accounts. So things really don't appear to position BitConnect as a legitimate operation.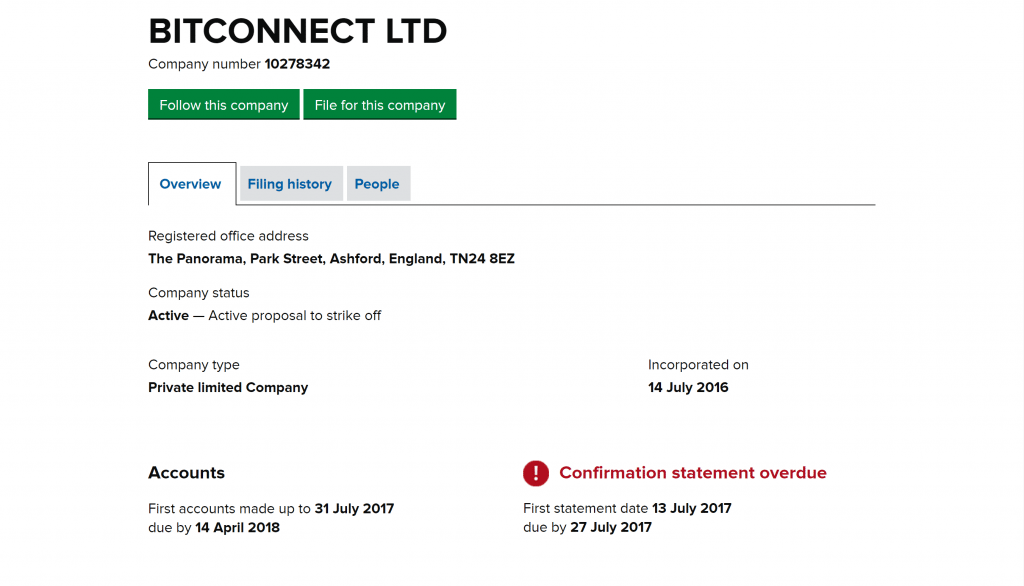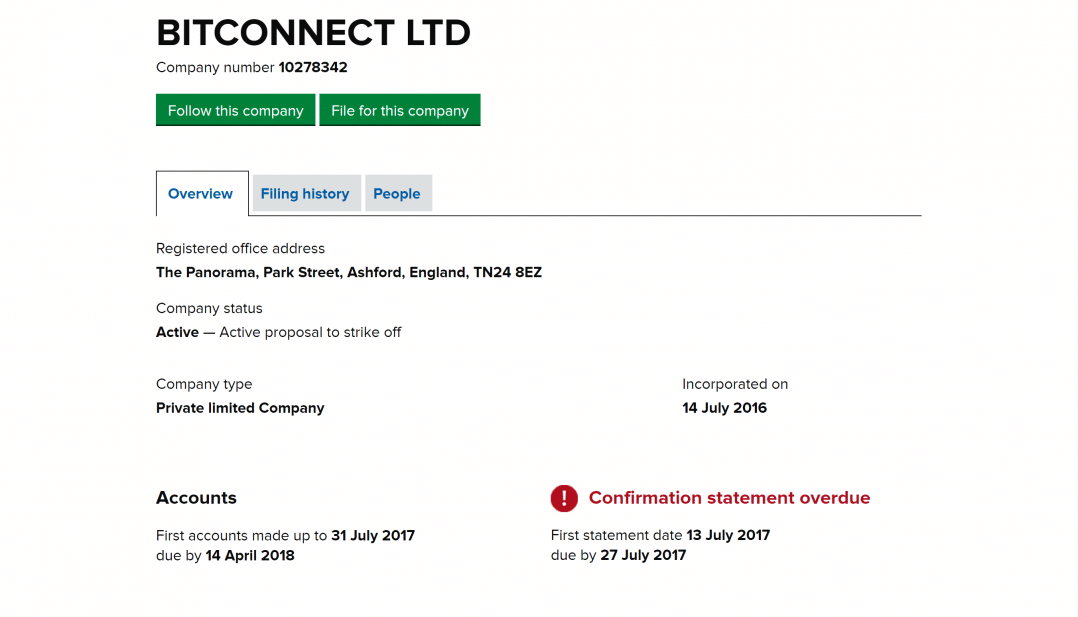 Update: It has been brought to our attention that the company Bitconnect LTD perhaps isn't the right company to investigate. After further research we have found the following:
BitConnect also listed on Companies House's registrar as BITCONNECT INTERNATIONAL PLC.
Neither of the filings – for the PLC or the LTD – mention how BITCONNECT PLC will be affected in the event that Companies House proceeds with BITCONNECT LTD's removal from the registrar – or how it will affect the company's operation in the UK  BitConnect has also been listed on Companies House as BITCOIN AMR LIMITED.
One thing to keep in mind is that, prior to assuming the name BITCOIN AMR LIMITED, the company used to be registered as BITCONNECT PUBLIC LIMITED – not to be mistaken with BITCONNECT LTD. Confusing isn't it?
According to the documents, BITCONNECT PUBLIC LIMITED (now BITCOIN AMR LIMITED) and BITCONNECT LTD were two separate entities, registered under two different company numbers: the former was logged under company number 10944876, and the latter – 10278342.
BITCONNECT INTERNATIONAL PLC, on the other hand, also has its own company number: 10948031.
Looking through the names attached to the companies though. It appears that a person named Le Thi Thannh Huy is involved in both BITCOIN AMR LIMITED as well as BITCONNECT INTERNATIONAL PLC.
 Interestingly, the documents suggest this is not the same person. Despite the similarities in name, the filing suggests the person named Thannh Huy involved in BITCOIN AMR was born in 1978, while the one involved in BITCONNECT PLC was born in 1984.
Weirdly enough, both of them appear to have indicated a correspondence address on the exact same street; the exact street numbers are not the same, however. – Source
What Is Bitconnect Up To?
The question that keeps running through my mind is: 'If there is this great trading bot, why would they let little old me use it?' In fact, the 'special trading software' line has been trotted out for every pyramid scheme under the sun. Take a look at the "promotional videos": There's nothing factual to see.
Simply look at how rich everybody is. You can probably make up your own conclusion after watching these videos:
Public Opinion
When it comes to BitConnect, there are some interesting opinions. I really wanted to know if anybody had made or withdrawn money. I broached the subject with a couple of my crypto Facebook groups. The results were plentiful. The vast majority dismiss it as a scam, and even reported that they just asked their administrators  about it.
But I was startled by how many people sang its praises. A strong proportion of users had been able to withdraw money from the platform, and started spending some of their gains. Some success stories are floating around, so they're the people to investigate.
Many Bitconnect investors seem to accept that it is not a legitimate scheme, but are happy to risk capital for short-term gains. After random Facebook chats I had with Bitconnect users, here are some responses I got:
"That's correct. [It will stop eventually]. But as the amount I invested is something that if I lose, then I can sustain the loss."
"Well, maybe I have no morals. Maybe my morals lie with profits. You can't call it a scam yet, until it is shut down and closed."
Most users clearly know that there is no "trading bot." But how could it be a scam if it makes money?
Here's an interesting point to consider: There's evidence that make the whole operation seem like a Ponzi scheme.
In addition, my interest in the platform had another unexpected result. Bitconnect users started to approach me about investing via their referral links. Plus, I suddenly had growing friend requests.
I felt like I was being courted by some sort of cult, which guaranteed wealth and financial freedom. But we already know why people want me to join their investing "team."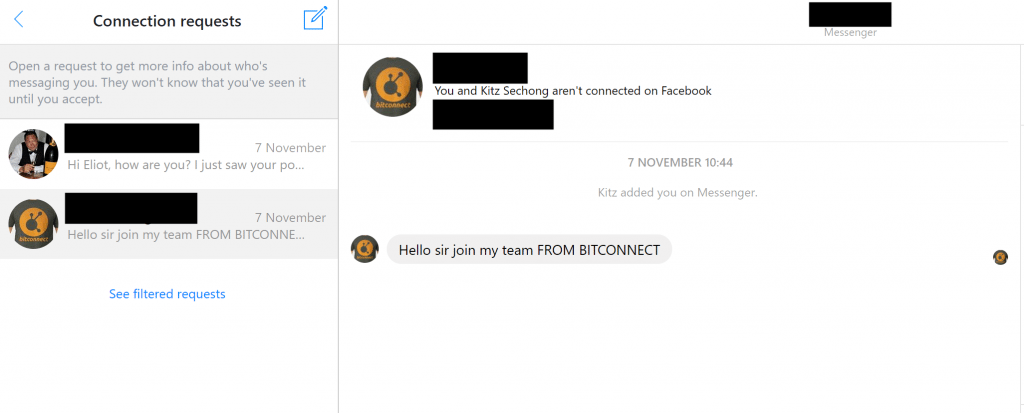 Taking a deeper look at Cryptonick also uncovered some grey areas. It appears that someone gave him his very first investment on Bitconnect for free. There are multiple other 'social media cryptocelebrities' touting the project. And it's becoming clearer and clearer that they are leveraging their followings for personal gain.
Charlie Lee, one of the most respectable figures in the Bitcoin community and the inventor of Litecoin had this to say on Twitter: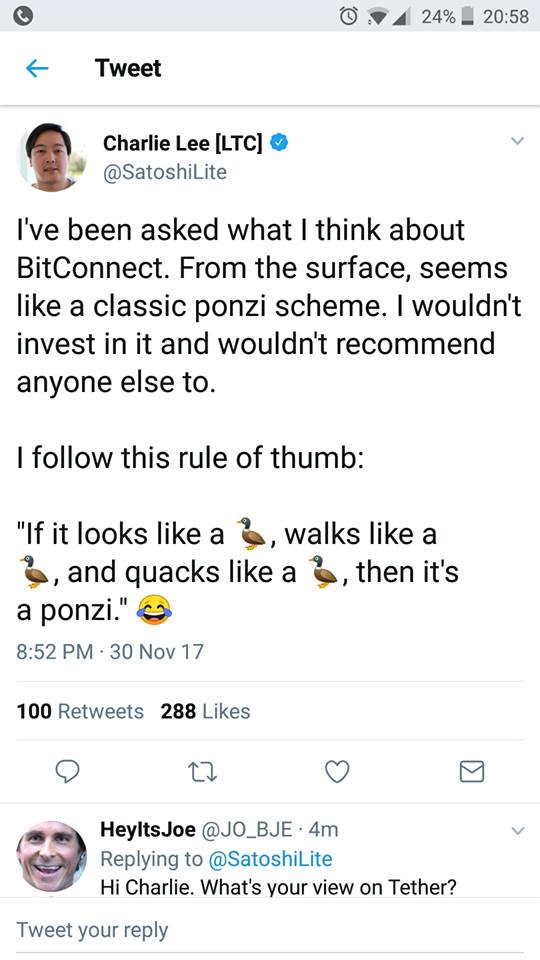 Former Fortress Investment Group partner Michael Novogratz took to Twitter to share his opinion that BitConnect "really seems like a scam,".

What Is Actually Happening to Your Investment?
By piecing together the puzzle, we can start building a picture of where investments are ending up. What if there actually is no volatility software?
The first step is buying Bitconnect tokens with Bitcoin. Who owns the majority of the tokens? BitConnect. Next, you loan your tokens back to them, so they now keep control of everything. In addition, the tokens run a 'Proof of Stake' protocol. In other words, they make an interest on the tokens held: your tokens.
Sure, they slowly pay some interest to you for making a withdrawal, but the initial Bitcoin investment is still locked away. Who's to stop them from walking away with all your money? The higher-ups get a bigger payout from referrals, while the lower-downs fight it out for scraps—until the money hose is turned off.
The only questions remaining are:
When will this happen?
How many people will lose their money?
And how much money will be wiped away?
Update: Some users have brought to our attention that Bitconnect is coming out with a prepaid debit card (much like the ones we have for Bitcoin). These cards will allow you to pay with your Bitconnect balance at various shops while cutting a commission from each transaction. This is being presented as proof that the company plans to stay here for the long run. At the time of writing the cards are only available for registration and not on the market so we can't assess them yet.
Conclusion
From what we have looked at, there is a simple answer to how Bitconnect makes its money.  Many users accept that something isn't quite right about the service, but they don't care, since it's making them money in the short term.
In the end, more people will lose the ultimate greed of the few. Investors with large amounts of money will not be so favorable when everything goes south. When Bitconnect decides that they've had enough, their profit from signing up new members will be a short-lived victory.
As a final check, I ran Bitconnect through our famous Bitcoin Scam Test. Although the site has some very good metrics and was almost able to pass the test, the results were the same in the end,:

Here are some additional resources that review Bitconnect:
https://steemit.com/scam/@thegrinder/the-bitconnect-scam-exposed
https://pingmod.com/2017/12/01/bitconnect-ponzi-scheme-ethereum-litecoin-founders-warn
https://www.scambitcoin.com/bitconnect/
BitConnect Review – Another Ponzi Scheme? | BitConnect Scam Exposed!