Last updated on April 5th, 2015 at 06:03 pm
First of all I want to congratulate our monthly giveaway contest winner,Mohan Ivt from India. Mohan won $100 in Bitcoins (there was an option between this and a ticket to Inside Bitcoins – link to transaction). I'll be running a new giveaway next month so stay tuned.
As 2014 comes to an end I thought I'd take a moment and analyse what Bitcoiners are feeling regarding their price predictions in 2015. If you remember, back in September I've asked people to try and predict what would be Bitcoin's price on March 21st 2015. I've gotten an amazing response to this survey and almost 1,800 people have filled it out anonymously until today. You can see the results for yourself here.
Although Bitcoin has been getting some very positive press lately (e.g. Microsoft adding Bitcoin payments, Time INC. accepting Bitcoin etc.), but the exchange rate seems to be steadily declining. I'm not sure this is necessarily  a bad thing as this separates  the opportunists and "gamblers" from the actual Bitcoin advocates and gives a much more realistic reflection of Bitcoin's price.
I took a look at the average number I got for Bitcoin's price prediction as time went by and noticed that there was a very clear downtrend in the results. Keep in mind that I excluded any results that were "off the charts" like $100K etc.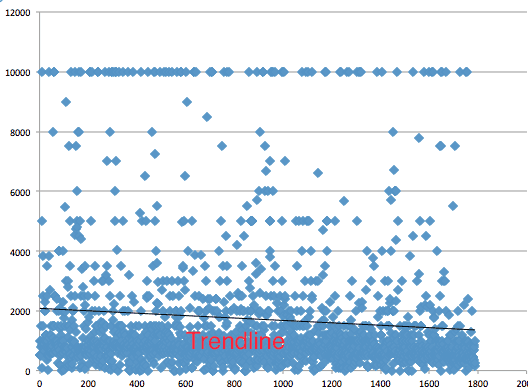 As you can see the average prediction went from a little over $2000 to somewhere around $1750 (12.5% decline). I then decided to also check the median. The result was pretty much the same. The median prediction went from being around $1000 to $850 – a 15% decline.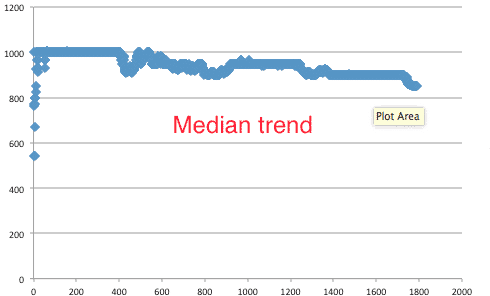 Interestingly enough most people still think Bitcoin's price will be higher than what it is today, but this may be due to the fact that most people who are filling out this survey are already involved with Bitcoin or have a certain interest in it succeeding.
Personally, as 2014 end I have to say that I don't have my hopes up for Bitcoin's price to rise dramatically any time soon but I think that's a good thing. The more stable the exchange rate, the better Bitcoin can act as an actual currency. Hopefully once fluctuations in Bitcoin's price will reduce, more and more people will start buying stuff with it. The true value of Bitcoin lies in it's technology and not in it's exchange rate. But until that happens, have a happy new year :)

Blogger and owner of 99Bitcoins. I've been dealing with Bitcoin since the beginning of 2013 and it taught me a lesson in finance that I couldn't get anywhere else on the planet. I'm not a techie, I don't understand "Hashes" and "Protocols", I designed this website with people like myself in mind. My expertise is online marketing and I've dedicated a large portion of 99Bitcoins to Bitcoin marketing.