Celsius Network Review
By: Alex Miguel | Last updated: 6/14/22
Celsius Network is a centralized finance platform for cryptocurrency, which allows users to earn interest on their crypto holdings and borrow fiat currency against them. In this review, I'll be covering Celsius Network's core services, as well as other details you'll want to know before signing up.
June 2022 update: On June 13th, Celsius network has announced it is pausing all withdrawals, Swap, and transfers between accounts on the platform. The statement was released along with rumors of the companies insolvency, due to a sharp drop in the crypto economy below the $1 trillion region.
Celsius Network Review summary
Celsius Network is a company that combines traditional finance services with cryptocurrency. They provide interest payments on crypto deposits, as well as allow users to borrow fiat currency and stablecoins against these deposits. Users can also send crypto to each other within the Celsius Network app, with no fees.
That's Celsius Network in a nutshell. For a more detailed review of Celsius Network' platform and services, continue reading below. Here's what I'll cover:
1. Celsius Network Overview
Celsius Network was founded in 2017 by Alex Mashinsky, Nuke Goldstein and S. Daniel Leon. It held its ICO in March 2018, raising $50 million of CEL tokens.
The first version of the platform was launched in June 2018, and since then it has attracted billions of dollars in user assets and loan generation.
Celsius Network also collected another $43 million in funding during 2020, which included a second public sale of CEL tokens, as well as venture and corporate rounds.
At the time of writing, Celsius Network has hundreds of thousands of active user wallets.
---
2. Celsius Network Services
Celsius Network currently provides three main services:
Interest-earning crypto accounts

Crypto-backed loans of fiat currency or other cryptocurrencies

CelPay, a crypto payments service.
In addition, Celsius Network offers a mobile app, purchases of cryptocurrency and a loyalty program, all of which I will cover in more detail below.
Interest-Earning Crypto Accounts
Users will automatically generate interest on any supported cryptocurrencies that are deposited into their Celsius Network wallet. Interest payments are made on a weekly basis, for balances held the previous week.
All interest is paid in the same asset that it was generated from; e.g. if you deposit Bitcoin, you will earn your interest in Bitcoin, by default.
Users can also choose to be paid interest in CEL tokens, at a higher rate. Exactly how much higher is determined by a user's CEL holdings, which is covered in the Rewards Program section below.
No minimum balance is required to begin earning interest and funds can be withdrawn at any time, 24/7.
Celsius Network fund their interest payments by lending out user deposits at a higher interest rate, to retail and institutional borrowers. Up to 80% of their revenue is shared with users.
Crypto-Backed Fiat Loans
Celsius Network users can also borrow money against their cryptocurrency holdings, in the form of fiat currency or selected stablecoins. These loans are over-collateralized, to ensure loans can be repaid even with market fluctuations.
Aside from know-your-customer (KYC) processes, no paperwork or processing time is required to approve crypto-backed loans on Celsius Network.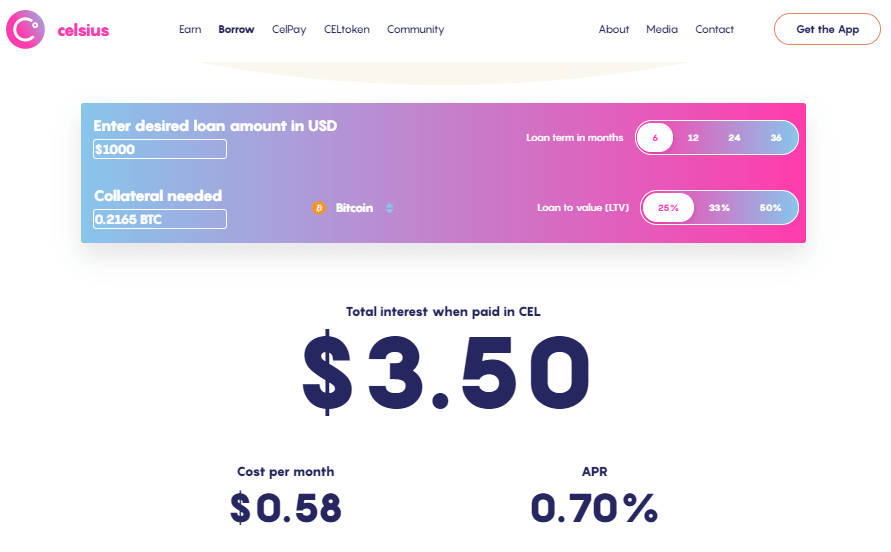 Loan-to-value (LTV) ratio options range between 25% and 50%, while loan terms can be as short as 6 months or as long as 36 months. Interest rates increase with larger LTV ratios and longer loan terms.
Interest payments on loans are charged monthly and can be paid in dollars, crypto, or at a discount when using CEL tokens.
These loans are most useful for those who need access to fiat money at short notice, but prefer not to sell their crypto holdings. This can allow the borrower to still benefit from a rise in value of their crypto assets, while also possibly avoiding a taxable event in selling their crypto.
Celsius Network users can borrow against more than 25 supported cryptocurrencies.
CelPay
CelPay is Celsius Network's payments service, which allows users to send and receive cryptocurrency for free within the platform.
Users can also use CelPay to send crypto to anyone who doesn't yet have a Celsius Network account, in the form of a link or text message. In order to receive the funds, the recipient will have to create and verify a Celsius Network account.
CEL Token and Rewards Program
CEL is the native token of the Celsius Network platform, which entitles users to special discounts and bonuses on interest rates.
These rewards are received when a user opts to receive or pay interest in the CEL token. The magnitude of the reward depends on what percentage of a user's account balance is held as CEL. The more CEL tokens a user holds relative to their other assets, the greater their rewards will be.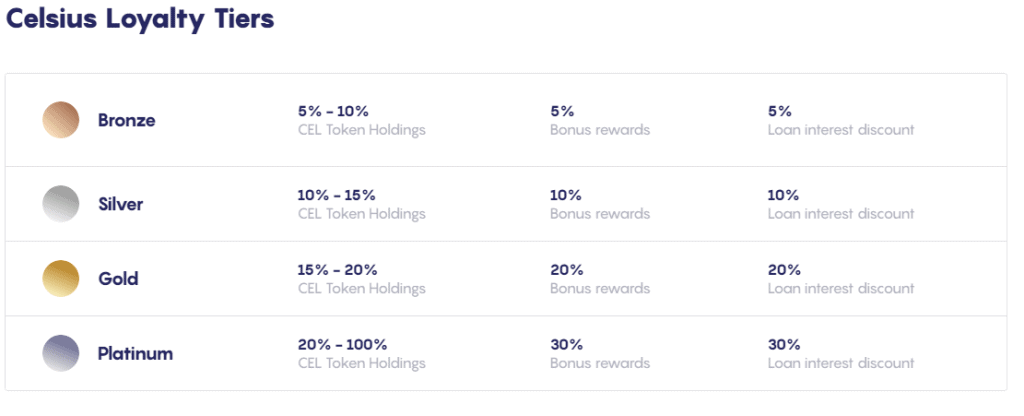 At the highest tier of the rewards program, users can receive as much as a 30% bonus on interest earnings on deposits, and a 30% discount on interest payments on loans.
Unfortunately, CEL rewards are not available to customers in the United States.
Mobile App
Celsius Network exists exclusively as a mobile app, with no web or desktop version available.
Although this may be inconvenient for those who enjoy a desktop experience, the mobile app provides an extremely intuitive and user-friendly experience, and is available on both Android and iOS.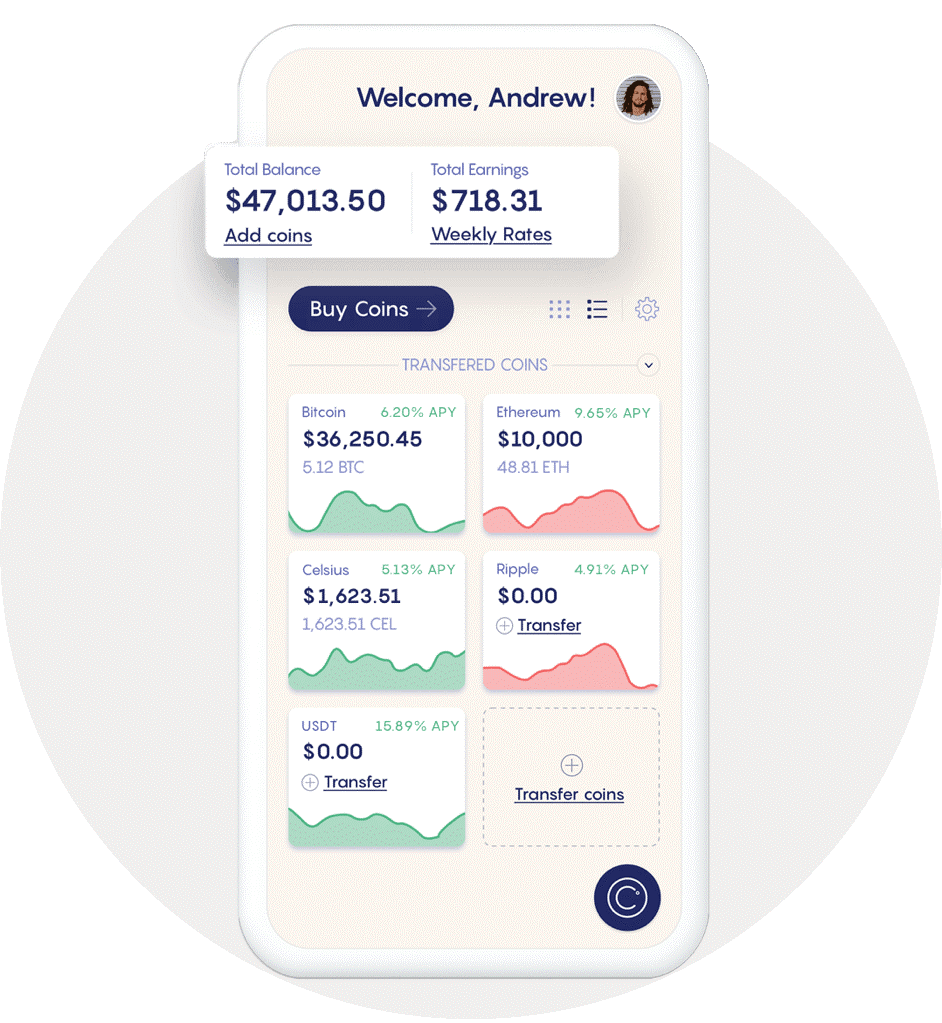 Being mobile-only, it also means that all of Celsius Network's features and services are available to users on-the-go.
Cryptocurrency Purchases
Celsius Network users can now also make cryptocurrency purchases with a credit card or bank transfer, through partnerships with payment processors Simplex, Wyre and Coinify.
---
3. Currencies and Payment Methods
Deposits
Celsius Network accepts crypto deposits in more than 25 cryptocurrencies, including:
Tether (USDT)

USD Coin (USDC)

Binance USD (BUSD)

Celsius (CEL)

Synthetix (SNX)

Matic (MATIC)

TrueCAD (TCAD)

TrueHKD (THKD)

TrueAUD (TAUD)

TrueGBP (TGBP)

DAI (DAI)

Gemini Dollar (GUSD)

Paxos Standard (PAX)

Compound (COMP)

Uma (UMA)

Uniswap (UNI)

Dash (DASH)

Basic Attention Token (BAT)

Bitcoin Cash (BCHABC)

Chainlink (LINK)

Bitcoin SV (BSV)

PAX Gold (PAXG)

Tether Gold (XAUT)

0x (ZRX)

EOS (EOS)

XRP (XRP)

Zcash (ZEC)

Decentraland (MANA)

OmiseGO (OMG)

Ethereum Classic (ETC)

Kyber (KNC)
Buying crypto
Users can purchase crypto with fiat using these methods:
Credit or debit card

SEPA 

ACH
These are processed by third-party payment processors and not Celsius Network themselves, therefore requiring an additional KYC process.
---
4. Fees and Limits
Fees
Celsius Network itself charges no fees for any function on its platform.
Everything including deposits, sending money with CelPay, and loan origination are completely free. Withdrawals are also free, but require a standard network fee for the particular blockchain to process the transaction.
Purchasing crypto within the Celsius Network app also involves fees, however these are taken by the payment processors and not Celsius Network themselves:
Payment Processor Fees:
Credit and debit card purchases appear to be with Simplex, who charge between 2.99% and 3.50%, with a minimum fee of $10. Simplex has a maximum purchase limit of 20,000 USD per day and 50,000 USD per month
SEPA purchases are performed using Coinify, who charge a 0.5% fee and have a maximum purchase limit of 50,000 EUR daily.
ACH purchases are performed using Wyre, who charge a 0.1% fee and have a maximum purchase limit of 5,000 USD per week.
Limits
There is no minimum limit on how much a user must deposit into a Celsius Network wallet in order to start generating interest.
There is, however, a minimum loan size of $500 for users who wish to borrow funds using the platform.
Sending money with CelPay also has a maximum limit of $2,500 per 24 hours.
---
5. Supported Countries
Celsius Network operates virtually globally, however does not allow accounts to be opened in: Iran, North Korea, Sudan, South Sudan, Syria, Cuba, as well as any countries sanctioned or embargoed by the US, the UK or the EU.
---
6. Customer Support and Reviews
Celsius Network does not have live chat support – only a chat bot which doesn't appear to be much more helpful than their FAQ section. If your issue can't be resolved using the chat bot or FAQ, you will have to leave them a question and wait for a response by email.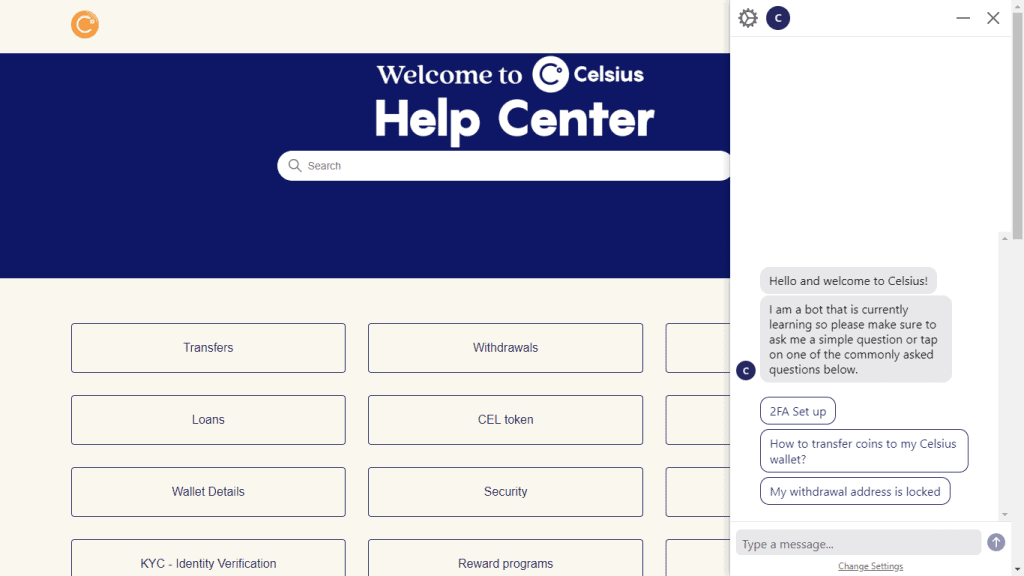 This can be especially painful for issues which require back-and-forth communication, which could take days to resolve this way.
Celsius Network has achieved an "Excellent" score on TrustPilot, which is attributed to scores of more than 4.5 out of 5 stars. Don't take this at face value though, since a considerable amount of the 5-star ratings seem to be people advertising their own referral codes.
The only common complaints are about slow customer support and withdrawal times – something that seems to be a common issue with centralized finance crypto platforms (also a common complaint for BlockFi).
Another common complaint is that users cannot switch between cryptocurrencies, as is possible on other platforms. Others have also pointed out that when user assets are lent out they are not insured, which provides additional risk.
Aside from these issues, there is much praise for an easy user experience and high trustworthiness of the company.
---
7. Conclusion
Celsius Network is a trusted company which provides traditional-style banking services to cryptocurrency holders, for a wide range of assets. It offers users a good alternative to decentralized finance (DeFi) protocols, for those who want to lend or borrow crypto but lack trust or expertise in smart contracts.
Unlike some of its competitors, Celsius Network accepts any amount for deposits and withdrawals, so you can try out the platform with any amount you like.
Attractive rewards are also available for those who opt to receive or pay interest in the platform's native CEL token, provided that they hold a large amount of CEL in their account.
The app is intuitive and easy to use, however customer support isn't the greatest since their chat-bot funnels all real issues to an email support service.
Another concern is that there is no insurance on the user funds that are lent out to institutional and retail borrowers, presenting a risk to user deposits. This is also the case for major competitor, BlockFi. The good news is, both Celsius Network and BlockFi require over-collateralization on this lending, which provides a good safety net.
That's it! If you've had any experience with the company or comments you wish to share, please do so in the comments sections below.