BlockFi Review
By: Alex Miguel | Last updated: 12/17/22
November 2022 update: On November 28, 2022, BlockFi has filed for bankruptcy, due to its significant exposure in assets to the recently collapsed FTX, making it another victim to SBF's empire's fallout.
The review below is kept for legacy purposes only
BlockFi is a crypto finance company that provides services such as interest on users' cryptocurrency deposits and borrowing fiat currency against crypto holdings. In this review, I'll cover BlockFi's core services, as well as other details you'll need to know before signing up.
Don't Like to Read? Watch Our Video Review Instead
BlockFi Review summary
BlockFi is a centralized company that connects the cryptocurrency world with traditional finance. They offer a range of services, including interest-earning crypto savings accounts, crypto-backed fiat currency loans, and cryptocurrency trading.
That's BlockFi in a Nutshell. Continue reading below for a more detailed review of BlockFi's platform and services. Here's what I'll be covering:
---
1. BlockFi Overview
BlockFi is a non-bank lending firm based in the United States. It was founded by Zac Prince and Flori Marquez in August 2017, with the aim of providing bank-like services to cryptocurrency holders.
In early 2018, BlockFi began providing fiat currency loans, secured with cryptocurrency deposits as collateral. They eventually expanded to provide interest-bearing crypto savings accounts in 2019.
BlockFi's very first funding came in the form of a $1.6 million seed capital round in February 2018. Since then, the company has received more than $150 million in further funding. Notable BlockFi investors include Mike Novogratz's Galaxy Digital, The Winklevoss twin's Winklevoss Capital and Anthony Pompalino's Morgan Creek Capital.
---
2. BlockFi Services
BlockFi currently provides three main services:
Interest-bearing crypto savings accounts
Cryptocurrency trading
Crypto-backed USD loans.
There are also some larger-scale services more suited toward institutions, as well a mobile app for retail users.
Let's take a look at each one in detail:
Interest-bearing savings accounts
BlockFi Interest Accounts – known simply as BIAs – enable users to earn interest on their cryptocurrency holdings by depositing them into a BlockFi account.
The savings accounts accept a narrow selection of major cryptocurrencies and stablecoins as deposits, and pay competitive interest rates on a monthly basis – similar to a savings account in traditional banking.
Interest rates are paid out in the same currency that has been deposited, by default. However, BlockFi also provides users with an option to receive their interest payments in any one of their supported currencies. You can get up to a $250 crypto bonus with a deposit of $25 or more in crypto.
You must be asking yourself: How does BlockFi fund the generous interest rates it pays on crypto deposits?
Users' deposits are lent to trusted institutional and corporate borrowers, who pay an interest rate to BlockFi. The interest for the rate is significantly higher than the interest for the deposits, and this way BlockFi is able to make it worthwhile for users to deposit their funds with them.
It's important to note that although user deposits are prioritized over other company equity to reduce their risk, they are not FDIC or SIPC insured.
Cryptocurrency Trading
BlockFi also provides "no fee" trading services, which allow users to quickly swap between the platform's supported cryptocurrencies.
While there is no direct fee charged by BlockFi, users do need to be wary of the spread on trades that they are making. This is easy to check via the confirmation screen, whenever you are about to finalize a trade.
The user interface for trading on BlockFi is nice and simple, cutting out any complicated extra features such as charts or order books.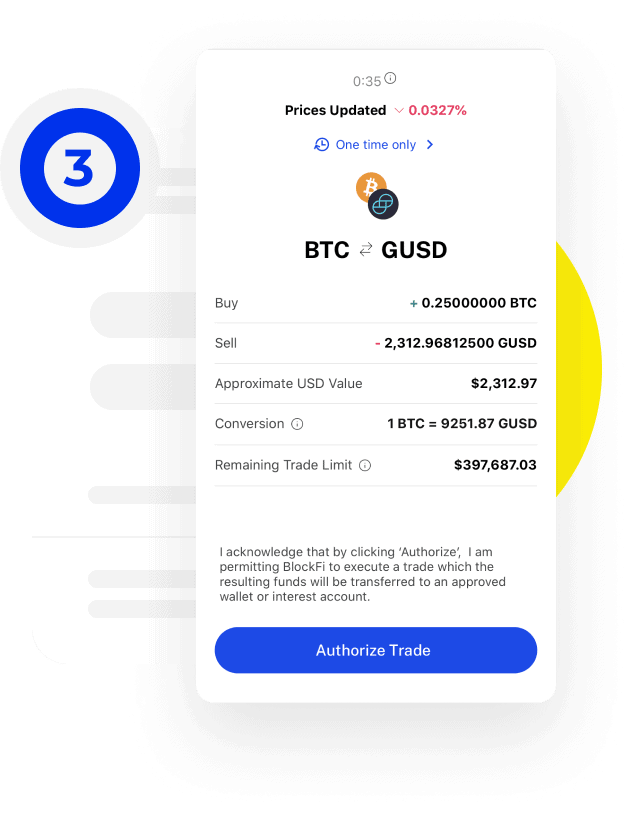 Crypto-backed loans
Finally, we have BlockFi's longest-standing product: Crypto-backed loans.
BlockFi claims that these can be applied for in less than two minutes, and funded in as little as 90 minutes following approval. It can, however, take up to one business day for them to actually approve a loan application.
These loans are paid out in fiat currency (or stablecoins) and collateralized with cryptocurrency deposits. This provides a great way for cryptocurrency holders to get their hands on fiat currency for immediate needs, without selling their holdings and creating a taxable event.
Borrowers must over-collateralize their loans, meaning that the amount of cryptocurrency that they lock up will be greater than the value of the loan itself. This ensures that the loan can be repaid in full, providing a buffer from price volatility and any risk of default.
The principal amount on loans through BlockFi are paid back in a lump-sum at the end of the loan term, which means only interest payments need to be paid on a monthly basis.
Users may borrow fiat currency worth up to 50% of the value of their cryptocurrency holdings at BlockFi, depending on the cryptocurrency used as collateral.
Mobile App
BlockFi also offers a mobile app, which is available on both iOS and Android.
The app provides all of their core services with a nice and sleek user experience, which is easy to follow. Users can do everything on the app from monitor and manage their account balances, to sign up for loans.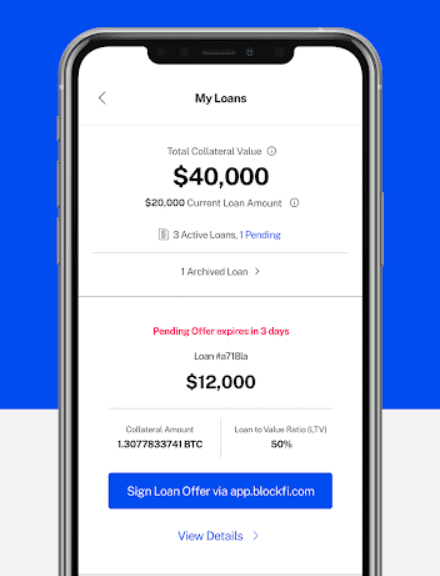 Institutional Services
For institutions such as market-makers, investment funds, or other crypto-oriented businesses, BlockFi provides bespoke cryptocurrency and stablecoin loans.
Since these tend to be large-sized deals, they contain a little more flexibility and customization than their retail services. These often provide short-term cryptocurrency loans for more complex purposes such as margin trading, short-selling and more.
Although retail customers don't hear much about these institutional services, they generate income for BlockFi which funds retail user interest payments on savings accounts.
---
3. Currencies and Payment Methods
BlockFi currently supports deposits in the following cryptocurrencies and stablecoins:
Bitcoin (BTC)
Ether (ETH)
Litecoin (LTC)
Tether (USDT)
USD Coin (USDC)
Gemini Dollar (GUSD)
Paxos Standard (PAX)
Paxos Gold (PAXG)
Binance USD (BUSD)
Dai (DAI).
These cryptocurrencies can be purchased directly through a linked bank account, using ACH transfers. Users can even set up recurring crypto purchases, for easy and simple dollar-cost averaging. In addition to the asset list above, further coins and tokens are expected to be added over time. It is useful to note that BlockFi has a rigorous vetting process for adding any new currencies, which means crypto asset support will likely remain narrow and highly selected.
BlockFi loans are paid directly into the borrower's bank account, while loan repayments and interest can be made in dollars or crypto.
Repayments with crypto can be made in the stablecoins PAX, USDC or GUSD. Alternatively, a borrower can choose to pay in crypto by liquidating their collateral, at its current market value. Liquidating collateral will also incur a trading fee of around 1 percent.
Loan repayments made in fiat currency can be made via wire transfer or ACH. Wire transfers will result in a faster return of collateral (1-2 business days) vs. ACH transfers (5-10 business days).
---
4. Fees and Limits
BlockFi Interest Accounts
Deposits into BlockFi are free, however only one free withdrawal transaction is provided per month (one each for cryptocurrencies and stablecoins).
If you wish to make additional withdrawals, these will be charged as follows:
        Bitcoin: 0.00075 BTC
        Ether: 0.02 ETH
        Litecoin: 0.0025 LTC
        USD stablecoins: $10 USD
        PAXG: 0.015 PAXG
        Chainlink: 0.95 LINK
        Uniswap: 1 UNI
        Basic Attention Token: 35 BAT.
There are maximum weekly withdrawal limits of 100 BTC, 5,000 ETH, 10,000 LTC, 1,000,000 USD stablecoins or 500 PAXG.
The minimum withdrawal amount must also be greater than 0.003 BTC or 0.056 ETH. There is no minimum limit for deposits.
Loans
Loan rates for BlockFi's crypto-backed fiat loans vary with the loan-to-value (LTV) ratio. In short, LTV ratio describes the size of the collateral you lock up VS the size of the loan you take. It is a way to help the financing company estimate the risk of lending you money and from that derive the size of your interest payments; The more collateral you lock up in proportion to your loan, the lower your interest payments will be:
50% LTV: 9.75% APR
35% LTV: 7.9% APR
20% LTV: 4.5% APR
All of the above rates are paid in addition to a 2% loan origination fee, which is a one-off payment for each loan made.
The minimum amount which can be borrowed is $5,000 USD.
Trading
Trading fees for switching between cryptocurrencies on BlockFi are free, however you will want to keep a close eye on the conversion rate. While this can be close to negligible on smaller trades, it can grow to significant amounts for larger trade sizes.
A full schedule of BlockFi limits and fees can be found here.
---
5. Supported Countries
BlockFi allows most countries around the world to open a BlockFi Interest Account, with the exception of countries which are sanctioned or watchlisted by the United States.
Users in the state of New York are also prohibited from opening accounts.
---
6. Customer Support and Reviews
BlockFi appears to have generally good reviews on the platform, which often commend them on solid customer support and services.
There are, however, many users who are frustrated with the lengthy withdrawal process. BlockFi requires up to seven days before processing fund withdrawals, which is quite an extreme waiting time – especially in the world of financial services. Some users had issues with needing to provide extra identification documents before they could withdraw their funds – great for security, but painful for those involved.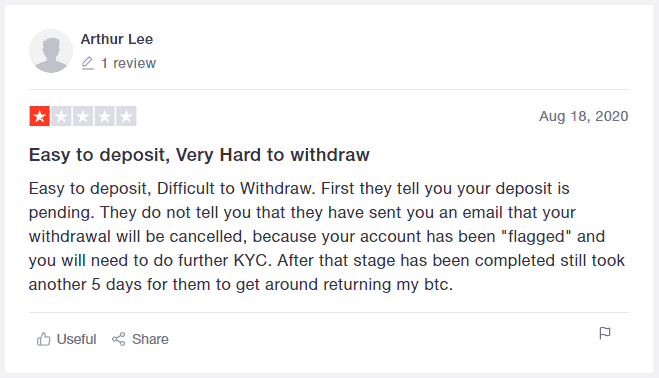 Some users have also expressed that they didn't like trading fees being advertised as free, only to receive a suboptimal exchange rate or "spread" on their exchanges. This is, however, quite a common characteristic of any major exchange platform.
BlockFi data leak
BlockFi experienced a security breach in May 2020, which compromised some of its users' personal information.
The attacker managed to perform a SIM-swap attack of a BlockFi employee's phone, enabling them to access some of BlockFi's systems for over an hour.
Although no funds or sensitive identity documents were put at risk in the attack, other personal information such as user account balances, email addresses and even physical addresses were obtained by the hacker.
Since the attack, some BlockFi users on social media have reported being targeted via their compromised information.
---
7. Blockfi Vs. Celsius Network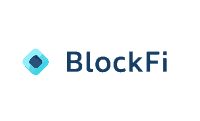 Interest rate on savings
4.5% up to 0.1 BTC, 1% for 0.1 - 0.35 BTC, 0.1% for >0.35 BTC
Interest payments frequency
Monthly
Services provided
Loan/lend, savings account, trading platform, Credit card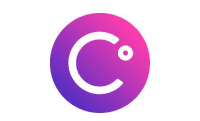 Interest rate on savings
6.2% on first 0.25 BTC, 3.05% for over 0.25 BTC
Interest payments frequency
Weekly
Services provided
Loan/lend, savings account, CelPay
BlockFi's main competition as a DeFI platform is Celsius, with both BlockFi and Celsius offering the same two core products and services: interest-bearing crypto savings accounts and crypto-backed loans.
There are a few differences however; BlockFi offers trading services and a VISA credit card that earns cash-back rewards in Bitcoin or other cryptos. While Celsius has plans for similar features, they are currently still in the whitelisting and/or Beta stage.
Celsius, however, has its own "CelPay" feature, which enables users to send each other crypto within the platform.
Interest-Bearing Accounts comparison
BlockFi pays interest on a monthly basis, whereas Celsius pays interest weekly. Both platforms pay out interest in the same currency that is held in your balance by default, however BlockFi users have the freedom of selecting any supported cryptocurrency as interest.
Celsius supports a significantly larger range of assets than BlockFi.
Loans comparison
Both platforms offer loans of USD or stablecoins, over-collateralized with cryptocurrency. Loan-to-value ratios are similar across both platforms, ranging from about 20% to a maximum of 50%.
BlockFi is less flexible than Celsius for loan terms, with all of its loans set at a 12-month duration. On the other hand, Celsius allows users to select anything from 6 months to 3 years.
Celsius is much cheaper for low-LTV loans, demanding only 1% APR interest vs. BlockFi's 4.5%. At the other end of the scale, 50% LTV loans are priced similarly – 8.95% APR on Celsius and 9.75% on BlockFi.
BlockFi charges a 2% loan origination fee, while Celsius loans appear to be free to originate.
Once again, Celsius accepts a much wider range of assets as collateral for loans than BlockFi does.
Custody & Security
BlockFi stores its assets with the Winklevoss-owned exchange and custodian, Gemini – which is also regulated by the New York State Department of Financial Services (NYDFS). Celsius stores assets with two other insured custodians, Fireblocks and PrimeTrust.
Both platforms have lengthy withdrawal processes which can prevent hacks and theft. All withdrawals on BlockFi take 24-48 hours, while withdrawals are only throttled by Celsius if a user enables "HODL" mode.
As mentioned in the previous chapter, BlockFi previously suffered a security breach which compromised user information (but not funds) in May 2020.
---
8. Conclusion
BlockFi is the most well-known and reputable centralized company for bridging the gap between cryptocurrency and traditional finance – especially for crypto-backed loans and interest accounts.
Big investor names and the fact it is headquartered in the United States gives a good sense of security and comfort for a company who you are trusting with your crypto holdings. Although there was a hack of user information in their past, BlockFi has a huge reputation to uphold and have most likely beefed up their internal security.
Interest rates on their BlockFi Interest Accounts are very competitive, providing a good alternative to decentralized finance (DeFi) protocols if you're afraid of smart-contract risks.
Their crypto-backed fiat currency loans are also extremely helpful for getting your hands on "regular" money at short notice, without selling your crypto holdings.
On the downside, withdrawing money from a BlockFi Interest Account may take several business days and additional identity verification, so be patient when you decide to withdraw crypto funds.