Freewallet Review
Last updated: 04/26/20
Freewallet is an easy to use cryptocurrency wallet that takes full custody over your coins. In this post I'll cover everything you need to know about the wallet.
Freewallet Review Summary
Freewallet is a multi-currency custodial wallet for mobile and web. The wallet keeps your funds for you which means you'll need to trust the company itself – not very common in the cryptocurrency world. Using the wallet is extremely easy even for complete beginners. Fee aren't clearly stated and are hidden within the transaction fees.
That's Freewallet in a nutshell. If you want a more detailed review keep on reading, here's what I'll cover:
---
1. Company Overview
Freewallet builds and operates a selection of cryptocurrency wallets designed to reduce technical barriers that hinder mainstream adoption.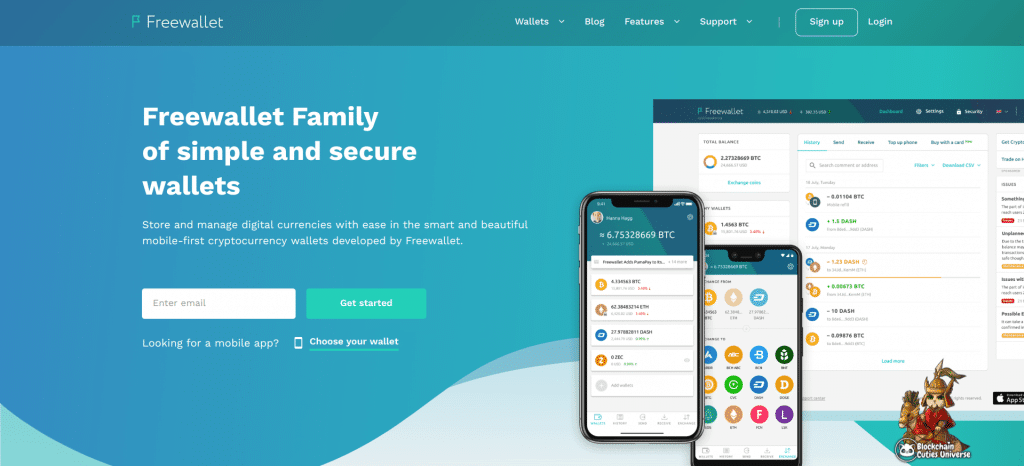 Born in Tallin, Estonia, during 2016, the company first brought FantomCoin wallet to the market before introducing mobile-first Ethereum, Bitcoin and Monero wallets.
The developer team, led by founder Alvin Hagg, focusses its efforts on simplifying the crypto-world, making access to coins easier via mobile applications.
---
2. Freewallet services
Freewallet offers a number of different products, including individual cryptocurrency wallets and more complete multi-coin accounts.
There are 20+ apps listed on the Google Play store by the company with the Ethereum and Litecoin wallets ranking as number 1 in their respective categories.
'Freewallet' is a newer namesake flagship custodian wallet that does the job of combining all the other wallet apps and is also available as a web-wallet. This platform covers over 100 digital assets with the choice ever-expanding. Happily, it includes an inbuilt Changelly linked exchange to trade supported coins and tokens.
The main drawback with this wallet is its custodial nature. Essentially, users are not in control of private keys, they are instead stored by the company.
Whilst this reduces current technical barriers there is a saying in the crypto-world – 'Not your keys, not your coins'. It requires us to trust that Freewallet is going to act responsibly with our funds.
Customer funds to be kept in cold storage, according to Freewallet, while remaining linked to wallet balances. This is backed up by 2 Factor Authentication options to secure accounts. A must-have in with any online financial product.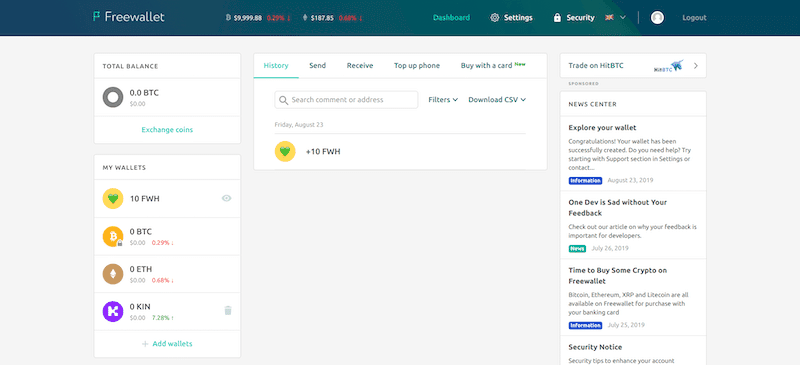 To combat this issue a 'Freewallet Lite' app is in development which allows users to store their own private keys on a smartphone. Unfortunately, I couldn't get my hands on the app as it is still in early access testing.
The signs appear positive though, hopefully it boasts the same simplicity combined with decentralized fund sovereignty.
A large selection of wallet options available from Freewallet. To be honest, it's a little bit of a confusing mess with 20 odd apps available to choose from.
Naturally, it pushes the newer flagship 'Freewallet' but still markets the individual coin specific wallets. Users could quite easily end up with multiple mobile wallets before realizing the all-in-one solution.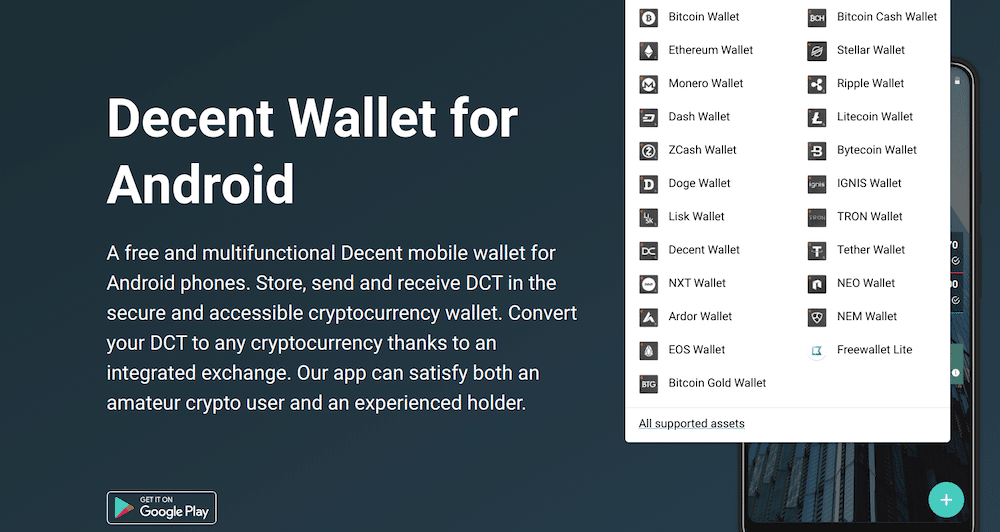 March 2020 update:
Freewallet has implemented off-chain exchange technology for a list of 54 coins and ERC20 tokens, including BTC, ETH, EOS, and LTC. This type of exchange can be executed in 2-3 minutes and characterized by lower rates and enhanced anonymity.
---
3. Currencies and payment methods
Freewallet supports a growing range of 140+ digital assets including individual blockchain coins such as Bitcoin and Litecoin plus a huge range of ERC-20 tokens.
Very little fiat support exists except for the ability to buy crypto with credit cards via a Simplex API. Handy, but keep in mind are fees pushing past the 7% mark.
Realistically, the platform is a crypto-only wallet solution with in-built exchange, send and receive functionality.
To get started, it is probably cheaper to buy your cryptocurrency elsewhere, like Coinbase, and deposit your coins into Freewallet.
---
4. Fees
It's hard to find much fee information on Freewallet. On the face of it, everything is free to use. No signup fee, subscription or much spread on exchange rates.
There are concerns about high-transaction fees which are not outlined clearly. On inspection, fees are higher than the standard blockchain network fees despite the ability to select a low, medium, high fee/speed choice.
The only information coming from Freewallet is:
 "Our fee is dynamic and regularly reviewed in order to keep the best possible balance between speed and cost of a transaction. We believe our current fee is quite competitive and facilitates fast confirmation."
---
5. Supported Countries
Freewallet services are available worldwide with no restrictions, as you would expect from a crypto-only wallet. Language support is strong with all major translations available in the apps.
---
6. Customer Support and Online Reviews
Freewallet's online presence makes for interesting reading. Its customer support is very active which is pleasing news. My email enquiry was replied too in less than five minutes on a Saturday morning. Hands down the best response time in I've had across the blockchain industry!
Many users have levelled scam accusations at the company across forums and review sites but it's really hard to tell fact from fiction.
Some cryptocurrency users categorize any custodian style wallet a scam… Lobbing them in the bin with bankers and hedge fund managers.
The customer support team is very active on forums and review sites like TrustPilot, generally helping customers and replying to complaints. Of which there are quite a few, ranking just average with 3 stars out of 5.
I did find some really troubling reading, one in particular. A user's funds have gone missing, possibly hacked and all Freewallet could reiterate was "safety of your account is in your hands alone." – This is not a response I would expect considering it's a custodian wallet where the user does not control private keys.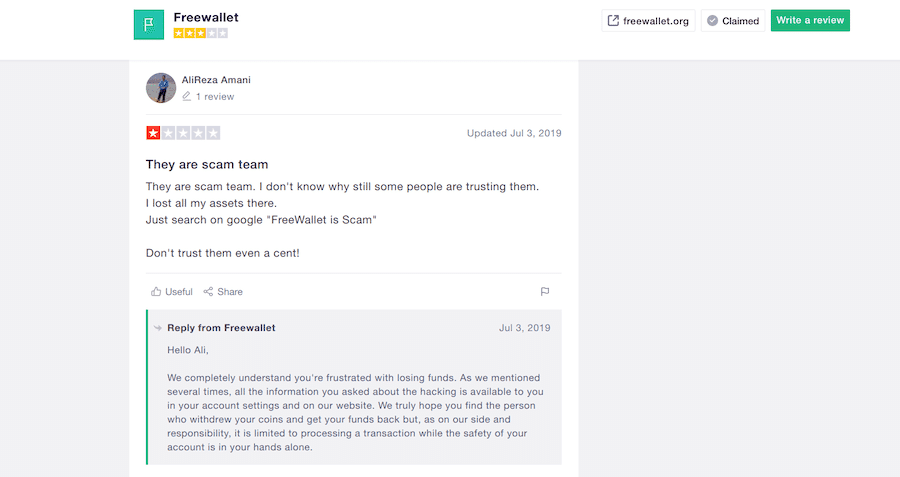 ---
7. Conclusion
Freewallet does what it says on the tin. Users can get up and running with a non-technical multi-coin cryptocurrency wallet in seconds.
Fees are hidden but do not appear astronomical and the selection of assets is huge. Customer support is quick and generally helpful which is a real bonus in the crypto-world.
Having said that it's important to be aware of the custodial nature of Freewallet. Additionally, a wave of poor reviews certainly leaves a black mark against the wallet.
I look forward to exploring the full launch of Freewallet Lite which will allow users full control over their funds. For now, I would use Freewallet to store large amounts of cryptocurrency or anything I couldn't afford to lose for that matter. Treat Freewallet as you'd treat funds sitting on an exchange – they are not your own.
Have you used Freewalllet? What's your experience? I'd love to hear about it in the comment section below.