Blockchain.com Review – A Beginner's Guide
By: Alex Miguel | Last updated: 4/26/21
Blockchain.com is a platform which is best known in the cryptoverse for its Blockchain.com Explorer and Wallet. The platform also offers several extra features such as an exchange and a crypto interest account. In this post I'll review the different wallet features, its online reputation and its pros and cons.
Blockchain.com Review Summary
Blockchain.com has been around since 2011 and until 2019 was mainly known for its block explorer and wallet. The company has since expanded its services, adding support for a handful of other major cryptocurrencies and a suite of services including an exchange, interest-bearing crypto accounts and more.
Despite its huge popularity, the platform has a mixed online reputation, with repeating complaints over poor customer support and security issues – mostly about the non-custodial wallet.
That's Blockchain.com in a nutshell. For a more detailed review keep on reading, here's what I'll cover:
---
1. Blockchain.com Overview
Blockchain.com is one of the oldest cryptocurrency platforms and wallets that are still widely used today, run by Blockchain.com. The company was founded in 2011 by Benjamin Reeves, Nicolas Cary, Peter Smith, and since then has amassed more than 60 million wallets created. 
Over the years, the company has raised a significant $190 million in funding, including a $120 million venture capital round in February 2021.
The platform began as a simple, non-custodial wallet and explorer which allowed users to receive, hold and send Bitcoin. More recently, however, it has expanded to support a much wider range of assets, an exchange and some custody-based services.
---
2. Blockchain.com Wallet 
The Blockchain Wallet is Blockchain.com's flagship feature. It's available as a mobile app on iOS and Android, with a web wallet also available via your internet browser.
Here are some of its main features:
Main Wallet (Non-Custodial)
Blockchain.com's primary feature is its non-custodial main wallet. The wallet remains completely under the user's control and ownership, with nobody else able to access the funds. 
This wallet is also completely open-source, meaning that anyone can review the code to ensure that it is legitimate and secure.
The non-custodial wallet is nice and basic, allowing users to receive, send and store a handful of cryptocurrencies safely and securely.
Trading Wallet (Custodial)
In addition to the non-custodial main wallet, Blockchain.com also has a "trading" wallet, which IS custodial. Unlike the main wallet, all funds held in the trading wallet are in the custody of Blockchain.com.
The advantage of this is that transactions can be made off-chain, without involving the slow waiting times and high transaction costs associated with on-chain movement. You can think of the trading wallet like a regular cryptocurrency exchange account – great for trading, but not so secure for storage.
The trading wallet also has fiat support in the form of USD, GBP, and EUR cash wallets, which allow you to deposit or withdraw fiat currency. 
Wallet balance and price tracking
The home screen of the Blockchain.com allows users to track their wallet balance for each supported asset, as well as monitor recent price changes. Clicking on any asset will load a price chart which can be toggled to display price history for the day, week, month, year, or all-time.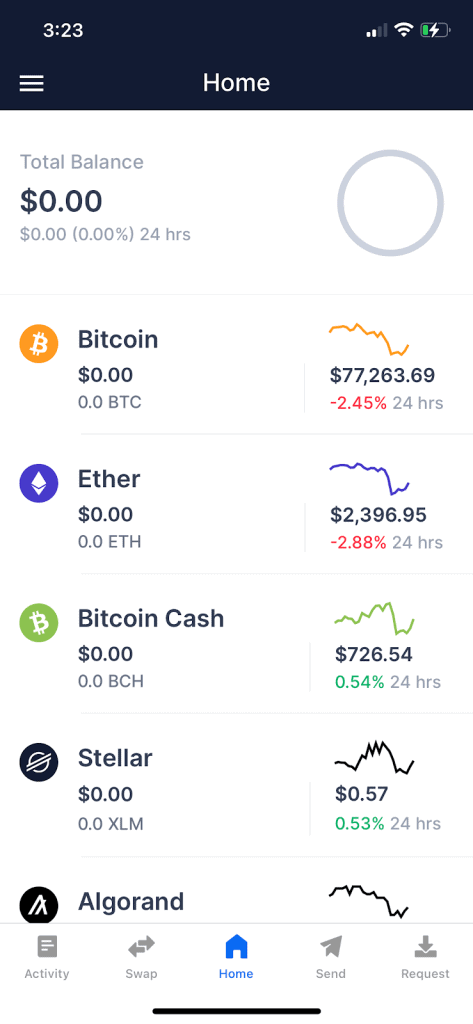 Buy Crypto
Users can buy crypto in-app via their bank card or a bank transfer. If you're in a supported US state, you may also be able to use instant ACH transfers. You also have the option to sell crypto and withdraw fiat to your bank account using the Blockchain.com exchange.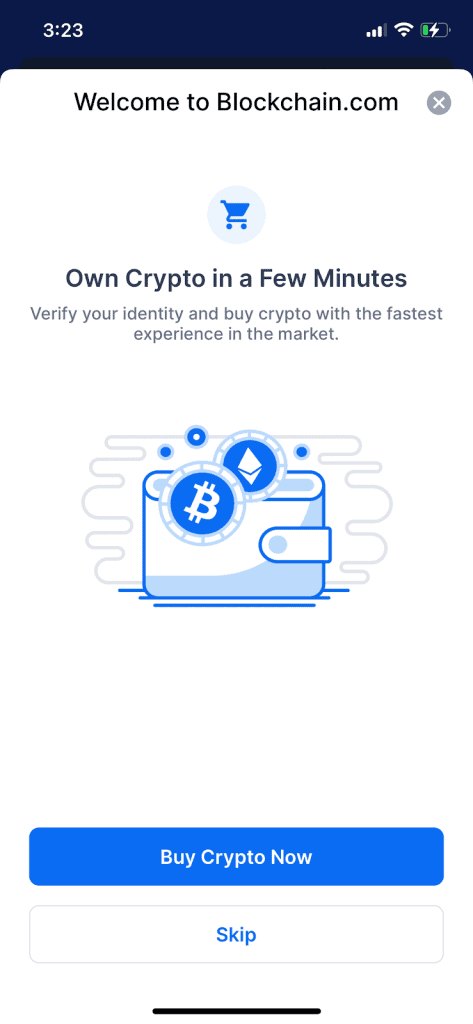 The buy and sell features (including the exchange) are only available to users who are "gold" verified, which means you'll have to confirm your identity with the company first. It should also be noted that funds purchased through this feature go into your custodial "trading" wallet by default – so if you want to keep these funds secure and don't need to trade them, make sure you move them over to the non-custodial main wallet.
Crypto-to-Crypto Swaps
Blockchain.com users can instantly swap their cryptocurrency for any other supported cryptocurrency. This includes Bitcoin, Ether, Bitcoin Cash, Stellar, Tether, USD Digital and Wrapped DGLD. 
Swaps can be performed out of both the non-custodial main wallet or your custodial "trading" wallet.
This particular feature is available for verified users from 230 countries.
Earn Interest
A crypto interest account feature is also available to those users who are "gold" verified. These users can deposit any of the supported cryptocurrencies into an interest-earning account, which will automatically begin generating interest at a compound interest rate. 
Six cryptocurrencies are currently supported for this feature, with minimum deposit requirements as follows: 
Bitcoin ($300 minimum)

Ether ($100 minimum)

USD Digital ($100 minimum)

Tether ($100 minimum)

Bitcoin Cash ($1 minimum)

Stellar Lumens ($1 minimum)
Funds placed into an interest-bearing account in the Blockchain.com will no longer be handled non-custodially, as they are lent to institutional or "sophisticated" borrowers at interest.
Interest is earned daily, but paid at the beginning of every month. No fees are charged for these accounts.
Stablecoin Loans (Discontinued)
Blockchain.com also previously offered USD Digital (USD-D) stablecoin loans, secured with their cryptocurrency holdings. This service was discontinued in February 2021.
---
3. Blockchain.com Exchange
Blockchain.com has its very own exchange on its website, which is also accessible via a link in the Blockchain.com app. This uses your mobile browser rather than supporting it natively, so it's technically not a built-in exchange as you'd see in some other wallets.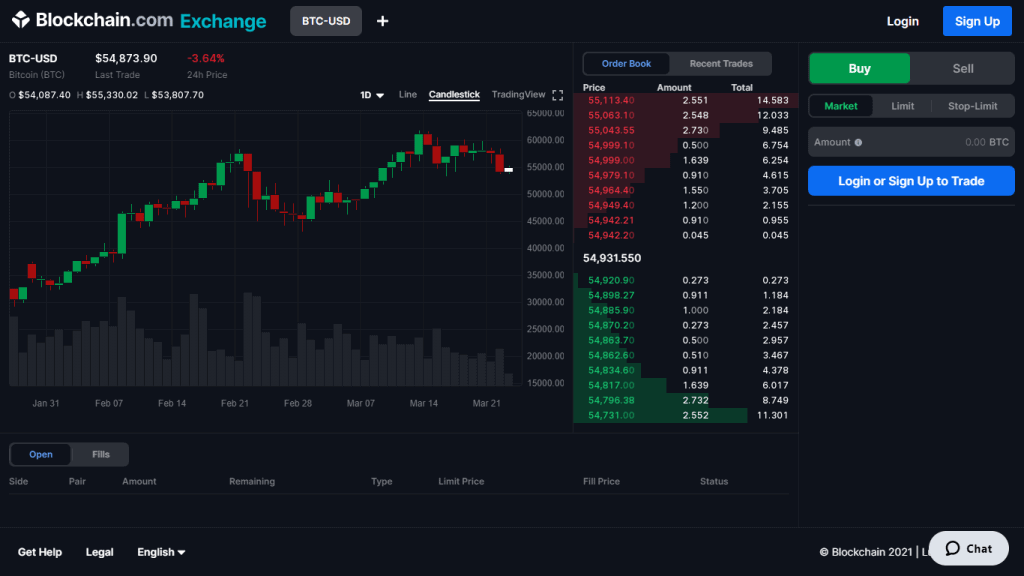 On the other hand, the exchange links directly to your trading wallet, which is nice and convenient for managing your funds.
A range of trading pairs are available, but are somewhat fragmented due to each crypto asset having multiple markets with multiple fiat currencies (or the USDT stablecoin). This has a slightly negative impact on liquidity,
The exchange has a nice selection of order types available, however, including market, limit and stop-limit order options.
---
4. Blockchain.com Explorer
Blockchain.com's explorer is a highly useful tool which allows users to navigate the Bitcoin, Ethereum, and Bitcoin Cash blockchains for balances and transactions.
Users can easily toggle between blockchains using the drop-down menu in the top-left corner of the page.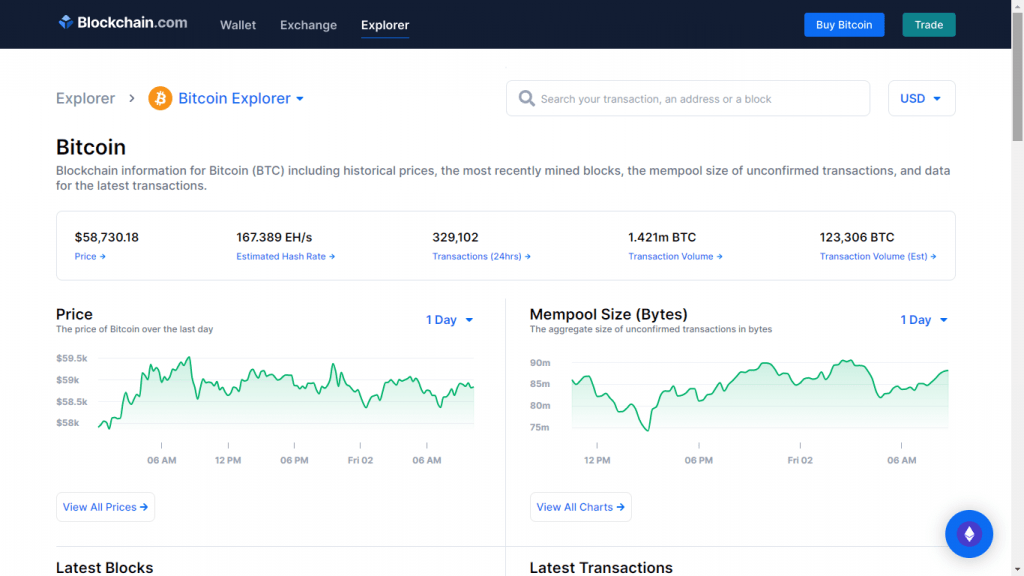 Perhaps the most interesting feature of the explorer page is that the "charts" page, which has a range of insightful statistics presented in an easy-to-view form. This includes charts for everything from Bitcoin supply to average block size, hash rate and more.
---
5. Supported Currencies
Blockchain.com supports just six cryptocurrencies:
Bitcoin (BTC)

Bitcoin Cash (BCH)

Ether (ETH)

Stellar (XLM)

USD Digital (USD-D), previously known as USD PAX

Tether (USDT).
The trading wallet also has fiat support for:
---
6. Customer Support and Reviews
When it comes to customer support, Blockchain.com has a really useful FAQ section that will answer most common questions that a user may have.
It may be a little trickier to receive help, however, when it comes to more specialized support. There aren't many ways to contact support directly – the only method I could find was their Twitter support account, which didn't return an answer to my enquiry via direct message. I also tried out their telegram channel, however, it appears this is for announcements only and does not enable customers to submit feedback. 
After talking to an official Blockhain.com rep – apparently neither Twitter nor Telegram should be used as your go-to for support issues, only Blockchain.com's support center. The reason for that is that there are many scam profiles and impersonation accounts, so pay close attention who's giving you support.
Complaints over the responsiveness of the support center are not too hard to find, with the majority of them seem to arise from slow customer support and unresolved issues, most of these have to do with lost or locked funds. It looks like most of these issues come from using the custodial trading wallet or features that require the KYC process, with very slow action on support tickets from the Blockchain.com team.
Another repeating complaint is by users locked out of their non-custodial account, for which Blockchain.com can't offer support due to the account being, well, non-custodial.
As always, similar to other crypto exchanges and wallet vendors, some reviews should be taken with a grain of salt; however, the overall sentiment indicates an actual problem when it comes to the responsiveness and availability of Blockchain.com's support.
---
7. Conclusion
Blockchain.com is one of the longest-standing crypto platforms around, beginning as a simple non-custodial wallet and a block explorer. The addition of custody-based features and services cater for users who are looking for more than just a storage solution in their wallet. The UI is very intuitive and beginner friendly and the fees are competitive.
On the downside, support is lacking, with limited channels and multiple users reporting slow response time. Another common complaint is for the KYC process, which can also be attributed to the aforementioned support responsiveness issue.
To conclude, Blockchain.com is a veteran in the crypto-verse that offers an intuitive, secure and feature packed wallet and competitive exchange services, but has some noticeable drawbacks on their support side.
That's it! If you have any comments or your personal experience with Blockchain.com please share it in the comments section below.