Bitcoin to USD! Are you thinking about obtaining your own Bitcoins? Great! You are definitely making the right choice, and among the begins reasons behind that would be the fact that Bitcoins are totally safe, light knowing that you don't have to go to and fro banks to deposit them (especially in a central bank), and most of all, they are convertible to dollars. In simpler terms, they are just as good as cash minus the bulk. Speaking of Bitcoin to USD conversion, how do you go about that? But before then, presuming that you are but a beginner in this whole scheme, let us discuss a few major key points that you should know about Bitcoins.
Bitcoin is Not An Actual Coin
What is Bitcoin? Bitcoin is basically cryptocurrency, which is a digital type of payment produced or "mined" by a plethora of people in the global facet. It permits instant peer-to-peer transactions across the globe either free of cost or little expense. However, as a beginner, it would be best to abstain from personal "mining." It would be ideal to either check out authenticated currency exchange sites that would allow the trade of any currency to Bitcoins. There are also ATM's popping in different areas that would automatically convert money from your bank to Bitcoins, leaving you a receipt for your record and proof of purchase, which could come quite handy whenever discrepancies are bound to happen.
Bitcoins Cannot Be Stolen
Purchasing Bitcoins is just as good as patenting them with your name. Therefore, these cryptocurrent coins cannot be coveted from you by anyone unless you give them direct access to your computer or more to the point to your Bitcoin account. Nevertheless, these digital coins are framed in ironclad safety.
Bitcoins Are Not Taxed
One of the loveliest perks of Bitcoins is the fact that they are in no way stipulated with the need to be taxed. In that sense, trading your dollars for these cryptocurrent entities is just as good as hedging yourself from the costly depths of taxation. Therefore, you can simply convert them into actual US dollar currency, or any currency for that matter, whenever the need lays it hands upon you. This now leads us to the main course: to convert Bitcoins to dollars.
Bitcoin to USD – Convert Bitcoins to Dollars: How?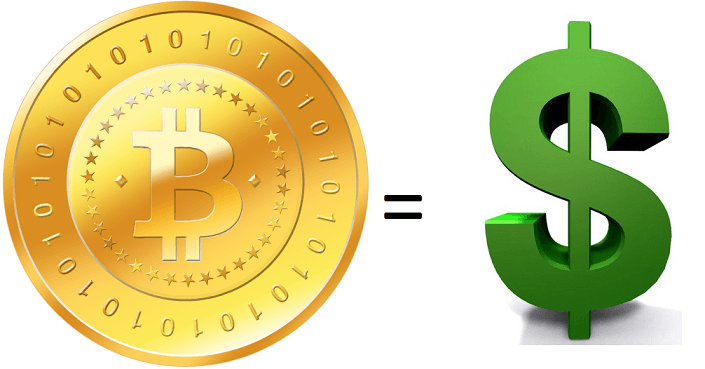 Bitcoin to USD – converting your Bitcoins or BTC into an actual dollar currency is made rather easy with the use of a Bitcoin Calculator. Like the usual thing, the value of Bitcoin is fluid — it tends to change by the hour. With that in mind, you will definitely need a tool that keeps you abreast with the real-time value of Bitcoin, and the Bitcoin Calculator just happens to be the boon for that. For instance, by using this calculator by Bitcoinvalues.net, you will get the most up-to-date value of BTC, which would be essential in determining how much you should be getting per cryptocurrency you have as you trade them in the currency market.
NOTE: If you have bitcoins you would like to sell, you can do so @ Coinbase. Should you prefer to sell them in-person in your local area, checkout: LocalBitcoins.
For now, the current value of bitcoin ranges from about 430 to 636.5 per Bitcoin, and it will always ever change within the hour, usually in an upward direction and going back to its dynamic basepoint — and that would be enough to ensure you of a fair play with your money. Want to convert bitcoin to USD? Go to the sidebar on the right handside of this site and you'll see the bitcoin exchange rate calculator!
Follow Us on Twitter / Facebook
[bitcoin-currency-calculator]