The well-known Bitcoin ASIC mining and hosting firm HashingSpace Corporation plans to build a new data center in Washington. The structure will be named Fortress One Data Center.
The company, which has ATMs and Bitcoin mining servers that offer wholesale services, wants to help the world adopt Bitcoin and the blockchain. The Fortress One Data Center is not HashingSpace's first structure of this kind and it's probably not the last one, as well.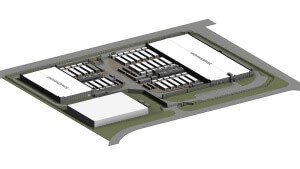 The upcoming data center is expected to be modern with advanced features. It will be built by Ross & Baruzzini, one of the best architectural companies in the United States with six decades of experience. The firm looks like a perfect fit for the project, since building a data center requires innovative and experienced experts.
According to HashingSpace's CEO, Timothy Roberts, Ross & Baruzzini were chosen because they know how provide contemporary architectural services. This will help the company accomplish its objective of creating an efficient data center that surpasses all other similar structures in the world. The company is looking to build a reliable data center with highly advanced technology that has never been created by any other Bitcoin and blockchain company.
Ross & Baruzzini started working with Timothy Roberts in the late 90s and, according to the mining comoany CEO, they are more than ready to tackle this new challenge. The company is aware of the great changes affecting technology and they know how to ensure maximum efficiency and environment-friendly solutions.
The Fortress One Data Center is just one of the milestones within the company's ambitious business plan. The company, which has a website where users can register and start mining, aims to become the world's largest provider of Bitcoin solutions. Customers do not have to change their daily schedules, as the mining process is controlled by professionals.
HashingSpace is also working with a well-known lawyer in the Bitcoin world, Marco Santori, to make sure their services don't violate any laws. Santori is the chairman of the Bitcoin Foundation's Regulatory Affairs Committee and has worked with mining companies, payment processors and Bitcoin exchanges. According to Timothy Roberts, Hashing Space needed the best Bitcoin-savvy lawyer to protect their clients.
To take a virtual tour to Fortress One Data Center, click here.